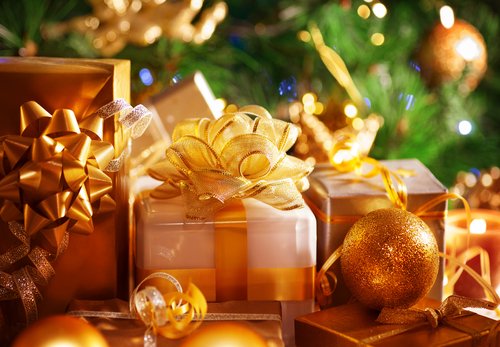 The holiday season is coming up quickly, that's why many people are thinking about how to save on Christmas gifts. When you have a tight budget, you can still have your Christmas shopping done without spending much. I know that because I tried a couple of different ways, so it's possible not to overspend on gifts and get shopping done beforehand. Take a look at some of the best ways to save on Christmas presents.

1. A family gift
You can easily buy one gift for the whole family instead of buying separate gift for each person in a family of four. For example, movies are always nice gifts for families. You can purchase many interesting films for just a couple of dollars. Restaurants' gift cards are always appreciated by all members of a family. If you want to make a bit more personal gift, think about a food gift basket. You can fill the basket with food that you buy or prepare, the choice is yours. If you want to make a family gift basket, make sure you set a budget before you start. If you are not careful, the cost can be much higher than you planned.
2. Off-season shopping
One of my favorite ways to save on Christmas presents is to shop off season. I always make a list of upcoming holidays and the gifts I need to purchase. I take the list with me when I go shopping. If I find a half price thing in March that can be a great Christmas gift for someone, I take an advantage and buy it. This is one less gift that I will think about in December.
3. Homemade gifts
Homemade gifts are one of the best things to present someone. Not only you can save some money on them, but also they are special. Such gifts are wonderful for grandparents, teachers and a big family. Ask your children to help you make gifts, if you have any. They will be happy presenting gifts they helped make.
4. Presents for kids
A lot of families only purchase Christmas presents for kids. If you have an extended family with several siblings, talk to them about not purchasing gifts for adults. Don't be shy to start the topic. Many of your family members are really thinking the same thing that you are. Make sure you set a spending on the kids that fits your budget.
5. Re-gift
If you received a gift last year that you didn't like, it's not necessary to bring it back to the shop. You can keep it and present it to someone else as a gift. This will definitely save you some money, and help you get rid of an unwanted thing. But make sure that the person that you give it to is not the one who presented it to you. Re-gifting works great with books. For instance, if you have bought a book for yourself that you are no longer reading, present it to someone else.
6. Give the gift of service
If you can't afford to buy a gift for someone, think about helping them out with a project. This could be either assisting them in putting up their tree or helping cook Christmas dinner. Such gift of service could be something non-holiday related. Moreover, you could help them when they repair their car or help remodel their kitchen. A lot of people will be grateful much more for a gift of service than for a gift you purchase.
7. Get presents at yard sales
If you look carefully, you can always find some neat gifts at yard sales. If one of your family members like antiques, this is a wonderful opportunity to shop for them. A lot of new gifts can also be purchased at yard sales. Moreover, you can buy many brand new cosmetic products at mega low prices. Many years I purchase a couple of new gifts at yard sales to use as gifts.
Christmas is certainly a joyful time. But often it becomes overwhelming because of holiday spending. You could have an amazing time and relax if you have saved some money on gifts. Could you share with us some other tips on how to save on Christmas gifts?
Saving on Christmas Presents