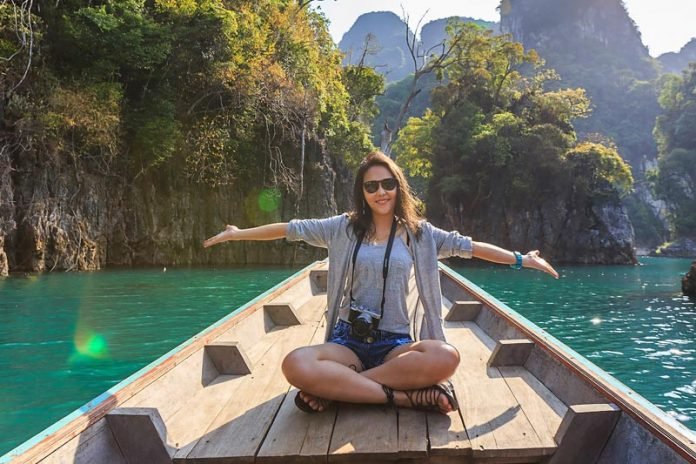 Solo Female Expedition : An Emerging Trend to Rediscover Yourself : Imagine a situation where it's Saturday's night and soon going to be dinner time. Since you practically live alone (as your roommate is out with her boyfriend most of the time) you have two options, either to order online or dine out, what would you choose?
I don't even need to have an Instagram poll on this, as most of the millennial your answer would be to order online. Well, there is no issue on ordering online as you save your money and time. But according to the statistics, most of the millennial refuses to dine out because of the fear of eating alone, especially when you are away from home.
The art of discovering the place where you live like places to wanderlust places to shop and places to eat teaches you to survive and adapt to a new place no matter where you go. Such a similar situation happened when I move from my home town to Sandy Spring.
It was the summer of 2016, and I had been just moved out of my home for the first time into a completely new place. All was going well; every weekday followed a similar routine. Wake up, work, sleep and repeat. But for most of the weekend, I used to hide out in my room, watch Netflix and chill because the idea of going shopping or discovering the neighbourhood alone gave me the chills.
For most of the takeout, I used to pretend to be in a conversation with someone, to avoid all those judgy eyes looking at me. Ordering food online was the only Hallelujah moment for me. Minimum contact with a human, no waiting in line alone plus, I get to eat my food.
But if you're a foodie just like me, you will know that not every restaurant will deliver food. Surely you can eat all the fast food available in the world but, the joy of discovering an awesome food truck or a rooftop restaurant will still be unchecked from your to-do list. So one day I mustered up my courage and went to a restaurant that changed my view on solo eating.
Ray's on the River was my first ever solo dine out restaurant. The reason why I choose Ray's on the river as my first solo eating restaurant because of the awestruck view you get of the Chattahoochee River. If you have ever eaten beside a lake or riverside view than you will know the tranquillity it gives to your mind. You don't need to have a partner; the light itself can erase the feeling of being alone in a restaurant.
So my visit to the restaurant increased, and I started discovering more about the place. The restaurant has a live music section every Thursday to Saturday, and if you are a solo eater then, you must check out the upcoming event section where wanderlust like you can enjoy the food without paying too much. Ray's on the river offer many buffets and wine coupons which are very frugal for a single person.
If you like to come in numbers, the restaurant offers various private dining both indoor and rooftop. You can even create a very romantic date with a river on the side. And Yes! Don't forget to check out its Rose Fri-yay Happy hours on the creek terrace to enjoy the live music and light bites with some incredible rose specials, a special tip from a frequent visitor.
I am not a heavy drinker but my taste for Bourbon developed from this very place itself, and I'm not kidding the area has got some of the most impressive bourbon lists. And what completes the deal is that by the end of the day you have filled your stomach, eyes, and camera roll with some fantastic taste and memories.
I have made some friends along the way because you see when you go on a solo expedition, you are bound to meet new people. Ray's on the river was my stepping stone of getting out my pajamas to a new confident wanderlust person that I am now today.
After that, I started going to shopping, movies, cafes and many different public places. If you are still not comfortable in your shell, make a blog throughout the day, or bring a friend or a two. It's never too bad to have a company.
According to one narrative published in The Doe – traveling alone will be the scariest, most liberating life-changing experience of your life. It will push you out of your comfort zone. And if you choose to wait for someone to travel with you, you may end up waiting a lifetime. Going solo doesn't always mean you're alone. You will meet marvelous people along the way, and make a connection that lasts a lifetime. Undoubtedly, the adventure will not fill your pockets, but they may damn fill your soul.
Related Videos at Solo Female Expedition : An Emerging Trend to Rediscover Yourself :
SOLO FEMALE TRAVEL TIPS | 22 Women Give Their Advice
SOLO FEMALE TRAVEL TIPS!
WHY I STARTED SOLO TRAVELING (and why YOU should, TOO!)
Solo Female Travel Safety Tips Every Girl Must Know!
The real reason I traveled to 196 countries | Cassie De Pecol | TEDxMileHigh
8 Tips for Solo Travelers
Solo Female Expedition : An Emerging Trend to Rediscover Yourself
female explorers 1500's, women's wilderness retreats, fictional female explorers, fictional female adventurers, female explorers 18th century, famous female explorers ks1, isabella bird, female solo travel,