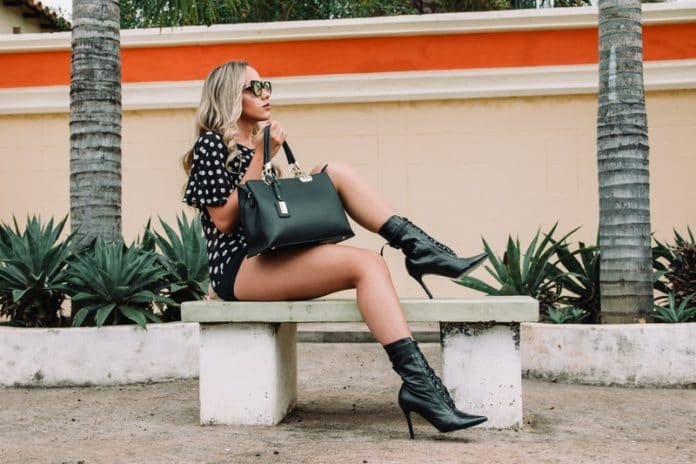 The Hottest 2018 Summer Fashion Trends for Women : Summer is the perfect time to showcase your style and be free from heavy coats and countless layers. Less in more when it comes to hot weather, but you can still aim to be cool whatever the temperature. Here are some of the top womens 2018 summer fashion trends. Let them guide your style this summer as you fill your wardrobe with trendy, must-have pieces for the sunny season.
Bright Floral Prints
Forget the demure floral prints you might find on your grandma's sofa. This summer, embrace bold and bright floral fabrics. Look for a larger print that doesn't shy away from attention, and opt for a vibrant color that will definitely help you stand out from the crowd.
Pastel Hues
Pastels aren't a new fashion concept, but they are certainly coming back into fashion this summer. Lighter colors naturally help you stay cooler, and pastels are a sweet and charming option. Stick to a neutral color palette and inject one pastel hue into the mix or go for it in a head-to-toe pastel ensemble.
Upgraded Tracksuit Styles
The tracksuit is a staple for people around the world, but there is no reason to go with a classic, outdated look. An upgraded take on the traditional tracksuit gives your look a twist but still keeps you casual and comfortable. Try out high tops in an unexpected color or grab a track jacket with a floral print for a modern look.
Denim on Denim Looks
Denim might just be the fabric of the summer, but doubling it up is twice the fun! Denim on denim used to be a faux pas, but now it is undeniably a trendy look. Try a button-down denim shirt over a pair of denim shorts for a daytime outfit, or pair a denim dress with a classic jean jacket for a casual evening look you'll love.
ROYGBIV Pieces
Add together all of the shades of color in the rainbow, and you get ROYGBIV: Red, orange, yellow, green, blue, indigo and violet. Punch up your summer outfits by choosing bold pieces in these classic hues. Mix and match so that you're wearing your own rainbow of style on any given summer day.
Check Prints
Checkered prints and patterns are usually associated with winter, but that's not the case this summer. From gingham to plaid and everything in between, checked prints aren't just for wool skirts or cold-weather coats. Pick up a silk blouse in a plaid print or a summer skirt in gingham to jump onto this fashionable trend for summer 2018.
All Sequins, All the Time
Did sequins ever go out of fashion? Based on this summer's looks, we say no! Add sequins to your wardrobe this summer, but don't stick to a demure look with sequined accents. Instead, go bold with shimmery tops covered in sequins or heels that truly shine. Sequins aren't just for evening events, either. They reflect the sunshine and look fabulous even in a daytime, casual ensemble.
Asymmetrical Dresses
Keep things interesting this summer with asymmetrical dresses. They allow you to show off one shoulder, helping you cool off in hot temperatures. Plus, asymmetrical dresses often boast ruching to create a slimmer silhouette. You can also opt for a dress with an asymmetrical hemline to add visual interest to your lower half. If you're rocking a gorgeous pair of heels, this brings eyes right to your amazing shoes!
Fringed Fabrics
There's something fabulously boho about fringing on shirts, dresses and even a pair of shorts. This summer, expect to see fringed fabrics everywhere from the catwalk to the beach. A fringed bathing suit is unexpectedly on-trend, and a pair of fringed heels can be phenomenal with an otherwise neutral look. Whether or not you're heading to a music festival this summer, go for fringed fabrics.
Straw Visors
Straw hats are always a big hit during the summer. They are perfect for bad hair days, and they transport you to a French Riviera atmosphere effortlessly. For 2018, try out a straw visor. Visors are undeniably trendy this year, and a straw version is the ultimate way to salute summer. Keep beach-tangled locks under wraps in a visor and look amazing at the same time.
Double-Duty One-Piece Suits
Some of the best summer fashion ideas allow you to use one piece in lots of different ways. One-piece bathing suits are in style this summer, but don't restrict them to the beach or the pool. Don your favorite one-piece instead of a tank top with shorts or a long, breezy skirt for an effortlessly cool look for the summer.
Summer is not the time to leave your fashion sense behind. Keep cool and look amazing all summer long with these hot fashion trends for summer 2018.
Related Videos to Hottest 2018 Summer Fashion Trends for Women :
11 Practical Fashion Trends 2018 That Are Easy To Wear
18 Hottest Trends of 2018 ⋆ What To Wear in Spring/Summer?
Top 10 Summer 2018 Fashion Trends
SUMMER OUTFITS OF THE WEEK 2018
2018 Summer Fashion Haul
The Hottest 2018 Summer Fashion Trends for Women
2018 fashion trends summer, 2018 fashion trends womens, spring summer 2018 silhouette trends, summer outfits ideas, summer fashion 2018 women, spring summer 2018 hair trends, casual summer outfit ideas, spring summer 2018 trends vogue, Hottest 2018 Summer Fashion Trends for Women