Three Easy and Affordable At-Home Spa Treatments : You don't have to spend a fortune to get a spa experience. You also don't have to leave the comfort of your own home! If you're in need of a little TLC, give these three simple (and cheap) at-home spa treatments a try today.
Make a Face Mask
Face masks help moisturize and brighten the skin. These face mask recipes are made from ingredients that will help moisturize and brighten your skin. And, you probably already have everything you need in your kitchen.
Strawberry Banana Face Mask
Ingredients:
Juice of one lemon (to exfoliate)
Three strawberries (to lighten dark spots)
One banana (to condition the skin)
Instructions:
Remove the stems from and dice the strawberries
Mash them in a bowl with the banana
Mix in lemon juice
Apply to clean, dry skin, making sure to avoid your eyes
Let sit for 15 minutes
Rinse it off with cool water and pat the skin dry afterward
Greek Yogurt Mud Mask
If you have a few more ingredients on hand, you can also try this moisturizing, blemish-fighting Greek yogurt mask. This recipe makes 3-5 masks, so you can use one now and save the rest for later!
Ingredients:
2-3 Tbsp. Greek yogurt (to exfoliate)
1 tsp. Honey (to moisturize)
1 tsp. Lemon juice (to exfoliate and reduce the appearance of acne scars)
1 tsp. Cocoa powder (for rejuvenating antioxidants)
1 tsp. Buttermilk (to exfoliate and brighten)
¼-½ of a banana, mashed (to condition skin)
Instructions:
Mix ingredients in a food processor or blender
Test it on a small portion of skin (like the inside of your wrist) to make sure you don't have any allergic reactions
Apply the mask to clean, dry skin
Let it sit for 20-30 minutes
Rinse off with cool water and pat your skin dry afterward
Exfoliate Your Skin
It's also easy to use common kitchen ingredients to make an exfoliating scrub for your skin. Exfoliating helps remove dead skin cells that can clog your pores and cause breakouts.
Whip up one of these homemade scrubs today and use an exfoliating loofah back scrubber to exfoliate your whole body.
Baking Soda Scrub
Ingredients:
¼ cup baking soda
¼ cup water
Instructions:
Simply mix the baking soda and water together to make a paste
Rub the paste onto your skin (use the back scrubber for hard-to-reach areas)
Let sit for 5-10 minutes
Rinse off with warm water
Honey Sugar Scrub
In addition to moisturizing, honey has antioxidant and antimicrobial properties, so it's great for acne-prone skin.
Ingredients:
1 Tablespoon granulated sugar
½ Tablespoon honey
Instructions:
Mix the sugar and honey together, adding a little water or lemon juice if it's too thick
Rub the mixture onto the skin
Rinse off with warm water
Take Care of Your Hair
Don't forget to show your hair some love, too. This hair mask is incredibly easy but also highly effective.
Ingredients:
2-4 tablespoons of olive or coconut oil
Instructions:
Shampoo hair, then towel dry it
Apply oil from ends to mid-shaft (applying it to the roots can make hair look greasy)
Wrap hair in a towel
Let sit for 10-15 minutes
Shampoo hair thoroughly to rinse out the oil completely
As you can see, it's totally possible to give yourself a luxurious spa day at home. Give one (or all) of these treatments a try today!
Related Videos:
At Home Spa/Pamper Session
At Home Spa Day: SKINCARE and PAMPER ROUTINE!
LUXURY SPA AT HOME!
At-Home Spa Facial Skincare Routine
My Pamper Routine 2017 | At Home Spa Day
DIY Spa Facial at Home!
Related Infographics: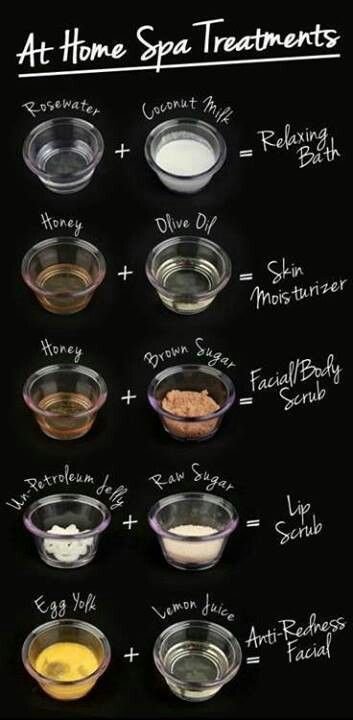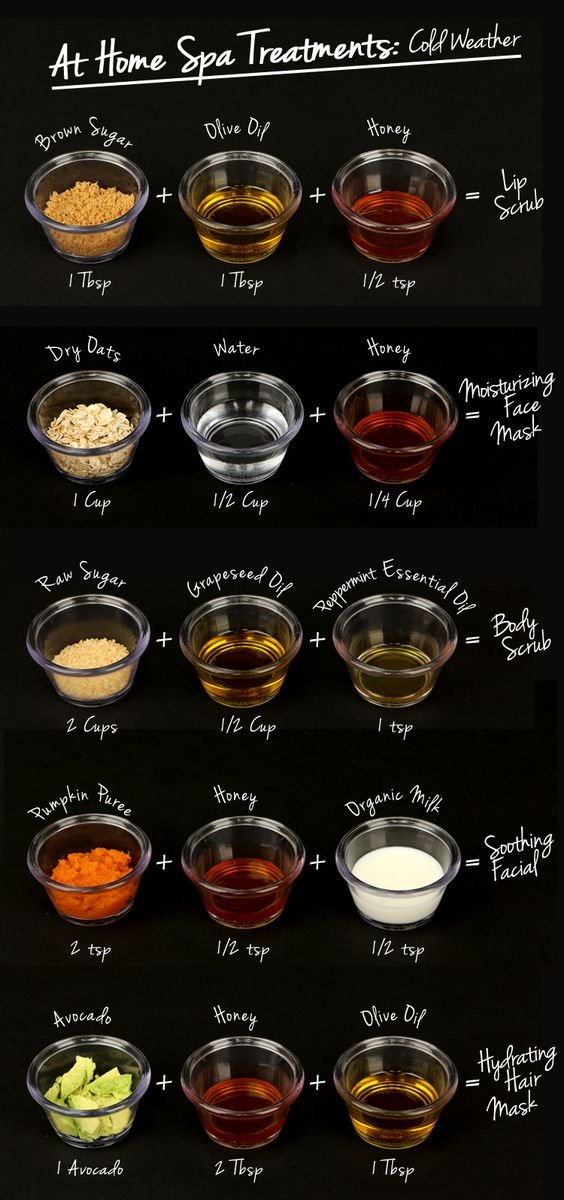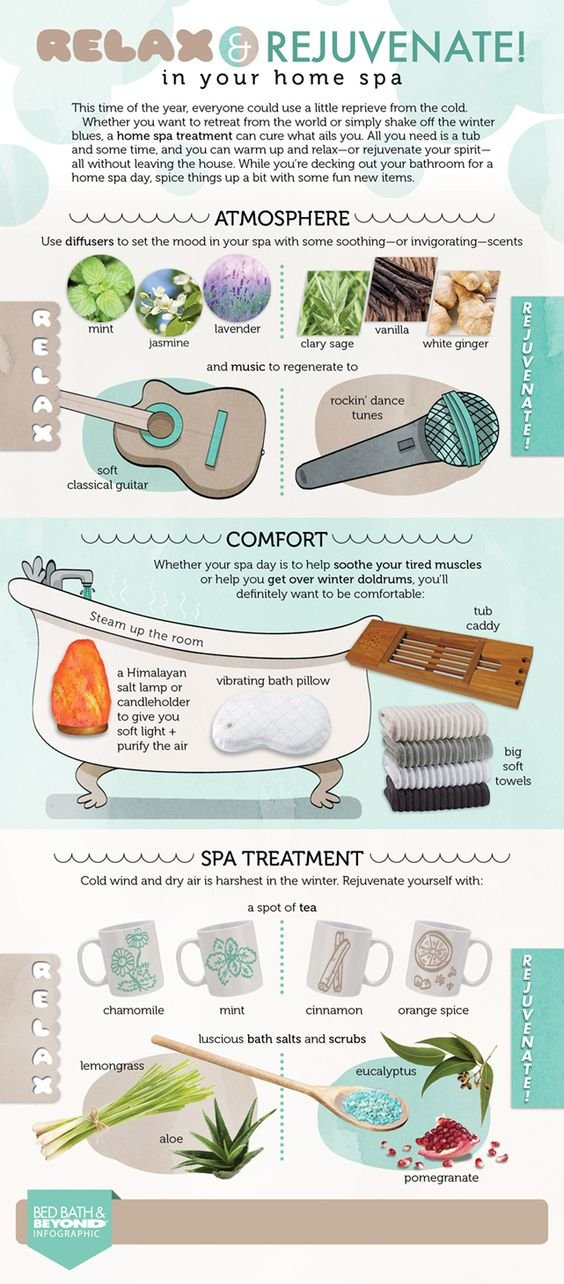 Three Easy and Affordable At-Home Spa Treatments
at home spa day checklist, at home spa day kit, at home spa kit, diy spa day for tweens, diy spa recipes, full spa treatment near me, home spa products, hot tub services, list of spa services, spa day at home with friends, spa night at home by yourself, spa services menu, spa services prices, spa treatment for hair, spa treatment meaning, types of spa services,