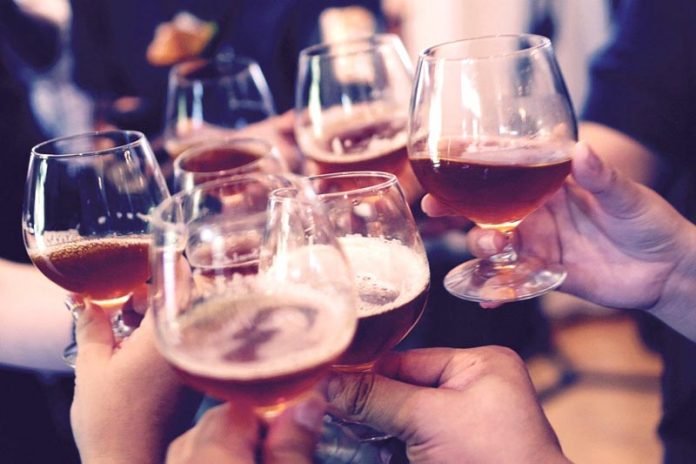 Don't you just love wine tasting parties? A wine tasting party brings family and friends together to gain new wine experience and enjoy delicious food. The wine party can be as simple as pairing wine with specific cheeses or doing a horizontal or vertical tasting; whatever you decide to experience with wine during the wine party, ensure you gain new knowledge while you have lots of fun with your guests.
To make worth your while, all you need a supply of good wine, a little wine tasting skills, and the appetite to try out new wine. Who said that you have to be a wine connoisseur to entertain yourself with good wine? You just need a functioning tongue and an eager mouth. If you have always wanted to host a wine-themed party and don't know where to start, here are simple tips to guide you through the whole experience.
Choose a Wine Theme:
A good place to start with is by having a Wine theme. Having a wine party ideas help you narrow down your focus since there are many types and kinds of wine to sample with very little time. To help you with this here are several suggestions:
Wines chosen from the same winemaker: You can decide to settle for a flight of wines from a single winery. For example, you can pick wines from San Antonio Winery in Napa Valley. To get the most from it, I suggest you start with white wines. This may include the fine sparkling Imperiale Moscato, moving up slowly to the semi-sweet red sangria Bodega Sangria. You can then top it all up with the proprietary blend sweet red wine, like San Antonio Cardinale.
Wines chosen from the same region: Another great way to approach your theme is to select wines from the same region to explore the nuances of terroir. If your taste buds are in love with wines from California's Paso Robles, you can concentrate on wines from this region to find out what is so unique about this region and its wine. If you don't know yet, Paso Robles has 11 specific wine regions with over 60 varied varieties of wine and is popular with its signature wine Zinfandel.
Compare Wines from Old World vs. New World: Another excellent wine theme idea comparing and contrasting wines from Europe to North American wines.
Vertical wine tasting: This refers to tasting and sampling a flight of the same wine of different vintages, allowing you to appreciate and enjoy wine as it matures with age. You also get to understand the nuances and the anticipation of its taste in the future. This approach is rather hard to pull off since it requires a vibrant supply of wine.
Horizontal Wine tasting:This theme is all about sampling wine produced in the same year across the globe. For example, you can decide to go for Riesling produced in 2018. However, this is also a tricky theme to pull off, since finding a particular wine from the same year is not that easy as it looks.
Blind Wine tasting: This is a fun wine theme that involves wrapping each bottle of wine with either brown paper bags or even aluminum foil. Let each guest can try to guess the kind of wine as they sample the flight of wines offered.
Potluck Wine tasting: If you are looking to make things even more simple, you can choose the potluck theme where each guest brings a varietal, and there is no overlap for an instant tasting.
Wines Chosen as per Value: Pick wine from a certain price bracket of a particular amount. It is a perfect way to find good wine at affordable prices.
Wines Chosen as per similarly styled: You can also choose a wine theme that involves tasting wine through a series of same style wines. A great way to do this is to select from an array of vibrant, bold reds, dessert wines, or dry white wines.
Keeping a Count on the number of heads and bottles:
Whenever you choose to host wine- themed party, the best way to approach it is to keep the number of guests at a maximum of ten or fewer. This is to encourage engagement and conversation between guests for an intimate wine experience. It also allows easy pouring of wine from a single bottle. If you exceed this number, you will have to get several bottles of the same wine to enable everyone to participate in wine tasting.
If you are wondering how much wine should each guest have, then the right pour would be a 2-ounce pour per serving, meaning, a single bottle of wine has about 10-12 tasting servings. If you have a flight of 5-6 wines, ten guests are enough to share a single bottle of each wine.
Stock Basic Supplies:
To plan an impressive wine party, here are a few wine supplies that you need. You can start with these:
Wine Glasses– Getting each guest, a single wine glass is proper; however, for a more significant wine tasting experience, each person should be allotted two wine glasses for quicker wine sampling simultaneously.
Shapes of Wine Glasses – The shape of the wine glasses also matter. You should go for a rounder, larger glasses for reds, and Less oval-shaped glasses for whites. The glasses should not have any color to allow your guests to observe the real color of the wine.
Spit Buckets – Sometimes, the palate may refuse to concur with a specific type of wine. In that case, a spit bucket will allow your guest to spit out the unwanted wine.
Opener's and Corkscrews – You should also equip yourself with a wine opener, and in case it breaks, you also have Back-up corkscrews.
Water – A pitcher of water and cups of ice water for your guests is also a necessity.
Documentation – Just like any other learning experience, a pen with a notebook, or pieces of paper are essential for taking quick notes.
Ice Bucket – White wines are best served chilled, and it is, therefore, essential to have an ice bucket for this purpose. You don't want to embarrass yourself running to the fridge.
For Palate – To distinguish between two wine tastes, bread or crackers should help your guest with that.
Wine Aerator – An aerator or decanter allows you to bring out the authentic flavors in red wine.
White Background – To get the real color of wine, a white tablecloth or white napkins are necessary.
Consider Food Options:
A big mistake that most beginners do when hosting a wine tasting party is providing a lake of wine with little food to soak it all up. Therefore, it is crucial to decide if you want to provide your guests with light dishes before tasting, offer dinner after tasting, or desserts after tasting. For a little adventure, explore how food interacts with wine containing different acids, tannins, and sugar. To understand how wine reacts to various food components, try to experiment with salted nuts, bitter chocolate, acidic lemon, or creamy cheese. This will give you perfect food and wine pairing ideas. You should make your guests aware of what to expect in advance so they come prepared accordingly.
Time for Setup:
The layout is an important aspect to make your wine tasting party successful. The first thing is to have all items around a dining or patio table, or a large countertop adequately arranged to provide enough room for a social setting. Always include an empty bucket or pitcher on the table to allow easy disposal of sips and pours from your guests. You should also ask your guests to avoid wearing perfumes that will interfere with the wine's aromas. As the host, you should also avoid scented candles or aromatic flowers, for the same purpose.
Serve Wine Appropriately: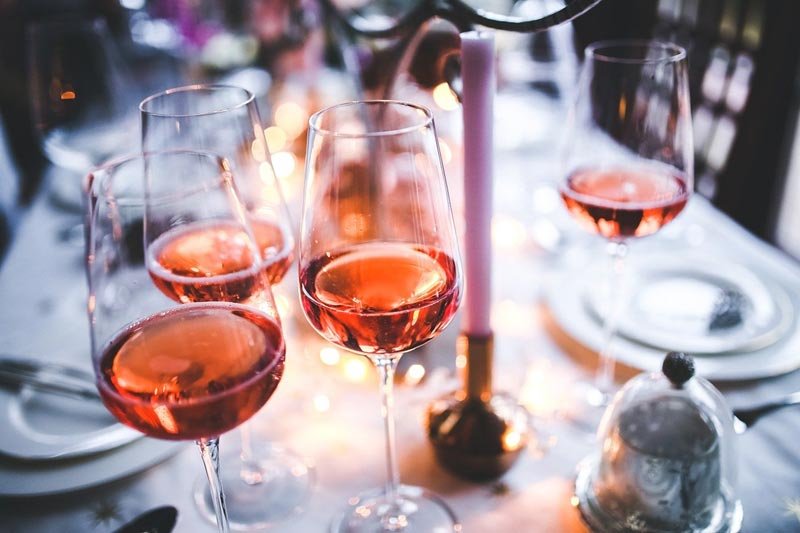 Wine is a modest beverage that should be adequately served. You should never overwhelm the palate. If you are serving wines of different varietals, a selection of 5-6 wines will be enough. When tasting wine, the wise thing to do is begin with the lightest white wines and finish with the heaviest, robust reds. The first glass of the evening should be sparkling whites then move to dry whites, medium whites, rosés, medium reds, and heavier reds. 2 ounces per glass is good enough, and don't forget to insert them in ice to have them chilled especially if they are whites. Reds are best served at room temperature. The best temperatures for reds are 62-68°F, while whites are 45-50°F. For the best experience in red wines, you should open any red wines in advance and decant before your guests arrive.
Entertain your Guests:
To make the entire wine tasting party fun, engaging, and entertaining, always designate friends to be pourers. As they fill everyone's glasses with wine, take five minutes to tell them wine stories and myths that surround wine. This requires some research so that you provide them with facts and not something you are not sure about particular types of wine. You can also start a fun game where you wrap the bottles in brown paper and let your guests taste the wine, guessing its name. The winner could get a prize or a title of a wine expert.
Create an Inviting Ambience:
Music is good but observe the tempo. At such a party, you don't need loud jumpy music that distracts the guests from getting the fullness of wine and food. The music should be slow and soothing allowing the conversation to take place. For more exceptional experience and if the venue has enough space, live music will be the best. The atmosphere should be welcoming too. Dim the lights to maintain the mood, bright enough to make out the wine color. Unscented candles are lovely to set the mood.
Conclusion 
These tips will help you and your visitors have a gala time. Wine tasting is all about learning new things about wine while at the same time having a good time with family and friends. This also helps to reduce tension and the stresses of life. Remember to have wine in moderation and food for the wine tasting party as it will absorb the alcohol in the wine. If your guests will need to drive to get home, ensure that there is a designated driver or organize for a cab to take them home.
Author:
Pallavi Modi is a Professional Blogger, SEO Expert and Guest Blogger for Riboli Family Wines and Estates. Being a Prolific Content Marketer and Business Writing Coach, her ultimate passion is making boring business blogs outshine.
Related Infographics about Tips for Hosting a Splendid Wine Tasting Party :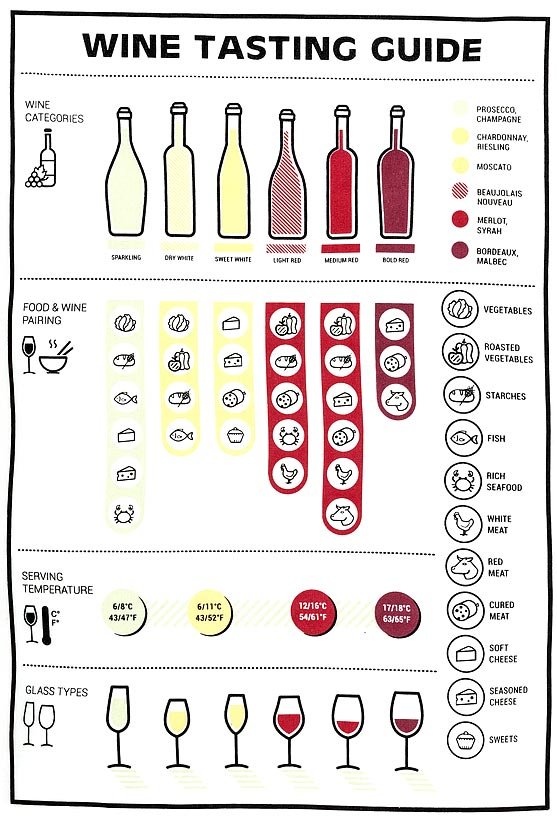 Related Videos about Tips for Hosting a Splendid Wine Tasting Party :
HOW TO HOST: A WINE TASTING ( ideas you can use)
10 Wine Tasting Party Tips
How to Throw a Wine Tasting Party
How to Throw a Wine Tasting Party
How to Throw a Wine-Tasting Party
Wine Tasting Party
Tips for Hosting a Splendid Wine Tasting Party
how to host a wine tasting party kit, wine tasting party menu, wine night ideas, wine and cheese party, wine tasting party games, blind wine tasting party, what to bring to a wine tasting party, wine tasting party ideas,