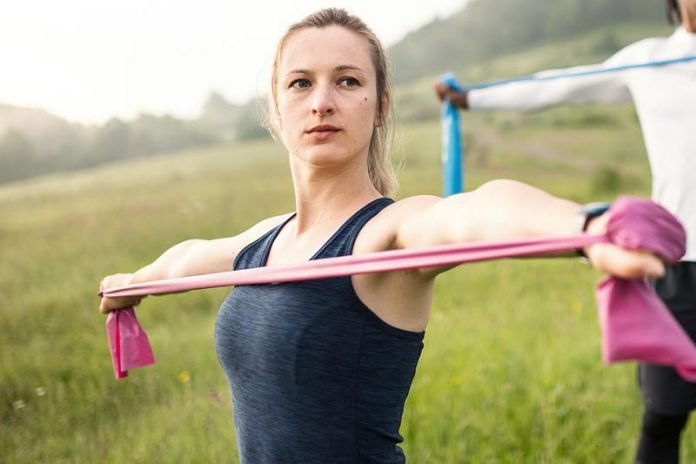 Gym Alternatives That'll Keep You in Shape : The gym can be an intimidating place, especially for beginners. Whether you are wanting to ditch your gym membership for this reason, or because of the cost and inconvenience, there are so many other options to keep you in shape.
Keep reading for our favorite gym alternatives that you can try today.
Free and Easy Community Workouts
There are tons of workout options that are charge and equipment free that you can do just out and about in your community.
Running, Walking and Biking
Running is probably the most popular form of free exercise because it's easy and efficient. Running is a great way to build leg muscles and burn calories. Try running among pleasing scenery to make your workout less boring, such as your neighborhood park or a running trail at a nearby national park.
Crank your favorite upbeat tunes to get you in the mood to energize yourself. We suggest morning runs so that you can enjoy both the coolest part of the day and most of your day's energy for your run.
Begin or join a walking or running club to motivate yourself amongst others who are also trying to get in shape. Having at least one other workout buddy holds you more accountable and can make sure you're not hitting the snooze button on your morning workouts.
Integrate exercise into other parts of your day by going on a power walk during your lunch break. This helps motivate you for the second half of your day, and also give you a moving break during your desk job. For quick workouts, run up or down steps at a nearby park or parking garage to get your heart rate up, and get your legs and bum toned.
If you own a bike, this can be another great way to exercise for free. Find trails at parks, or bike for transportation when you're close enough to destinations. This is a great way to also save money on gas and decrease your carbon footprint, a win for both you and the environment!
Take Advantage of Community Areas
So many neighborhood parks have tennis, basketball, and volleyball courts that you can take advantage of. This is a great way to be outdoors on a beautiful day and to meet others in your community.
Organize a team with friends and family, or find a team that needs a player on a community bulletin board or website. Local amateur sports will usually require a low fee that is worth all the fun you'll have with an interactive workout. This is a great way to learn unique sports such as ultimate frisbee.
Swimming is another great way to burn calories. Use a community pool, which may either be free to residents or for a low annual fee. Swimming laps can be a refreshing way to work out during warm summers without damaging your joints. Many pools also offer underwater weight or aerobics classes that can be great for toning and increasing heart rate.
At-Home Workouts
Some people feel much more comfortable working out in the privacy of their homes. While at home workout equipment can be expensive, it is also a great investment, allowing you to work out daily without leaving your home. For affordable workout equipment for your home, try buying used equipment on sites like Craigslist or Facebook Marketplace.
If you want to avoid the cost of workout equipment, or you don't have the space for it, there are plenty of at-home exercises you can complete with little to no equipment at all.
Buy workout videos at a low price, or lookup free workout videos on platforms such as Youtube. There are also a ton of free online resources from workout bloggers and professionals to help you on your fitness journey. These bloggers give advice from workouts to dietary ideas to help you become the healthiest version of yourself.
When The Gym Isn't Cutting It
Maybe you're looking for other workout options because the gym just isn't doing the trick. For those of us who have no idea what we're doing at the gym, a personal trainer can help.
These professionals can help you with everything from workouts to eating habits. They will typically set up a consultation with you, addressing what you wish to gain from these workout sessions, to what areas of your body you want to tone. You can save countless hours of exercise by learning how to efficiently work to meet your personal goals.
One of our favorite personal trainers is JustFit, a great option for anyone wishing to incorporate their fitness goals with a plant-based diet. They also offer a helpful blog on their site for additional advice and support.
Finding customizable workouts made by a professional can help to make sure you are getting the most out of your workouts. Having a source you can go to directly for advice, motivation, and questions is a great idea for anyone who is sick of working out without seeing the progress they desire.
Try One of These Gym Alternatives Today!
As you can see, there are plenty of gym alternatives that you can integrate into your daily schedule to meet your personal fitness goals. Whether you want to work out from home, with others in your community, or with a professional, there's something for everyone with these helpful tricks and tips.
For more articles with advice on topics related to Fitness and Body, head to our site!
Related Videos about Gym Alternatives That'll Keep You in Shape:
5 ALTERNATIVES TO GET FIT IF YOU HATE THE GYM
3 Alternatives to the Gym to Save Money and Get Fit
Total Body Workout + Weight Loss Tips!! Fat Burning Fitness Routine for Beginners, Home Exercise
How I lose weight without the GYM
4 Simple Exercises to Shape Your Body at Home | No Gym Full Body Workout | 5-Minute Treatment
Gym Alternatives That'll Keep You in Shape
fun workouts at the gym, alternatives for gym, fun workout routines, ways to exercise at home, fun ways to exercise, alternative workouts at the gym, fun gym workout ideas,