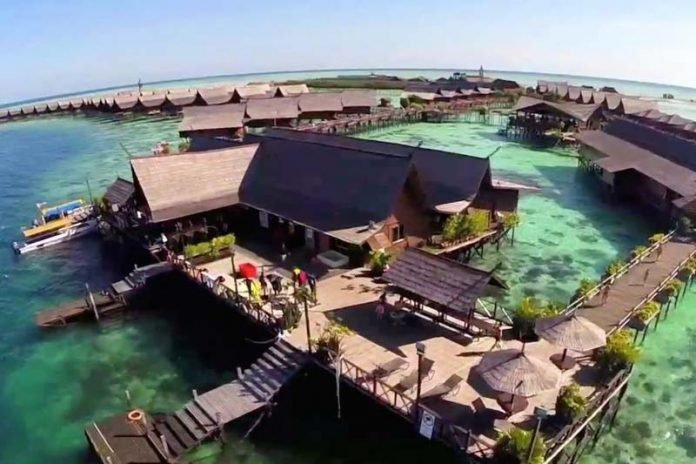 Top 5 Dive Sites in Malaysia : There are two parts to Malaysia, and both of them offer wonderful diving opportunities to enthusiasts of all levels of experience. Peninsula Malaysia has a coastline over 2,000 kilometers long and has some beautiful islands. This is particularly welcoming to newcomers to the sport and is best dived between the months of March and September.
The Malaysian Borneo, or Sabah province, is perfect for diving all the year round and is probably more orientated towards the experienced diver, but novices are always welcome to try their hand. This is where marine life viewing really comes into its own.
Tioman Island (Peninsular Malaysia)
Tioman is the largest of nine islands which make up the sprawling Tioman Marine Park. The shallows around Renggis Island and Pirate Reef are ideal for beginners and night diving, whilst further out is Chebeh, much preferred by more seasoned divers. There in the deeper waters, at Tiger Reef, it is not uncommon to encounter large marine species like morays, barracudas and even manta rays and whale sharks – the world's largest fish. There are wrecks of old naval craft sunk during World War Two, although these are accessible only to certified technical divers.
Sipadan, Kapalai and Mabul Islands (Sabah)
Off the northeast coast of Borneo, Sipadan is famed for having featured in Jacques Cousteau's documentary "The Ghost of the Sea Turtle", but it is most well-known today as probably Malaysia's premier diving location. Part of the Sabah region of Malaysia, the Sipadan Kapalai Resort is an essential go-to spot for serious divers the world over. Mabul is known uniquely for its muck diving conditions, and is a haven for an extremely rich diversity of marine micro life. Some very exotic aquatic species are to be found at all three sites, including parrotfish, pufferfish and one again moray eels.
Layang-Layang Island (Sabah)
A band of thirteen coral atolls amid the South China Sea, Layang-Layang is some way north of Borneo and accessible by boat. It is not a tropical island in the commonly understood sense, but rather is a landing strip with one resort and a marine base. Noted for some especially interesting marine life, divers engaging between March and July can expect to see hammerhead sharks (see National Geographic), as well as tuna, and sometimes even turtles and the bashful sunfish. Diving is all the year round, although some species are more likely to be seen during the earlier months.
Rawa Island (Peninsular Malaysia)
A privately-owned isle situated within the Sultan Iskandar Marine Park, Rawa Island hosts two resorts overlooking stunning waters containing some of the most beautiful marine life in the region. The coral is healthy and unspoiled by human interaction due to the exclusive nature of the venue. With a 12-meter maximum depth which is ideal for beginners but also more than adequate for most experienced divers, Rawa Island is also convenient to reach by car, bus or taxi from the capital Kuala Lumpur.
Pom Pom Island (Sabah)
Whilst Pom Pom is accessible to and is used by novices, the strong currents tend to make it more suitable for the more experienced amongst the diving community. It also serves the additional purpose of providing a convenient springboard to other sites such as Mabul Island and Sipadan. But Pom Pom Island is also well worth a visit in its own right for the marine delights that it has to offer. Large green turtles which lay their eggs on the shore at night can often be seen swimming during the day, along with clown fish, eels and jellyfish. Instructors tend to prefer to take lessons in the mornings, which may be a discreet indicator of the best time to visit.
Related Videos about Top 5 Dive Sites in Malaysia :
BEST DIVE SITE IN THE WORLD – SIPADAN ISLAND!!!! (180 | Southeast Asia Travel VLOG)
THE BEST DIVING SIPADAN ISLAND – SABAH – BORNEO – MALASIA – MALAYSIA
Malaysia's Best Diving Sites
Diving Magnificent Malaysia
Top 5 Dive Spots in Malaysia
Scuba Diving In Tioman Island ( Malaysia )
Top 5 Dive Sites in Malaysia
scuba diving malaysia price, diving malaysia perhentian island, sipadan diving malaysia, sipadan best diving malaysia, mabul island diving malaysia, lankayan island diving malaysia, sipadan malaysia, Kapalai diving malaysia,