Understanding the Importance of Wearing a Rash Guard during Summer : When browsing the internet for appropriate swimwear this summer, you might notice that rash guards pop up in the search results when you type in "swimwear online Australia". This trendy swimwear is a popular piece of swimming apparel for many beach-goers, especially in the summer.
In fact, there are many benefits to wearing a rash guard over a regular bikini or swimming trunks. Before we get into the details, however, let's take a look at what exactly a rash guard is and how it functions.
What Is a Rash Guard and How Does It Work?
A rash guard is a protective sports apparel, which is considered a type of athletic shirt or vest, made from spandex and combined with polyester or nylon. Many people associate the origins of rash guards to Australia, where the clothing's nickname "rashie" came from. It's typically worn as protection from warm to hot summer temperatures while engaging in watersports like swimming, surfboarding, kayaking, and the like. Other variations of rash guards have also been made to adapt it to other sports like American football, baseball, and mixed martial arts.
Rash guards are made using a six-panel flatlock stitching, which provides the wearer with increased mobility in both dry and wet conditions compared to the traditional four-panel stitching construction of regular t-shirts. Flatlock stitching also gives the garment more durability when subjected to the stress of intense sports activity. Given the lightweight materials and superior construction, rash guards are light, durable, flexible, and quick-drying pieces of clothing that are perfect for various types of athletic activities.
Benefits of Wearing a Rash Guard
If you're still on the fence on whether or not to get a rash guard for your summer beach trips, here are a few good reasons why you should.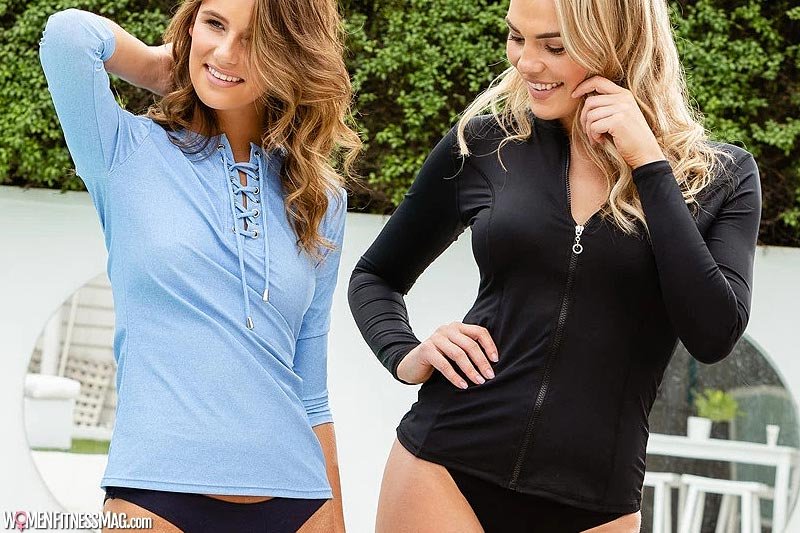 Protects Your Skin from Rashes and UV Rays


As its name implies, rash guards were originally made to protect its wearer from rashes and abrasions when using a surfboard. Aside from this, they provide good protection from UV rays. Rash guards have an Ultraviolet Protection Factor (UPF) rating of around fifty. If you expect to spend a lot of time under the sun while on the beach, then this is a good way to avoid getting scrapes or sunburn.

Maximize Your Sun Protection without Compromising Style


One of the most important things people consider when picking out swimwear is the form factor, and nothing says stylish like a trendy rash guard. Many popular brands offer a variety of rash guard styles for both men and women. If you're going for that surfer look, then you can't go wrong with a rash guard.

Preserve Body Warmth When Swimming in Cold Waters


An underappreciated benefit of wearing a rash guard is the ability for it to preserve body heat when swimming in cold waters. This is especially true when diving into deeper waters, where the temperature can get quite chilly. The thick, thermal-preserving properties of the fabric can prevent body heat from escaping and keep you relatively warm for extended periods.

Added Layer of Protection When Worn with Wetsuits


Rash guards are typically worn beneath wetsuits to prevent chafing and to provide an additional layer of protection. People who wear wetsuits without any additional clothing underneath tend to get rashes from sand and wax residue, so it makes sense to wear something like a rash guard first. Wearing a regular fit rash guard makes it easier to put on and take off a wetsuit as well.

Easy to Wash and Quick-Drying


One of the great things about rash guards is its quick drying property. This makes it quite easy to wash and dry your rash guard at the end of the day. It also has anti-microbial properties that prevent foul odours, which regular clothing tend to have if not dried properly after a day of swimming on the beach.
Investing in protective swimwear this summer makes the most sense if you want to enjoy the season with having to suffer from sunburn or board rashes. With benefits like style, comfort, and protection going in favour of rash guards, there's no reason why you shouldn't pick one up this summer.
Related Videos about Understanding the Importance of Wearing a Rash Guard during Summer :
How to Buy a Rash Guard
MixTips# 7: Wear rashguard or wetsuits
Understanding the Importance of Wearing a Rash Guard during Summer
rash guard for swimming pool, what is a rash guard bjj, rash guard men, what to wear under rash guard, how should a rash guard fit, rash guard vs swimsuit, rash guard vs wetsuit, best rash guard womens,