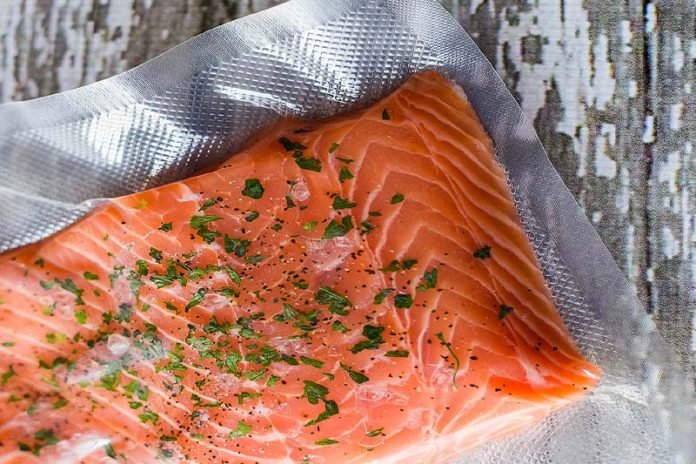 Vacuum Sealing food : your route to reduce food wastage by increase food storing period. One of the most revolutionary ways to create your own food pantry at home is vacuum seal food. It is no hidden secret that many food items do not stay for long as everything comes with it's expiry date, but using the right tools such as vacuum sealing, you can increase food's shelf life and freshness as much as it allows.
Vacuum sealing food was introduced many years back as a method to extend the shelf life of food items that you buy from your supermarkets and grocery stores. Today vacuum sealing is also used as an inventive method to cook delicious food in many cuisines, but it still remains as the predominant method to store food in the best way. The only tool you need to vacuum seal your food is the food vacuum sealer available in the market. You may explore the classic and latest best vacuum sealer reviews here.
These come in two types: handheld vacuum sealers and countertop vacuum sealers. Counter top vacuum sealers are said to be the most efficient, durable and stronger but everything that is better comes with a price. These ones are more expensive than many handheld vacuum sealers available in the market and that is the reason they are most commonly found in households and home pantries. The other reason why many households prefer handheld vacuum sealers to the other one is that they save space as they can be stored away when not in use.
Basically, vacuum sealing food means packaging food through a technology called reduced oxygen packaging. By creating a vacuum around the food item, the atmospheric oxygen around the food reduces significantly and this slows down the deterioration process for the food item. Reducing oxygen around the food helps creating an anaerobic atmosphere that further helps in reducing fungi or bacterial growth. Big food manufacturers also use this method to produce many refrigerated food, frozen food and dried foods by vacuum seal the food before it is canned in containers.
However, what is aso important to note is that vacuum sealing is not a substitute to heating the food, refrigerating it or freezing it. When it is used commercially, it is combined with many other techniques to prepare refrigerated, frozen or canned food.
Why vacuum sealing food is becoming more and more popular is also no hidden truth. This perhaps one of the most economical methods to store food and increase its life. It has been researched and found that vacuum sealed food stays 3 to 5 times fresher and healthier than normal food.
With vacuum sealing, food items also retain their appearance, texture and freshness. The other advantage is that because vacuum sealed food stays longer, you can actually buy food in bulk and vacuum seal it separately to be used at different times of the day or week. Buying food in bulk has also proven to be very cost effective, affordable and time saving.
Vacuum sealing becomes extremely helpful when you are planning a vacation or a road trip with your family and planning to store and carry food with you, so you are not wasting time in searching for quality food around and make the most of your holiday. Vacuum sealing comes in really handy when your intend is to pack some food and also have the best pellet or electric smoker with you so you can all BBG together, cook food together and have a gala time.
For safe food storage and packing, there are some easy tips that you can follow on a holiday or an excursion. Make sure your food is stored in airtight containers if not vacuum sealed. It is advised to vacuum seal raw meat to avoid any possible cross contamination. Because each food item is cooked at a different temperature, storing them differently will save time and effort too. Such as storing raw chicken separately from buns even though you'll eat them together as a burger.
So now that we have seen how important vacuum sealing your food is. We are sure the next thing on your mind is to find out which is the best vacuum sealer you can buy at an affordable price.
One of the better vacuum sealers in the market is from the famous brand – FoodSaver, Food saver offers two models that are cost effective and very efficient for home use at the same time, Foodsaver V2244 and FoodSaver V4400. The V2244 model is great if your aim is to seal and stock up fresh berries, cereals, trout fillets, etc. this vacuum sealer is very easy to use and comes with a crush-fresh functionality that protects food so there is no wastage from crushing of food. This vacuum sealer is great if you are into baking and need fruits to be preserved to be baked at a later stage.
The other model, V4400, is a 2 in-1 vacuum sealer that offers great flexibility and versatility in a compact design, the machine also provides you with storage bags made instantly from the roll stored inside the machine, so you can seal and preserve your food in large quantities at the same time.
Another one from a great brand is the Vacmaster VP210. It is a chamber-based vacuum sealer where both the bag and the food are placed inside the chamber and all air is sucked out of the chamber to create that perfect seal. This is a great product specially for storing your liquids or dry foods. The other one from hamilton beach, the hamilton beach 78213 nutrifresh vacuum sealer, is a very durable and affordable vacuum sealer that offers top-quality seal for your foods so they stay fresh and healthy for longer periods of time.
Conclusion:
Vacuum sealing food items is an extremely effective and economical way to create a variety in your home party, protect your food and save money at the same time. If you are into creative thinking about food you can also study using vacuum sealing with other techniques to not only store your food items but also use it to cook delicious dishes to surprise your family and friends at the dinner table. Not to mention that vacuum sealers today come in varied colors and contemporary designs, it's addition to your kitchen bench top can add life to your kitchen.
Related Videos:
DIY Survival Food Storage – Vacuum Seal Your Own Meal Packs
Vacuum packing for long term storage How to for the beginner + find best value, sealer & bags.
How to Vacuum Seal Your Food
How To Preserve Vegetables With a Vacuum Sealer
How to Vacuum Seal Food without Equipment
Vacuum Sealing food : your route to reduce food wastage by increase food storing period
sealed air food care – cryovac, product care sealed air, sealed air product catalog, foodcare app, sealed air protective packaging, sealed air product care solutions, sealed air product price, food care wikipedia,