Visit Therme Bucuresti – The Biggest Wellness, Relaxation, And Entertainment Center In Europe : Romania is making giant steps in an attempt to become one of the most magnetizing countries of Eastern Europe. Next to some already famous landmarks recently risen the Therme Bucuresti that is judging by the tourist's one of the most interesting places in this historical city. This is a place where you can find everything an adult could want from a mecca of relaxation but also children.
A pool with orchids around it and a water bar, hydromassage beds or infrared therapy, three saunas, children's play areas, including PlayStation consoles, a library where you can get books and enjoy favorite music and all of that while enjoying one of the biggest in-door beach complexes of the world.
The Best Place To Relax In This Part Of The World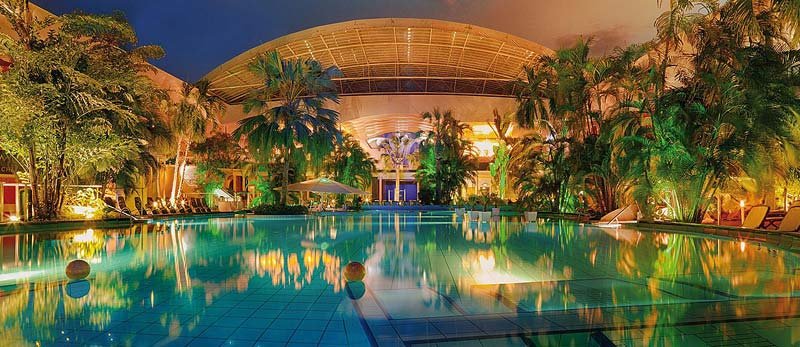 The prime reason for tens of millions of tourists to arrive every year in Romania is fun. Hence the number of satisfied bachelor crews who claim that their Romania stag do experience is was out of this world. And how it could not be with such affordable prices, mouth-watering dishes and entertaining options in such abundance that one weekend is never enough to cover them all.
One such attraction is without any doubt the now famous Therme Bucuresti. With just a half of hour of driving from the Bucharest city center, you will arrive at the place that will take your breath away just as you see it.
The resort has three main areas, the Galaxy area having the "most spectacular indoor slides in Central and South-Eastern Europe" that have a total length of 1.5 km. The other two are Elysium and the Palm, where the access of children up to 16 years old is not permitted.
Children under 3 years old are being allowed only when accompanied by parents, as stated on the Therme website.
The prices depend on the length of access, the area of access and age, with children under three having free access and the price for an adult for full-day access to all three areas being 83 RON or just 18 Euros.
New Attractions Are Added Regularly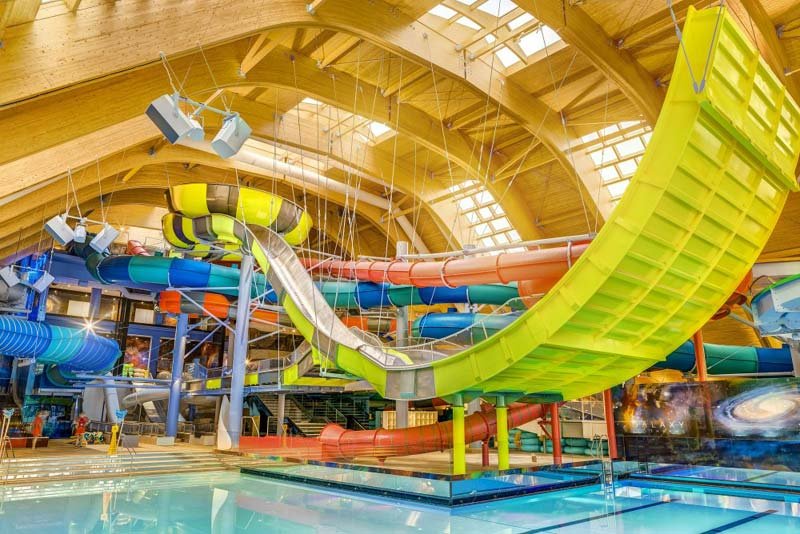 At the end of the previous year, this huge complex got upgraded with an amazing new section. The new area is designed to provide children with other fun ways than water slides and give parents a place to relax while the kids are having fun.
Even those who pay access to the Palm or Galaxy have reasons to come here too, those hydromassage beds seem very cool, and the saunas are of lower temperature so many more people will find it to their liking. In addition, Himalayan salt constructions are worth seeing, especially in the evenings when they glow with indoor light that looks spectacular.
Also, with the opening of this area, Therme Bucharest became the largest palm plantation in Europe.
Hydromassage That You Have To Try Immediately
There are 10 such beds that have water inside. They will make you feel almost like when you sail on the raft while relaxing your body completely. A sensation that you won't soon forget.  There are various programs that can be chosen from a monitor or bed remote control.
Infrared beds are there at your service too and they do exactly what their name says.
These are soft sofas that have infrared lamps above, for those who want such therapies. Infrared light has antibacterial and other curative properties for the skin and is very recommended by dermatologists.
Good news is that your kids can remain close to you. A smaller children's area with all sorts of water games and a projection screen of 5 x 3.5 meters and the secluded rooftop that is open in the summer. The roof has an area of 800 square meters of glass and weighs 100 tons.
From this area, you and your kids can easily walk out to the outdoor pool open where there is another pool bar and so many other water game attractions. If you find yourself on your way through this part of the world, make sure to visit this amazing relaxation and entertainment center and enjoy your time with low cost and such a high level of service.
Related Videos about Therme Bucuresti – The Biggest Wellness, Relaxation, And Entertainment Center In Europe :
Therme Bucuresti – prezentare oficiala
Therme Bucuresti | GALAXY (All Water Slides) Onride! NEW 2016
Therme Bucuresti in Romania (Trance Music Clip!)
Therme Bucuresti – "Quasar" Space Bowl Trichterrutsche Onride POV
Cum arată Therme Bucuresti
Therme Bucuresti – "The Racer" Formula 1 Water Slide Onride POV
Visit Therme Bucuresti – The Biggest Wellness, Relaxation, And Entertainment Center In Europe