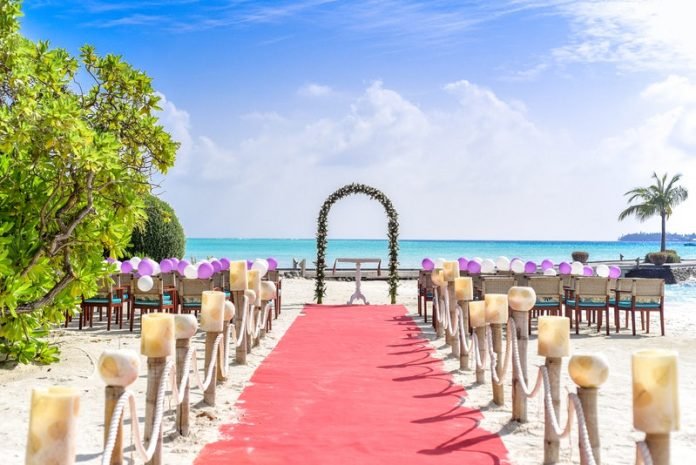 What are the new established trends in Destination Weddings? Destination weddings have become a rage nowadays. Couples just love to tie the knot at exotic destinations to make their wedding a dreamy affair. Such destination weddings used to be a couple's easy out as they want to avoid an expensive affair with aunts, uncles, cousins, second cousins and what not. They used to smaller affair more intimate and, more, far away, to cut down the guest list.
But now, the time has changed! Destination weddings have emerged the "Big Fat Indian Weddings". The planning, décor, music and everything at these destination weddings have made them overly expensive and grand.
There are now personalized itineraries for the entire guest list to essentially a mega-vacation cum celebration for more than just the bride and groom. So, here are some of the top trends that have changed the face of such weddings.
Eco-Friendly Weddings
This has emerged as one of the favourite trends! Couples who are eco-conscious are going for creative ways be environment-friendly, even at their weddings.  They are ditching paper invites for e-invites or relying on daylight as well as candles for their lighting, as the part of their decor.  Even there are various wedding venues in Delhi NCR that are opting for similar concepts.
Ditching The Technology
The wedding ceremony holds the sanctity of the union between two people has made unplugged weddings all the rage. The couples now want the guests to put their phones away to make their wedding a success. The photographers have always ranted about being unable to take the beautiful shots as too many people are taking their own photos. Plus, nobody will be able to put on pictures without your consent. 
The rise of Luxurious Elements
As weddings are one in a lifetime events, therefore couples, as well as the guests, are willing to spend more for one-of-a-kind luxury touches. They are opting for going above and beyond to truly customize their wedding experience. Bride as well as the groom are ready to splurge on everything from private island buyouts and complete venue buyouts to chartered jets, a night on a yacht and flying in a celebrity guest.
While the bar for destination weddings constantly moves higher, for modern couples, great travel experiences seem to be the perfect add-on to their big day.
Related Videos about What are the new established trends in Destination Weddings :
Top 10 Destinations For A Dream Wedding
TOP 10 DESTINATION WEDDING PLANNING TIPS!
Destination Wedding Trends for Summer
Trends for Destination Weddings and Honeymoons
How To Plan A Destination Wedding
10 Tips For Planning a Stress-Free Destination Wedding
Current Trends of Destination Weddings
What are the new established trends in Destination Weddings?
wedding trends 2019, destination wedding locations, reasons to have a destination wedding,