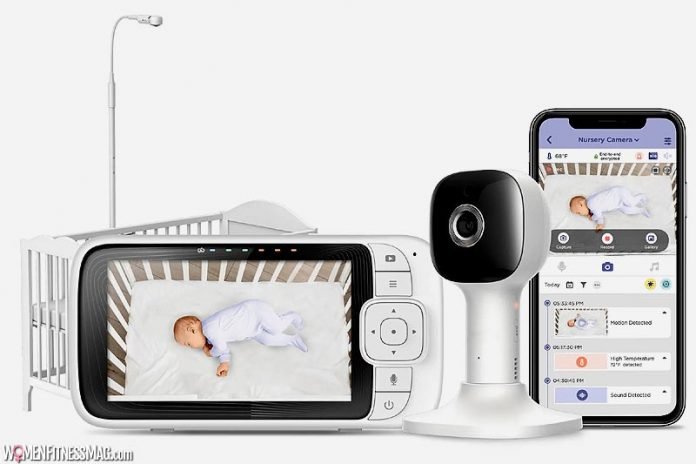 What Baby Monitor Should I Buy? : One of the most important things you can buy as a new parent is a baby monitor. This will become your most used device once your little one has been brought home and it is a way to ensure their safety no matter where you are.
Baby monitors have been around for decades and have been a new parent staple for just as long, but the models available today have been improved significantly.
There are so many options out there these days for baby monitors and this can be overwhelming for new parents sot deal with, along with everything else.
In this guide, we are sharing what you should look for when it comes to baby monitors and which are the best ones available right now.
What Makes A Good Baby Monitor?
The purpose of a baby monitor is to monitor your baby when you are not in the room with them. Traditional monitors would allow only for the sound to travel throughout the house, allowing parents and guardians to hear the cries of their child from another room, but nowadays there is so much more available.
Baby monitors come in all shapes and sizes these days, with camera monitors and smart monitors being available alongside the traditional audio stream versions.
This ensures that no matter where you are, you can keep track of your little ones and ensure their safety at all times.
Baby monitors are used during naptime and bedtime, to ensure your little one is sleeping undisturbed and can reach you whenever they need. There are other monitors which can now be used to keep an eye on your baby as they play in another room or when they are left with a babysitter as you return to work or run errands.
No matter your schedule, there are baby monitors out there that can support your needs so you should consider your options carefully.
What Is The Best Baby Monitor For Me?
As we have mentioned, there are baby monitors available for all kinds of parents these days. No matter your parenting style or routine, there is a great range of baby monitors out there and smart devices which can make it easier than ever before to keep track of your little one.
If you are looking for a reliable, smart device then you should consider Hubble monitors.
This brand has everything you could need when it comes to baby monitors, from cameras to smart monitoring devices that can connect to wifi for a reliable connection. There are monitors to suit all needs and budgets available at this brand and it is well-established making it a number one choice for parents across the world.
Hubble is a great baby brand and is well loved by new parents for how easy they make its devices. You never have to worry about your little one again with this brand on your side and their monitors are some of the best in the business.
Related Videos about What Baby Monitor Should I Buy? :
What Baby Monitor Should I Buy?
best baby monitor without wifi, vava baby monitor, best baby monitor with camera, best baby monitor with screen and app, nanit baby monitor, baby monitor reviews, nest baby monitor, baby monitor that connects to phone,