Women's Ultimate Guide to Sneakers : Sneakers are known to be the perfect fusion of style and comfort. Not only do they look fantastic on anyone, but they also flatter a massive range of outfits.
Whether it's the CLASSICS from Top shoes brands like adidas and Nike or the newer statement styles from brands like VEJA and Balenciaga, sneakers are no longer just reserved for the gym.
But What to Wear With Sneakers?
There are more sneaker options today than there ever has been before. With so many different kinds, types, and styles, it can get a little overwhelming!
In this Ultimate Guide to Women's sneaker – we have picked for you the best ways to wear sneakers and the latest sneaker trends.
YES! I agree girls don't jump on every trend. But, Why not use them to recreate your own stylish get up with sneakers?
Before we get started, let us answer a more intricate question –
Be it in heels or sneakers. 
As times are changing and we shift focus from fashion to practicality, there is a growing emphasis on sneaker culture. That is not to say that heels are taking a backseat, it just means that sneakers are now also welcome to the party.
Let's review the advantages of leaning towards the sneaker side:
Versatility 
Sneakers come in so many styles and that's what makes them perfect for a kind of activity.
For instance, you can wear sneakers on casual Fridays at the office or for casual walks in the park. they can be used for casual walks in the park, for exercising,
Leather sneakers, on the other hand, can be worn with more formal events in some cases, but it's never a good idea to wear them with your gym outfit. The sneakers you should work out with are a category of their own as they need to have some specific features that will make your time blowing off steam more effective and safer.
The key to finding the perfect pair is to keep it simple and serviceable. 
Support
No matter whether you are doing high-intensity exercises, running or playing any sport, a good pair of sneakers will provide your feet with all the much-needed support.
Moreover, sneakers provide more stability when compared to any other type of footwear making it easier for you to perform cross-training movement.
Feet injuries can be painful and they may take some time to heal which can be quite frustrating. Also, some models are specifically designed to suit the needs of people who have flat feet as they tend to fall over easily while walking or running.
Sneakers are TRENDING. 
With the birth of athleisure and street style coming to the lead of the fashion scene, we've noted that sneakers are making their presence known and felt, too. The lines are now obscured and women now no longer rely exclusively on heels to complete their looks.
Since Kanye West released his first well-acclaimed Yeezy collection and Rihanna collaborated with Puma to launch her Puma x Fenty range, many other celebrities followed suit by putting their name behind big sneaker brands and have thus paved the way to a new dawn of comfortable fashionista's (Reason we are so here for it!).
If you're feeling unsure when it comes to getting dressed without heels, see below for 15 sneaker-friendly outfit formulas to spark your style inspiration.
Cuff those jeans and expose your ankle bone.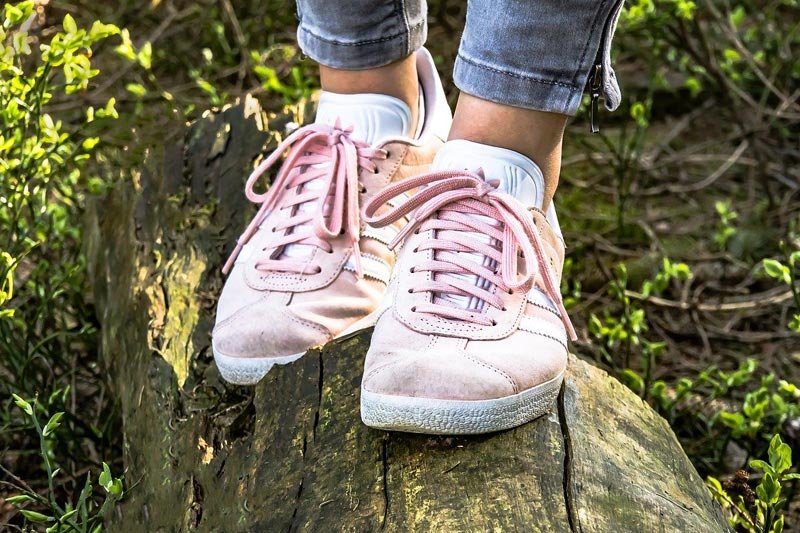 When wearing sneakers you can make them a statement (something to show off). The best way to do that is to make sure they are seen, so your pants (or jeans) need to fall right above your ankle bone. Cuff them, hem them and cut them. Do something to make them that perfect length.
Pair sneakers with a midi dress
A pair of sneakers with a midi dress can look casual cool for any event. Do not hesitate to add sunnies and statement bag – just to complete the look.
Why not with a Blazer and Slip
If you love to layer, then a blazer-over-a-dress ensemble is definitely for you. The pink tones in the shoes also coordinate with the slip, while their chunky sole works well with the oversized silhouette of the jacket.
Leather pant and T-shirt
Another easy combo is a leather pant (or mini) and a graphic tee to give them some edge. You'll sense so comfy throughout the day, but the leather pant will definitely keep it stylish. YES – a minimal sneaker that doesn't have too many details on it will look super chic.
Tracksuit or workout outfit with sneakers
Simply because you're going to the gym to sweat does not mean you cannot wear a good outfit.
Alongside jargony materials and cushion technology, lifestyle runners (or tracksuit) now have beauty to match the brains.
When styling, you shouldn't completely shy away from their sporting credentials, but you don't want to look like you're en way to the gym either.
Sporty but sharp is the aim, says Nicholson. "Nike Flyknits and Adidas Ultra Boosts are perfect for adding an element of street-wear to your look."
Denim and sneakers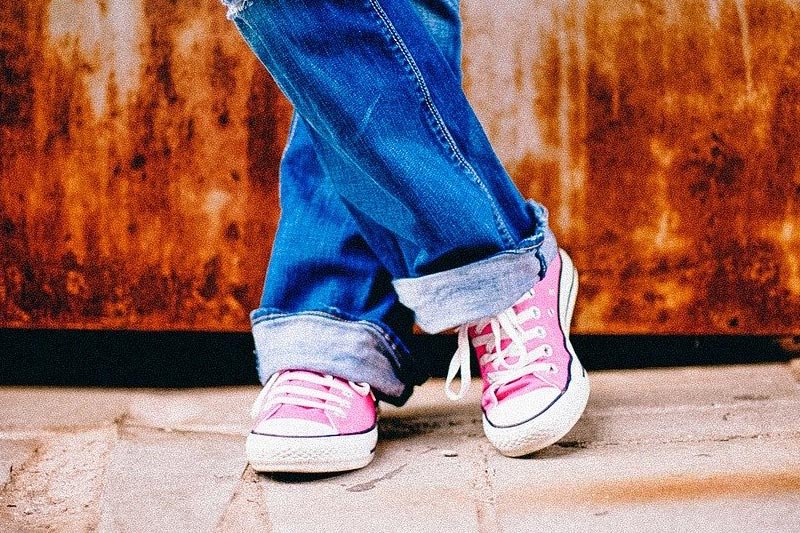 This is the epitome of the "cool girl" style in my book. Taking all of your fashion staples (a black mini t-shirt dress, a medium wash oversized denim jacket, your favorite shades) and pairing them with your basic Nike sneaks is easy while still looking entirely put together. You literally just pulled your closet and made an outfit. In my opinion, it couldn't get much better than denim and sneakers.
A fun pant. 
Whether they're in an interesting color, print, or silhouette, Fun pants — are the simplest way to inject some style into an otherwise basic outfit. Pair these with a comfy white tee and your fave white sneakers for a stylish look that still feels like you're in your PJs.
Crop top with a skirt. 
Crop tops and high waist jeans never go out of order. If you are wondering what to wear to on a bright sunny day to college, day out, picnic or a date, be sure to rely on crop top outfits – go best with a comfortable pair of sneakers.
All white.
We are talking about HEAD to TOE white – Yes! It gives angelic vibes. This all-white ensemble is perfect for a first impression.
White looks neat and innocent. If you want to add colors choose a bold lip, like plum or blood red. Neutrals work just as fine. The best thing about an all-white outfit is that you have endless potentialities and choices of make-up.
Must try sneakers with culotte's pants.
Culottes, gauchos, palazzo pants: Spring and summer are all about these loose, cropped trousers. Styling them can be tricky, though—but with kicks, it becomes infinitely easier to elevate your culottes.
Colored Knit Sweater
It's time to pull out all those sweaters you pushed into the back of your closet last season. Finding new ways to style classic knits can sometimes feel a bit uninspired. Or you might be thinking which of these colors go on your feet?
The answer is none. Choose white shoes to solve the dilemma and look hipster.
Silk dress and sneaker – Show-stopper.
Silk and Sneakers – Really!
Why not, this vibrant street style ensemble from Sydney Fashion Week. This way you can party all night long and won't have to worry about forming blisters while you do. And you can avoid the walk of shame with your broken heel in your hand.
With Bold Floral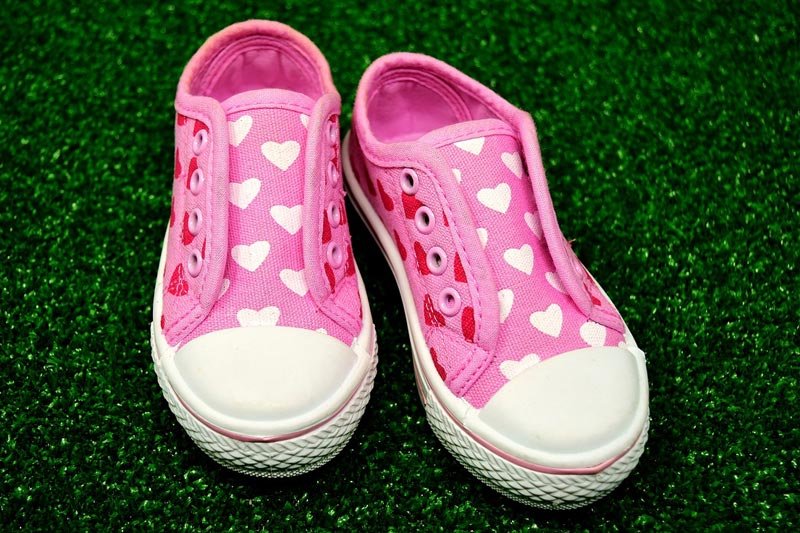 Floral prints and summer season are synonymous with each other. Floral fashion is never out of trend even for high-end designers.
But the big question is what to wear with your cute floral summer dresses? Just let the white kicks do all the job done for you.
Maybe a cutout maxi.
If you enjoy looking young and energetic in a party, while you don't mind showing some skin – a cutout maxi and a white pair of sneaker along with printed saddle bag DEFINITELY adds some extra cuteness too.
Try sneaker with work friendly formal dress.
You bought a perfect dress but don't see any event in sight to show it off? All you need to do is to add a jacket (may be a leather one) and some sneakers to tone down the formal element and make your outfit look more like a street wear.
For most of girls riding any trend just means that whatever you do most likely will fade away as fast as the trend appeared. But this sneaker trends are HERE TO STAY Wearing sneakers never gets old. 
Women's Ultimate Guide to Sneakers
best white sneakers womens, veja sneakers, sneaker trends 2019 women's, trendy sneakers 2019 women's, beginners guide to sneakers, white sneaker trend 2019, white sneaker trend 2018, best sneakers 2019 women's, Women's Ultimate Guide to Sneakers