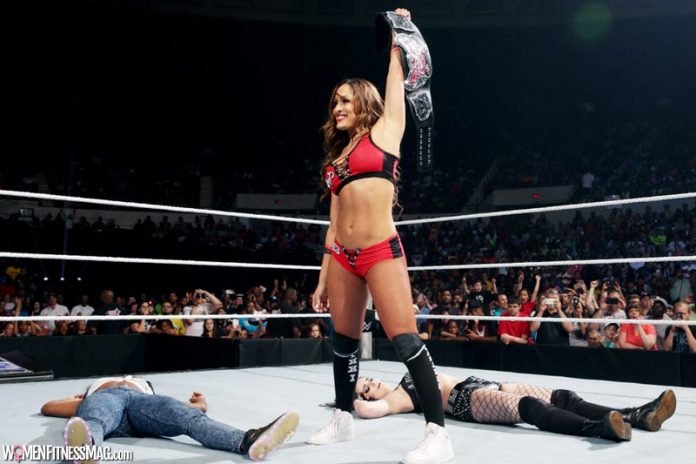 WWE Fails To Follow Up On Women's History : This April, the world's largest professional wrestling company will run its annual WrestleMania event. It will be the 36th in a series that started back in the 1980s and seems to have grown larger every year.
Approximately sixty thousand wrestling and entertainment fans from around the world will make their way to the Raymond James Stadium in Tampa, Florida, to watch the event. They're certain to see a spectacular show, but they won't see anything like as historically significant an event as the fans who turned out for last year's WrestleMania 35 event.
Twelve short months ago, WrestleMania made mainstream news headlines all over the world when, for the first time ever, the card was headlined by female professional wrestlers. Former UFC star Ronda Rousey went head to head with both Becky Lynch and Charlotte Flair in a three-way match that featured two championship titles on the line and captured the imagination of the public. It felt like a moment in time, and a platform for bigger things. Unfortunately, there's been little sign of the company following up on that momentum outside of one specific example.
If the match did anything thing, it made Becky Lynch into a top-tier star. There is a range of WWE themed games headed to online slots websites this winter, and one of them is based on her, you might check it out on websites such as UK Online Slots. Another is based on Ronda Rousey. Aside from that, every single one of the online slots games is based on male wrestlers. That's despite the fact that, as we've mentioned on this site recently, more women are playing online slots than at any point in the past. WWE is seemingly happy to position women at the top table, but not many women, and not consistently. Becky and Ronda get to be the face of online slots games, but it seems that Becky doesn't get to be the face of WrestleMania again.
This year, Becky Lynch is slated to face Shayna Baszler. You may not know the name, but she's one of Ronda Rousey's old UFC friends and a member of a stable known as the 'Four Horsewomen' in UFC along with Jessamyn Duke and Marina Shafir. Lynch is a member of WWE's pro wrestling version of the four horsewomen along with Sasha Banks, Bayley, and Charlotte, and so the story writes itself. It will be a competitive match and might even be one of the highlights of the show, but Baszler doesn't have the star power of Rousey, and there's no chance of the match being the main event.
The Lynch vs. Baszler match will be for the WWE RAW Women's Championship. The WWE SmackDown Women's Championship – also won by Becky last year – is currently around the waist of Bayley. Less than a month out from WrestleMania, it still isn't clear who Bayley will be facing for that championship on the show, or even whether she has a booking on the show at all. The SmackDown championship won't be in the main event this year, either. It might be lucky to get a slot on the pre-show unless WWE has something compelling up their sleeve for the next three to four weeks.
Instead of women in the main event, the match that closes the show will likely be either Roman Reigns vs. Bill Goldberg, or Brock Lesnar vs. Drew McIntyre. Both are undoubtedly big matches and worthy of star billing, but switching back to men main eventing after a single year of giving the women a chance makes last year feel like it was a gimmick or a token gift. Some people might feel that it's right to switch the focus back to men after last year and that perhaps next year the woman could take the lead again, but to do so is to miss an important point. Roman Reigns headlines every WrestleMania between 31 and 34. The top star should be in the top match. Becky Lynch hasn't become any less of a star in the twelve months that have passed since she closed the show.
It's not just WrestleMania that WWE has dropped the ball on when it comes to representation and progression. In 2018, the company ran it's first-ever all-female Pay Per View, a show called 'Evolution,' as the Nassau Veterans Memorial Coliseum in New York. It was assumed, as is the case with every other Pay Per View on the WWE calendar, that the show would be back in 2019. It wasn't, and there have been no plans announced to schedule another one. To add insult to injury, the company also didn't run the Mae Young Classic in 2019. The annual all-female tournament ran in 2017 and 2018 but didn't come back last year. If the twelve months between April 2018 and April 2019 was the year that WWE recognized women, the twelve months since then has been the year that they forgot about them again.
To make matters worse, WWE has been running two shows a year in Saudi Arabia for the past two years. Their presence in the country is controversial enough as it is, but during those shows, they've only been permitted to stage two women's matches. The matches have been worked by women in head-to-toe coverings working at very low intensity, and largely shorn of their usual gimmicks and excesses. At the same time as backing away from their much-vaunted 'women's revolution,' WWE now appear to be more interested in collecting enormous amounts of Saudi Arabian money for running shows where women are barely tolerated, let alone celebrated.
None of the above should be held against the talented women who appear on WWE's shows. Becky Lynch will still likely steal the show at WrestleMania. Bayley will put on a fine match with whoever she gets handed as an opponent, and the match between Charlotte Flair and NXT Champion Rhea Ripley should be an entertaining, hard-hitting bout. It's just a shame that the women as a whole appear to have been collectively demoted from the position that they held just a year ago and that the glass ceiling over their heads appears to have been put back into place. Perhaps it isn't a surprise that Ronda Rousey has never come back to the company after last year's event, after all.
WWE Fails To Follow Up On Women's History
wwe divas names, wwe female wrestlers list, diva wwe wrestlers, wwe female wrestlers 2019, sable wwe, current wwe divas, wwe attitude era divas hot, wwe divas 2019, WWE Fails To Follow Up On Women's History