5 Advantages of Telemedicine : Health technology has advanced rapidly in recent years. Many cutting-edge medical devices and equipment help doctors diagnose and treat their patients. Mobile apps help with tracking health issues like diet and nutrition. Besides all that, there's a new way of delivering health care services through videoconferencing. It's called telemedicine and it's beginning to have a major impact on the way we receive medical care. Here are five advantages it offers.
Comfortable

There are two main ways telemedicine seems more comfortable for many people. For one thing, it's fairly common for people to feel uncomfortable going to a clinic or hospital. Either they're worried about contagious diseases or they've had a bad experience there like the death of a loved one.

The other issue is you may not feel comfortable going to a doctor's office to talk about personal issues like mental health. Telemedicine can give you access to doctors and counselors in the comfort and security of your own home. For example, BetterHelp.com offers videoconferencing you can access wherever you feel most at ease.

Convenient

Sometimes, it just isn't convenient to make a trip to the doctor's office. Maybe you don't have transportation, or the highway is in gridlock. You have to arrange for babysitting for your child or adult daycare for your elderly parent. Telemedicine eliminates those inconveniences by bringing health services to you.

Available Everywhere

No matter where you live, you can take advantage of telemedicine. Whether you live in a small town with no specialists or a remote mountaintop with no one around for miles, telemedicine makes it possible for you to see a doctor or counselor when you need them without taking a long trip.

Time-Saving and Cost-Saving

Telemedicine is so time-efficient that it decreases the time you spend dealing with medical and mental health care. Travel time may be eliminated completely. Because it's quicker for doctors, you may be able to get help without waiting a long time for an appointment.

Telemedicine is already saving doctors, clinics, and hospitals time and money. It also has cost advantages for you as the patient. For starters, visits may be less expensive. Other cost savings include reduced fuel, bus, or taxi costs. You don't have to pay extra for babysitting or adult day care. You may even save yourself eating out, because you're at home the whole time.

Safety Benefits

When you see a doctor from your home, you avoid the possibility of getting an infection from a stranger. You don't have to go out on the road, so you avoid car wrecks. If your medical condition impairs your movement, you may be safer at home, as well.
The five advantages listed above work together to increase your commitment to your health. Telemedicine eliminates so many issues that might hold you back from getting the help you need. It breaks down those barriers easily so that you're more apt to manage your health conditions, diet, and fitness when otherwise it might just seem like way too much trouble.
Author:
Marie Miguel has been a writing and research expert for nearly a decade, covering a variety of health- related topics. Currently, she is contributing to the expansion and growth of a free online mental health resource with BetterHelp.com. With an interest and dedication to addressing stigmas associated with mental health, she continues to specifically target subjects related to anxiety and depression.
Related Videos about Advantages of Telemedicine :
What Is Telemedicine?
Benefits to Telemedicine
Benefits to Telemedicine
Advantages of Telemedicine at the University of Vermont Medical Center
Advantages of Telemedicine
Telemedicine puts a doctor virtually at your bedside
Benefits of Telemedicine for Patients
"The Overall Advantages of Telemedicine"- Dr. Scott Conard
Related Infographics about Advantages of Telemedicine :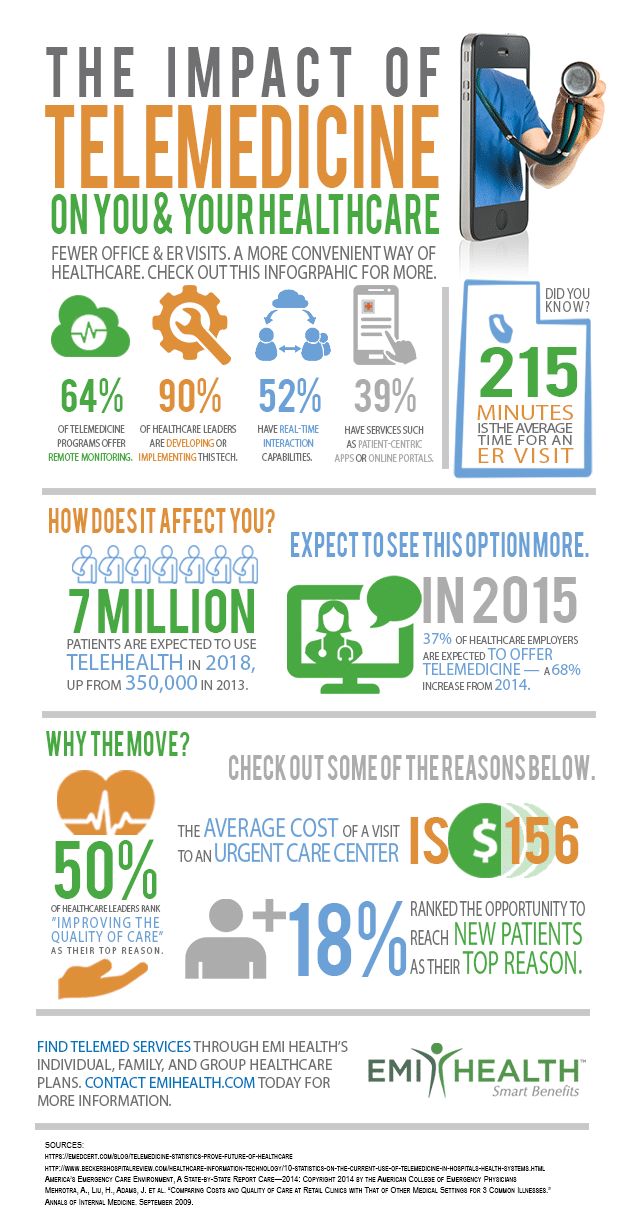 5 Advantages of Telemedicine
telehealth benefits and challenges, advantages of telehealth nursing, limitations of telemedicine, what is telemedicine, what are some of the benefits of telemedicine quizlet, telemedicine costs and benefits, three ways that telehealth could be a challenge, benefits of telemedicine article,