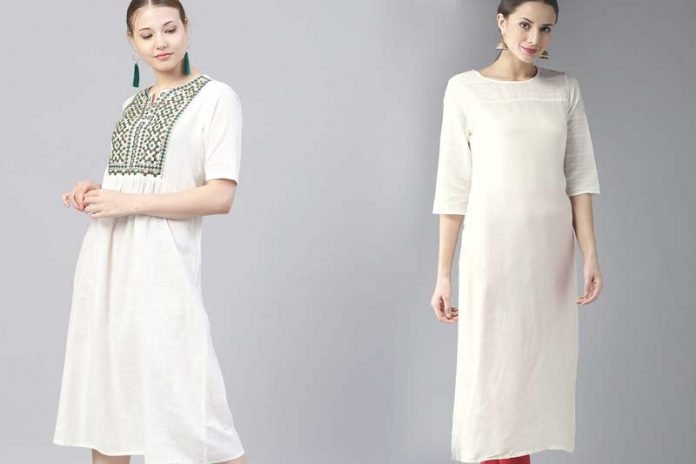 5 Kurtis For Women That Will Go Perfect With The Holi Celebrations : Given that the festival of Holi is knocking at the door, it becomes important to turn your hands over the wardrobe. Holi is the festival of colors. And most of the women prefer wearing white colored clothes. While clothes become a mandatory factor that highlights you on this day, quality attire has no replacement. So why choose other clothes for women when you already have so many variations in the range of kurti?
For a while now, women's ready-made Kurtis have become significant when it comes to dressing code in the UK. From formal to ethnic, this type of clothing for women has garnered immense popularity among women of all ages. There are multiple variations under the range of kurtis for women. And in a world where every woman makes the best possible way to celebrate the colorful festival, kurti becomes a significant clothing form. But what is the necessity of choosing kurti during this festival? To know more, keep scrolling down.
Why wear kurti on Holi?
In a world of vivacity, India happens to be that land where different festivals are known by different names. And when it comes to Holi, there are much happier sides of the festival. The day comes right after the day of Holika that is celebrated as the victory of good over the evil. Whether you reside in Mathura or sway on Shanti Niketan, celebrating Holi is a much-awaited thing for you. This colorful festival actually helps you present your childlike behavior. Hence, comfort remains the first priority. Plus, there is a big no to the body-hugging clothes, especially during the time of Holi. Talking about comfort, the best attire that starts penetrating on every woman's mind is Kurti. Mentioned below are the five stylish yet comfortable kurtis for women to flaunt on this Holi. To know more, keep reading on.
5 Best-Designed and Stylish Kurtis to Wear on Holi
High-Low Kurti


High-Low Kurtis add a great definition to your styling appeals. It is comfortable to flaunt yourself during the Holi festival. And it is marginally safer to pull off your dressing sense. You can make flaunt this type of kurtis with denim jeans or jeggings. But what's best recommended is to pull faded jeans and add highlight this kurti. This will not just make things safer to play with colors but will also offer a presentable look. The best thing about high-low kurti is that it can be carried by everyone ranging from slim-trim figure to the ones on the heavier side. Just don't make a size disaster. Choose the sizes accordingly to look gorgeous during the festival.

Flared Asymmetrical Kurtis


Asymmetrical kurtis are pretty an in-thing in the recent world. And if you add a bit of flared design into it, it becomes a perfect combination to deliver a great kurti design. For a while now, flared designs have returned as a style. The thing that was backdated has again come back and impressed its own shares of fans. Women wearing kurtis also love this pattern on the clothes. So, for the perfect kurti on Holi, this type of kurtis would look great on you. This piece of kurti would look great if you wear it with a pair of Capri or Capri jeans. As far as recommendations are concerned, a pair of Capri jeans is the best idea to carry off this design of kurti during the time of Holi.

Reversible Short or Long Kurti


When it comes to Holi, reversible kurti might be the perfect and one-stop choice for women. Reversible kurtis are those which allow you to wear the kurti by both sides. Not necessarily the color has to be different, but these kurtis might also feature two different patterns on both sides. So, in case you wear one side during the Holi, you can easily carry off the other side during other occasions. And if the side gets completely colored, you can take time to wash it off and carry off the other side of the Kurti effortlessly. The reversible kurtis are one of the best kurtis for women to wear during Holi.

Waist-Sized Kurtis


When comfort is the only choice, shorts and short kurtis are significantly beautiful to wear during Holi. A pair of denim shorts goes perfectly with a free-waist-sized kurti. This Indo-Western combination will result in a tremendous first impression. In addition to that, you don't really need to think twice about the colors. It'll wash off within a couple of days. This style of kurti is perfect for college goers. Alternatively, women on the lighter side can pull this style brilliantly. You can try out a light colored lipstick and a pair of ear-pins with it. Also, the ones who aren't that much comfortable with shorts can also wear this with a pair of jeans or Capri.

Jacket Kurtis


Jacket kurtis are perfect ethnic attire for any type of occasion. Wearing a jacket kurti will add a new definition to the overall look. Not just that, it also amps the overall look of yours instantly. In addition to this, it can also carry off as a dress itself. This type of kurti is best suited for women ranging from middle-age to quarter-age. It can be pulled off amazingly with leggings or jeggings.
Conclusion
Thus, the five best designs of kurtis have been demonstrated above. Giving a closure, Holi is the festival of colors. So why not pull off a white colored kurti and highlight the vibrancy of the colors more?
Related Videos about Kurtis For Women That Will Go Perfect With The Holi Celebrations :
Top 10 Holi Dresses Designs Patterns Collection | Jeans Kurti | Long Kurti | Salwars Kameez
Holi Outfit Ideas | Different kurtis look to try this Holi
Best women holy party outfit/suit/kurti design ideas for holi party
Holi Outfit Ideas 2019| HOW TO STYLE KURTI
5 Kurtis For Women That Will Go Perfect With The Holi Celebrations
kurtis myntra, kurti amazon, kurtis design, kurti top, kurtis sales, designer long kurtis, designer kurtis for wedding, buy kurtis online for cheap,