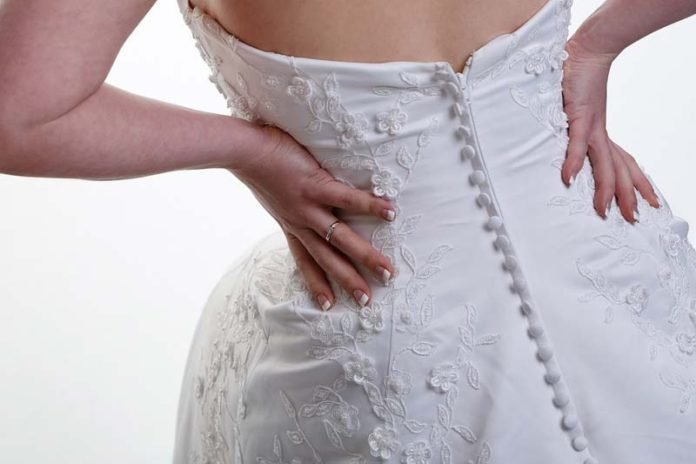 5 Pounds Between You And Your Wedding Gown : You have done everything right. You selected your dress in plenty of time and went in on schedule for alterations. The dress of your dreams is beautifully fitted to show off your best features. Whether the gown is a silky mermaid cut or a full skirt with a plunging back, it must fit perfectly. You worked very hard to get a bridal gown like this.
You have given it little thought with the endless appointments with vendors, wedding and honeymoon plans, rehearsals and working a full-time job. But tonight you grabbed for a favorite dress and it would not zip. A panicked run to the bathroom scale confirmed you have gained 5-pounds since your dress was altered and you have only a few weeks until the wedding.
This is not unusual. Your body is being pushed to the max. You are stressed and eating on the go way too much. Your celebrations have included bridal showers, bachelorette parties, rehearsal dinners, all day shopping adventures with fast food always on the menu. When you least expect it and least want it, a few pounds manage to sneak up on you. Don't panic.
We are going to give you a few tips to help you shed those pounds before the wedding. While there is no time to spare, it can be done if you work for it. What better motivation than wearing that your wedding gown down the aisle?
Lose the booze
Alcohol is a glass full of empty calories. This is so true that many brides have lost their desired weight by simply removing alcohol from their life for a few weeks. In your case, it may take a bit more than giving up your favorite nightcap. If you simply must have a drink, stick with a white-wine spritzer instead of beer or sweet cocktails. Of course, water will help you with a host of beauty issues so your best bet is to drop a cherry or olive in a glass of sparkling water and fake it till you make it.
Choose 3
High protein and high fiber snacks are the only snacks you can consider right now. They are very filling and do not leave you hungry. Liquid diets are a bad idea. They leave you so hungry that you are surviving strictly on will power. Instead, work with your body. Variety is not your friend. Choose 3 snacks that are high protein or high fiber and stick with only those choices if you must snack.
You can try things like:
Nuts and seeds
Jerky
Fruit (watching caloric intake)
String cheese
Say yes to water and no to salt
You need water. You need it to hydrate your body, control your hunger, enhance your skin, and allow your body to function efficiently. Salt makes your body hold on to water which results in water weight gain. Don't give up the water, give up the salt! To get rid of the extra pounds remove the fluid hugging salt and flush away the impurities with water for fast results. If you are still having some issues as you get close to the wedding, try spending some time in the sauna and sweat it off. But regardless, do not give up the water.
Shock your system
Considering your busy schedule, it is safe to assume you have only been squeezing in your normal workout for a while. You are probably on a plateau. Shock your system into overdrive with a supercharged workout. One day per week, double your efforts in the gym. Work out normally the rest of the week. Add some calorie burning, body sculpting steps along the way. Park your car further from the door at work or the shopping mall and walk for it. Take the stairs instead of the elevator.
Related Videos:
Learn the Goal of a Wedding Dress Fitting
WHAT I ATE IN A DAY – TO LOSE WEIGHT FOR MY WEDDING (DAY 9 DIET PLAN)
How to Prepare for Your Wedding Dress Fitting
5 Pounds Between You And Your Wedding Gown
when should i get my wedding dress fitted, wedding dress too small can it be altered, wedding dress hem length, wedding dress fitting timeline, how to alter a wedding dress bust, how to alter a wedding dress yourself, should my wedding dress touch the floor, wedding dress length guide, Your Wedding Gown