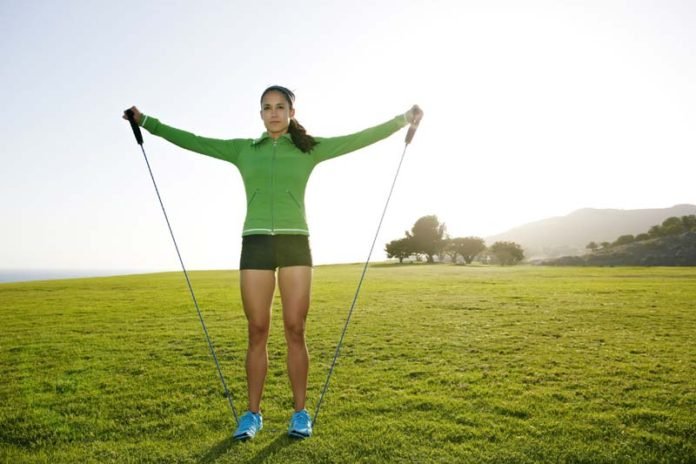 5 Tips for Using Resistance Bands : When it comes to enhancing your own muscle tone with a low-impact exercise, few solutions are as effective as working out with resistance bands. A rather basic piece of fitness equipment, resistance bands are typically made of a stretchy material like rubber latex and offer a low-cost alternative to expensive gym equipment and weight machines.
If you are looking to enhance your resistance band game or simply getting started with a new workout routine, don't miss these quick tips:
Find the right bands for you
Not all resistance bands are created equal, and depending on your size, needs, and workout environment, the bands you use may vary from another person's. Some bands will come with metal or plastic clips so you can connect them to anchor points for your exercises. Others will feature special grip handles, while some are even more basic with no handles or grips, just flat bands of stretchy material.
Resistance bands come in an array of colors, each indicating its own level of resistance – typically the darker colors like blue and black will offer the heaviest resistance, while a bright yellow indicates light resistance (great for beginners).
Strive for alignment
The unique aspect of resistance band training which differs from training with weight machines or dumbbells is that it requires constant tension. Not only are you feeling the pull or resistance when using the bands, but you have to engage more stabilizing muscle groups to help keep the bands aligned, whether you have them over a door or around your feet. Perfecting alignment when stretching and training with resistance bands gives you a more dynamic workout.
Get creative
As opposed to laying down on the bench and simply pressing weights overhead, strength training with resistance bands allows you to get creative and incorporate more variety into your routine. Wondering how to use your resistance bands? Here are some popular sets. Gripping the handles and standing on the band, you can practice bicep curls or reach arms up over your head for more resistance training.
You can stretch and tone your chest and shoulders by wrapping the band around a sturdy column or chair and pulling on the band accordingly. You can even complete effective resistance band exercises lying on the floor or sitting in a chair. Seek guidance from a knowledgeable instructor on all the ways you can properly use resistance bands or look online for video tutorials.
Use them regularly
Put your inexpensive and powerful resistance bands to use regularly, don't let them collect dust in the corner. Like with any exercise, routine activity is key. Resistance bands can play an integral role in your daily workout routine, or simply as a weekend ritual. Keep up the work and you will notice how your strength grows and the degree of resistance you need to feel challenged builds too.
Include cardio
Resistance bands aren't only for strength training and flexibility – in fact, they make great tools for cardio fitness as well. Sample cardio resistance band exercises include a take on a plyometric jump squat with arms pressed back. With the band anchored at a point in front of you (i.e. wrapped around a pole), stand with your arms gripping the handles down by your sides and your feet hip-width apart. Bend your knees and lower yourself into a deep squat, pushing your arms back as you do, then quickly jump up using the force of your legs and swinging your arms forward in front of your chest. Land and bring arms straight back again.
Don't forget these quick resistance band reminders as well: practice deep and controlled breathing when using resistance bands to make the most out of your effort. Avoid locking your joints or over-extending them. Remember the key isn't speed but control and strength – go slow and fine-tune your balance, coordination, and precision. And most of all, have fun!
Related Videos:
30 Minute Full Body Resistance Band Workout – Slim Down & Tone Up 250-300 Calories
Full Body Resistance Band Loop Workout | Total Body Workout with a Resistance Loop
Top 10 Resistance Band Exercises
Short Full-Body Workout w/ Resistance Bands
RESISTANCE BAND BOOTY WORKOUT / use at home or in the gym!
Bicep & Tricep Super Set Workout – Resistance Band Exercises
Resistance Band Arms & Abs Workout
Related Infographics: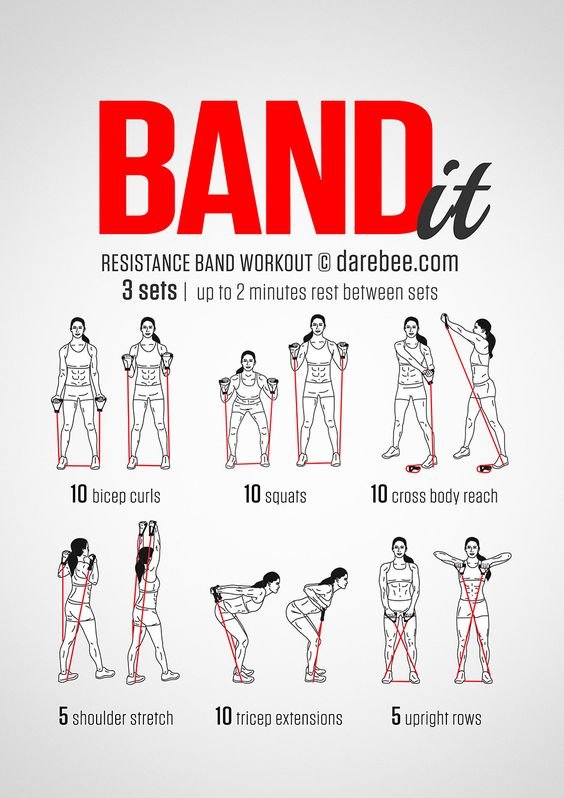 5 Tips for Using Resistance Bands
resistance bands exercises for beginners, resistance band exercises for legs, resistance band exercises for arms, resistance band exercises for men, resistance band exercises pdf, resistance loop band exercises, resistance band exercises for abs, resistance tube exercises, how to tie resistance band to pole, how to tie a knot in a resistance band, resistance bands too long, how to shorten resistance bands, how to adjust resistance bands, how to tie resistance band to door, how to cut resistance bands, how to tie a resistance band to a pull up bar,