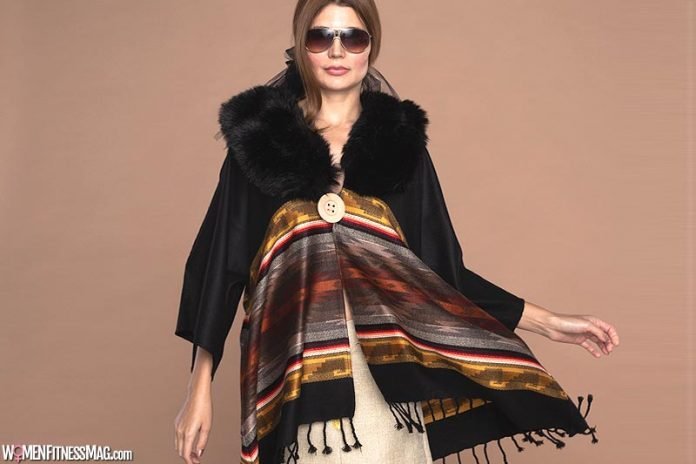 5 Unique Ways to Style Your Cape This 2020 : Women's capes are the best outerwear trends that one can follow. It is full of drama and makes you stand out in the crowd. Cape styles might look a bit of a work to do as they can make or break your look. Whether you are trying to attain a street fashion look or runway look, capes never go out of style.
The first problem that comes to mind when one thinks about wearing any cape is layering. It becomes difficult to conclude what one must wear underneath it and what is the best time to wear a cape. All these things majorly depend on the style of the cape that you are choosing. To make things easier for you, here is a list of five unique ways in which you can style your cape.
Jeans and Blazer Cape


Women's capes that fit like a blazer is the perfect outfit for a casual look. You can wear it with a pair of jeans and put on your favourite sneakers. In case the weather is too cold, you can wear a sweater underneath it. Blazer capes in the solid dark or light colours would further add a statement to your look.

Jumpsuit and Knit Poncho


If you want to look fancy without giving much effort, then you should go for this combination. If you're going to offset the volume, then you can go for vertical stripes and tonal colours. In case you want to give your body a more defined look, then you can also secure the poncho with a shiny belt. For footwear, you can go for boots of any length.

Jeans and Statement Cape


When it comes to statement capes, it is the best outerwear that would help you to make a dramatic and swooping entrance into a room. Long and multicoloured statement women's capes would make heads turn when you walk past by. However, for colourful capes, you need to make sure that the rest of the outfit is body-fitted and subtle. You can try to blend your top's colour with that of the cape so that your jeans and shoes can be the centre of attraction.

Single Shoulder Cape


If you do not mind taking a bold step, then this style would just fit you right. Wear your favourite flared, boyfriend, or mom jeans and pin the cape to the jean's waistline. The asymmetric style of the cape would not only define your waist, but it would also give you a quirky look. Moreover, if the weather isn't too cold, it's the best way to wear your winter clothes.

Long Dress and Long Capes


Correlating proportions is the safest way to style women's capes. When the weather is extra cold, and you still want to rock your outfit, then you can complement your long dress with a long cape. It makes you look fancy, elegant, and straight out of the runway. Moreover, it also makes you look tall. You can wear a subtle and straightforward dress and pair it with an over-the-top cape.
From preppy silhouettes to satin tuxedo styles, there are multiple ways through which you can pull of a caped crusader style in no time. You can choose any of these styles for your date-night dressing or your daytime office look. The best thing about women's capes is that you can pair it with any clothes of your choice and steal glances easily.
Author:
Cathy: I travel the entire world while blogging and doing freelancing services. Before I started writing for a living I experimented with various occupations, but writing is my favorite job and doing it full time makes me happy. I helped many of my clients build their audience online. I love creating unique and research-driven content.
Related Videos about 5 Unique Ways to Style Your Cape This 2020 :
20 Style Tips On How To Wear A Cape This Fall
Cape Outfit Ideas
3 Trendy Ways To Wear A Cape
How To Wear A Cape
Ways to Wear a Cape
5 Unique Ways to Style Your Cape This 2020
how to wear a cape 2019, how to wear a cape shawl, how to wear a cape 2018, how to wear a poncho cape, how to style a cape, how to wear a cashmere cape, can you wear a cloak in public, how to keep a cape on,