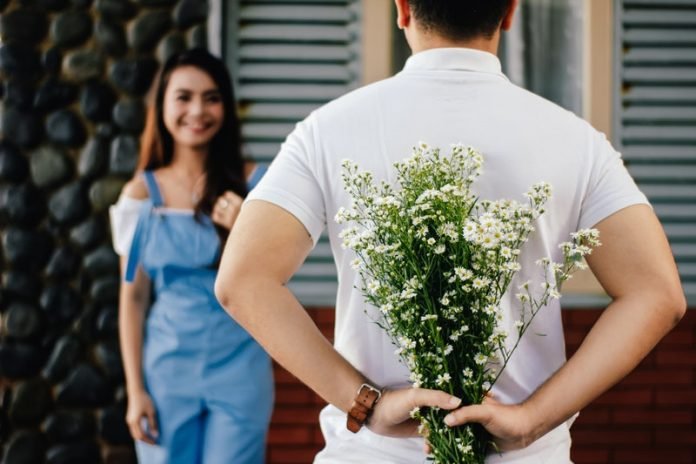 5 Ways To Express Your Love For That Someone Special : Love is the most beautiful feeling one can experience. Whether it stays with you forever or not but it leaves a mark on your heart for a lifetime. If you are lucky enough to have your love beside you in every phase of life, always express your love to them.
Expression of love is not only for specific days like Valentine's Day, rather you should do it for a lifetime to acknowledge your feelings to your partner. The consistent shower of love and appreciation does wonders for a relationship.
Love is not about spending a lot of money on expensive gifts and lavish date nights. When your partner loves you, they will appreciate even the tiniest thing you will do for them like giving gift cards from prepaid visas or buying a rose. When you are in love, nothing seems to be more sparkling than your relationship. You forget the whole world when your partner is around you. Love brings a special charm in your life.
Although love is the most precious thing one can ever have in his life it also requires a lot of effort and struggles of a lifetime. When practical life and responsibilities hit you hard, then you cannot always behave like high school love birds. You might argue or have fights that are perfectly okay since no relationship is perfect. When you love someone you might fight with them also but making a habit of expressing your love and appreciating them can help a lot in keeping magic alive in your love life.
Are you thinking about expressing your feelings for the first time?
If you are madly in love with someone and you have not expressed your feelings yet then you should not wait further and pour out your feelings to that someone special. Whether you are expressing your love for the first time or your married this article is the correct place for you.
Since here I am about to tell you the "5 ways to express your love for that someone special":
Plan a perfect date night


Planning a date night is the most special way of expressing your love to your beau or belle. Date night provides you the privacy and atmosphere where you can disclose all your feelings with the love of your life. Date nights are beneficial for married couples also. A piece of research was done at the University of Virginia which says date night improves your married life. Even after years of marriage if you keep a routine of going on date nights it keeps the love spell awake between you and your partner.

When people don't make a habit of going on date nights their relationship starts lacking the charm which they once had. When you have a busy routine your relationship will suffer from lack of communication, distance, misunderstandings and you both will start losing interest in each other. Date night makes your communication, understanding and emotional bonding stronger. As it gives you the private time in which you forget the world and the only person you see is your partner. So, get ready once a while and enjoy your romantic moments.

There are many ways you can plan your date night including:

Going for a movie and a romantic dinner
Decorate your house with lights, roses and prepare candlelight dinner
If you are into gaming or sports go for a fun activity
Plan a romantic dinner on a beautiful beach
Go for a road trip and make romantic memories there
Plan a vacation trip in a beautiful resort. Where you can get a good couple massage and then dinner
Romantic couple dance on perfect music beats will make your dinner date a perfect one
Book a yacht where you both can witness the beautiful sky and the deep sea at the same time, making your romantic date night the most memorable one.

Always appreciate your partner


Whenever someone praises or appreciates us it brings a smile to our face for the whole day. So, you can imagine appreciating your partner for their love and efforts which they do for you on a daily basis, how much it will make them happy.

Your partner has a lot of expectations from you. Your partner might be craving for your words of praise and appreciation rather than the expensive gifts. There is a great importance of gratitude in influencing a loving behavior. The more you will appreciate your partner the more he or she will think that you are grateful to have them.

Appreciation is a sign of showing your love for them. So start praising your partner even for the smallest things they do for you. Since this will motivate them to do more things for you in the future.

Small things matter the most


You might think that doing huge things will make your partner happy like planning vacations, buying expensive gifts but in reality, smaller things are done on a regular basis keep them happier. Plan small things for your partner like:

Helping them in household chores
Helping them in their work
Asking them if they had food or not
Tell them how beautiful or handsome they look
If they are into movies or video games join them

Take care of them


We all do take care of our partners but sometimes due to stressed up routines, we might neglect them. Taking care of them is the best way to express your love to them on a daily basis. Your one phone call on asking them did they reach to work safely can make their whole day. You asking them things like did you want to eat something special? Should I get you something? Can I help you with your work? Can bring a million-dollar smile on their face.

The best way you can express your love to your partner is through your care and attention. Rightly said by Bill Wilson "To the world you may be a person, but to one person you are the world". You may mean the world to your partner so do make them your first priority and pamper them as much as you can.

Surprise sounds great


Surprises keep the excitement alive in relationships. Your surprise may be small or huge but the glow and happiness it will bring to your partner's face will be a satisfactory moment for you. You can prepare a surprise like:

Sudden ice cream plan
Preparing candlelight dinner
A gift
Buying some flowers and card
Waking them up with a special breakfast
Surprise movie plan
Conclusion
I would like to conclude that for a successful relationship the expression of love should be done on a regular basis not just once a while. This keeps your relationship healthy and makes your understanding stronger. Never forget to give the importance and love to your partner which they deserve. Good relationships are built with the bricks of constant efforts and respect.
Related Videos about Ways To Express Your Love For That Someone Special :
Easy way to express your love without saying "I love you"
10 Beautiful Ways To Say 'I Love You' ❤️ | Learn Romantic English Expressions for Valentine's Day
8 UNIQUE WAYS TO EXPRESS YOUR LOVE
How to love and be loved
8 Simple Ways To Show Your Love Without Words
5 Ways To Express Your Love For That Someone Special
how to express love in words, how to express love to a man, creative ways to say i love you, how do you prove your love to someone, how to express love to a girl, cute ways to say i love you in a text, how to show love to someone, how to show someone you love them without words,