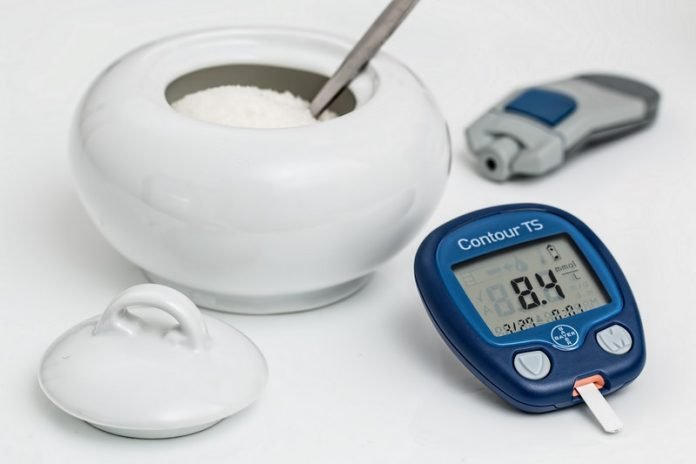 6 Ways to Eat Less Sugar : Are you struggling to lose weight? Has your doctor told you that you're in danger of becoming prediabetic? One of the primary culprits could be the empty calories found in all the sugar that is added to foods you eat.
How Much Sugar Should You Eat?
It can be tough to know how much sugar you should be limiting yourself to each day since more traditional nutrition labels don't share a "daily value" percentage for sugar on them. That said, the American Heart Association makes a strong recommendation regarding sugar consumption for men and women looking to stave off heart disease and other problems like diabetes and obesity.
Women should derive 100 of their daily calories or less from sugar. That equals roughly 25 grams or 6 teaspoons for the day.

Men should derive around 150 calories or less a day from sugar. That's closer to about 37.5 grams or 9 teaspoons.
To put this in perspective, one 16-ounce bottle of soda (Cola) has around 52 grams of sugar in it. That's over twice the amount of sugar a woman should consume in an entire day and over 70 percent of the sugar you should consume in a day.
If you are already pre-diabetic, diabetic, or obese, your doctor and dietitian can work with you to formulate a more comprehensive diet plan that cuts out sugars and helps you track, measure, and manage your weight.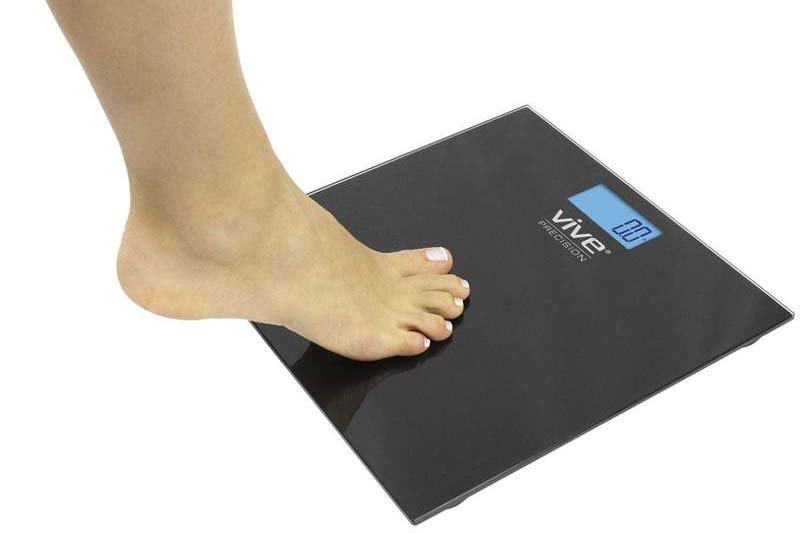 Depending on your condition, you may need to consume even less sugar than what the American Heart Association recommends.
Easy Ways to Eat Less Sugar
If you are looking for fast, effective ways to start limiting your sugar intake, check out this essential list:
Cut your table sugar consumption in half.

In addition to simply cutting back the amount of sugar you add to your coffee, tea, cereal, etc, you can cut back the number of table sugars you add to recipes you cook. Simply spoon less in (i.e. cut back by one-third to start) and you'll notice there isn't too much of a difference in the actual taste of the things you enjoy.

Ditch the sweetened drinks.

Sodas, sweetened teas, fruit juices . . . take one glance at the nutrition label on your typical juice or soda and you'll see that one serving likely has your entire day's worth of sugar in it or more. Ditching these types of drinks altogether will do wonders for your blood sugar levels. Opt for hydrating with water more regularly and swap your regular soda for sugar-free flavored sparkling waters.

Add fruit.

While fresh fruit does have sugar in it, it also delivers critical vitamins, antioxidants, and fiber as opposed to regular added sugar that is effectively an empty calorie. Adding fruit instead of sugar or artificial flavors to your food is a good way to get your sweet fix without the sudden blood sugar spike. Frozen and canned fruits are great as well, just make sure that you are not buying varieties that are prepared in "syrup" instead of water or their own natural juices.

Make smart swaps.

Replace sugar in your meals and baked goods with delicious extracts and spices. Almond and vanilla extracts and spices like cinnamon, nutmeg, ginger, and allspice can infuse flavor and make sugar far less necessary. You can also take advantage of delicious ingredients like unsweetened applesauce and Medjool dates in place of sugar in some recipes.

Learn to read nutrition labels.

Make more informed food choices by learning how to read nutrition labels. Lucky for you, new label requirements from the Federal Food and Drug Administration will require companies in the future to share specifically how many "added sugars" are in the food you are consuming. This can help you better gauge your sugar consumption to make smarter food choices.

Remember where sugar is hiding.

You might be surprised how much added sugar is in seemingly healthy items like fruit smoothies, pasta sauces, granola bars, instant oatmeal, salad dressings, and flavored yogurts. On top of reading nutrition labels, be mindful of the sugar content of foods you consume when you eat out at restaurants. Ketchup, for example, has upwards of 4 grams of sugar in it in just a couple tablespoons!
Related Videos about Ways to Eat Less Sugar :
How to cut sugar from your diet
Nutrition : How to Eliminate Sugar From Your Diet
Dr. Oz Explains How to Cut Down Sugar Cravings in Two Weeks
HOW TO EAT LESS SUGAR | 5 Ways to Kick Your Sugar Habit
How to Break Sugar Addiction: 7 Steps to Help You Stop Eating Sugar
10 Tips to Reduce Sugar in Your Diet
25 Ways to STOP Eating SUGAR!
Related Infographics about Ways to Eat Less Sugar :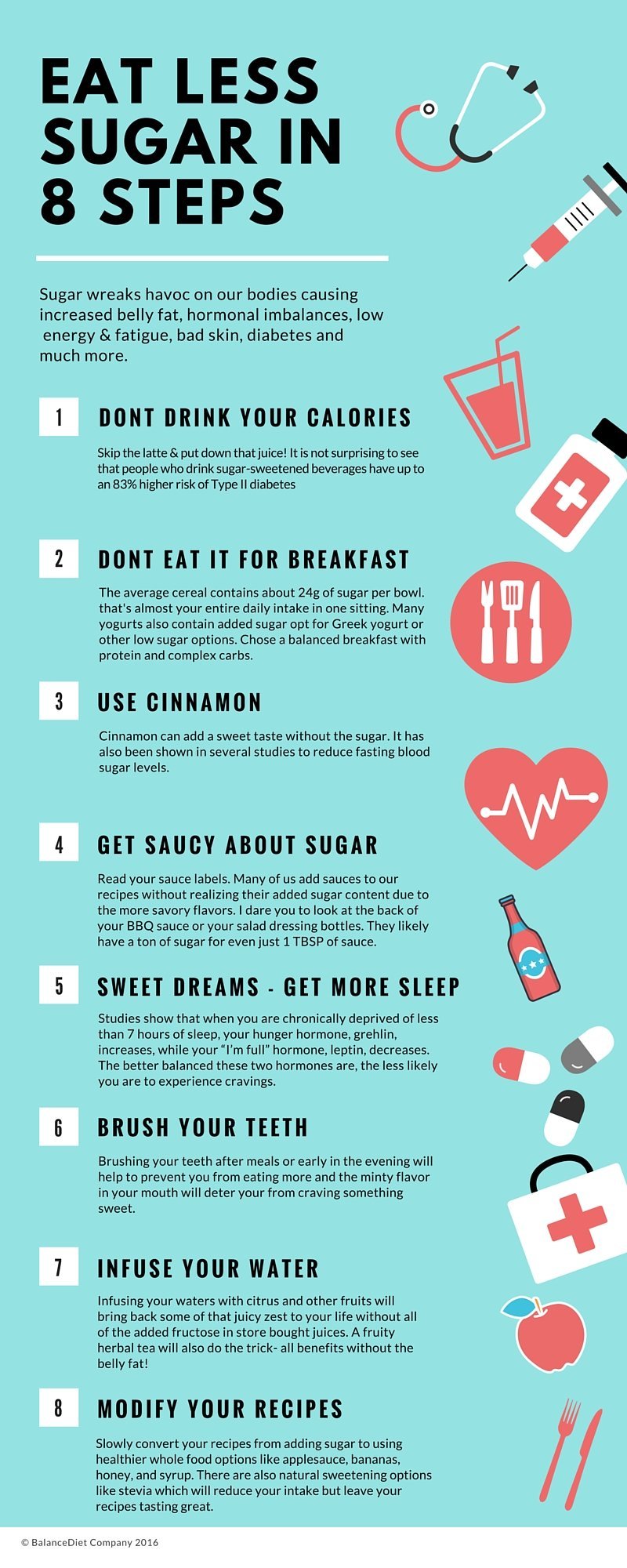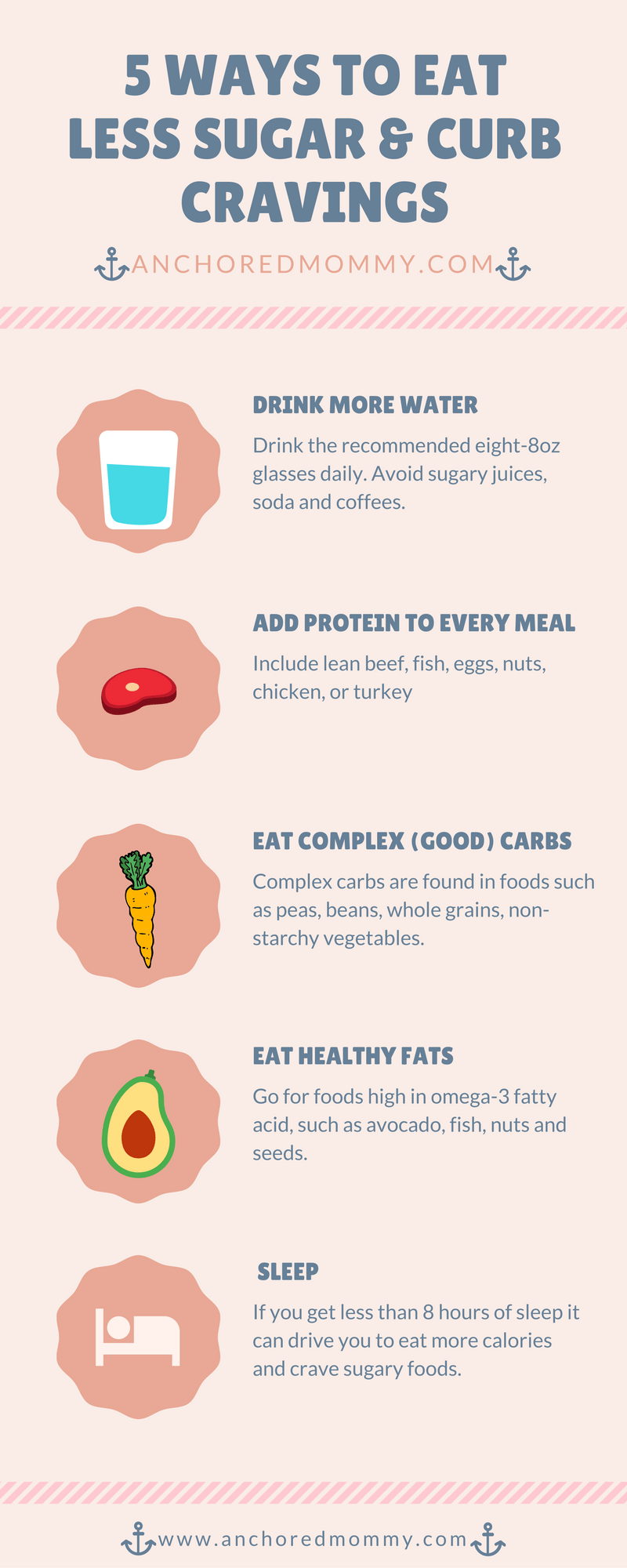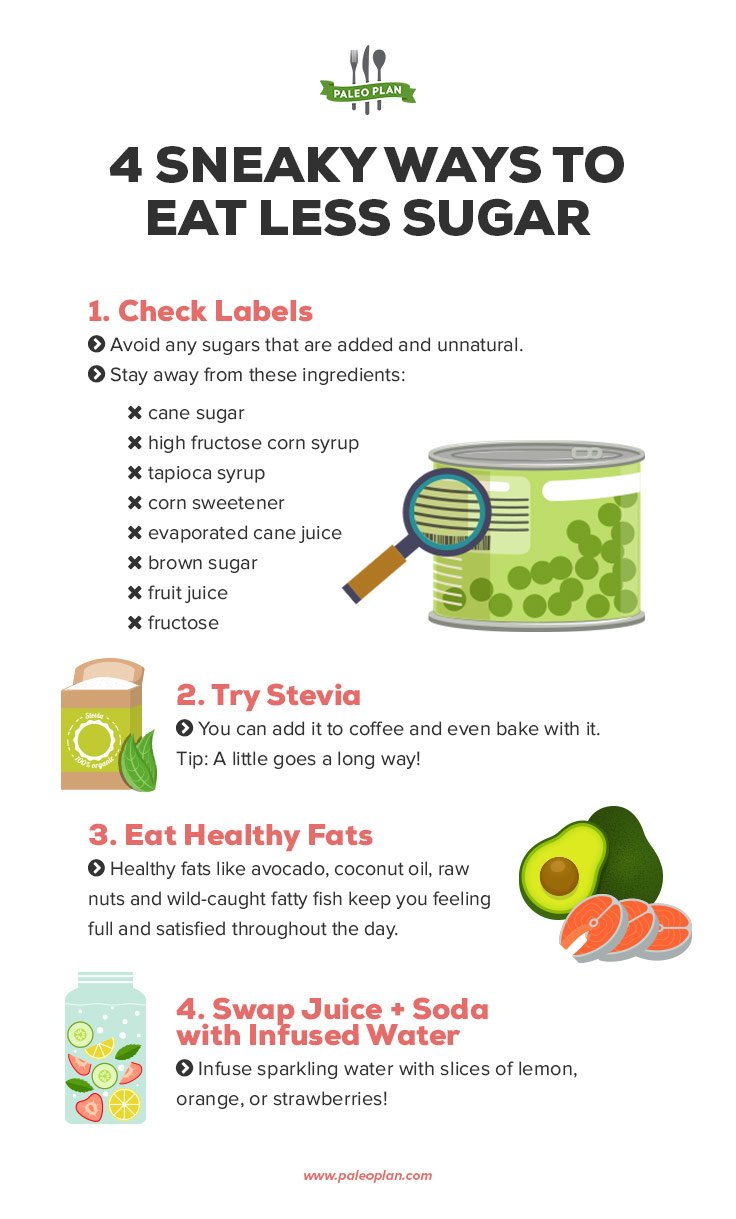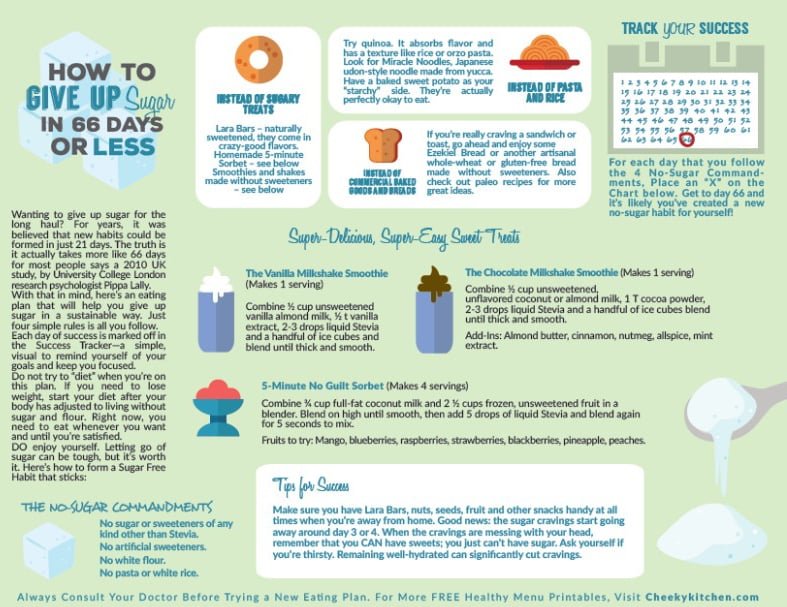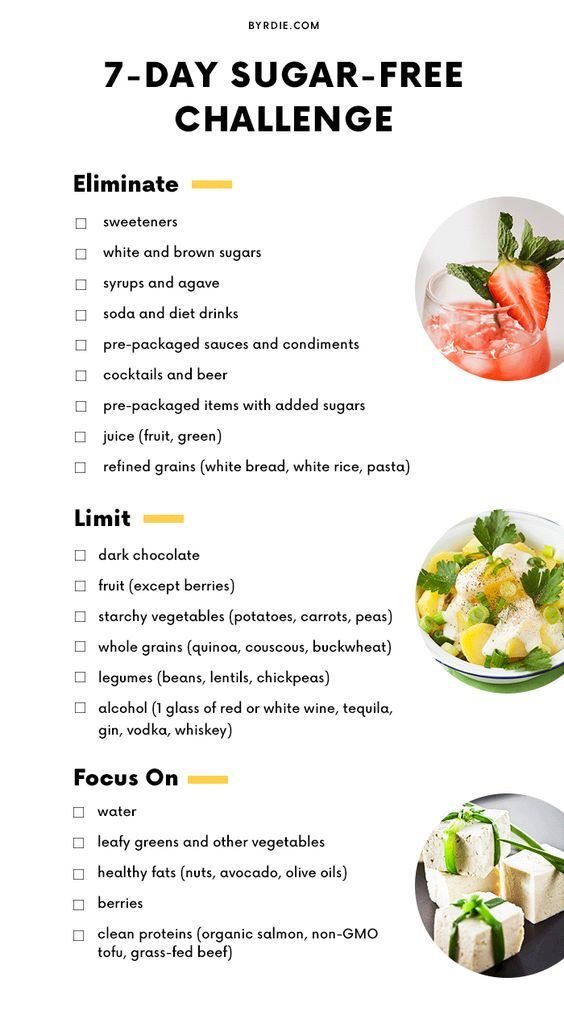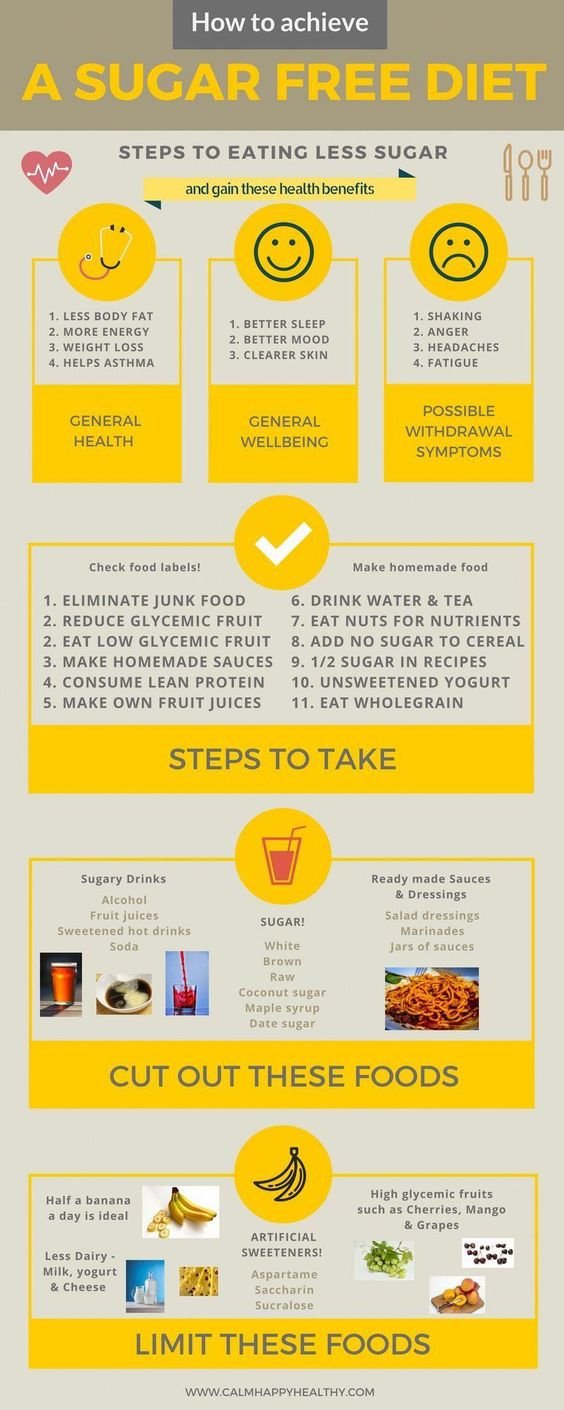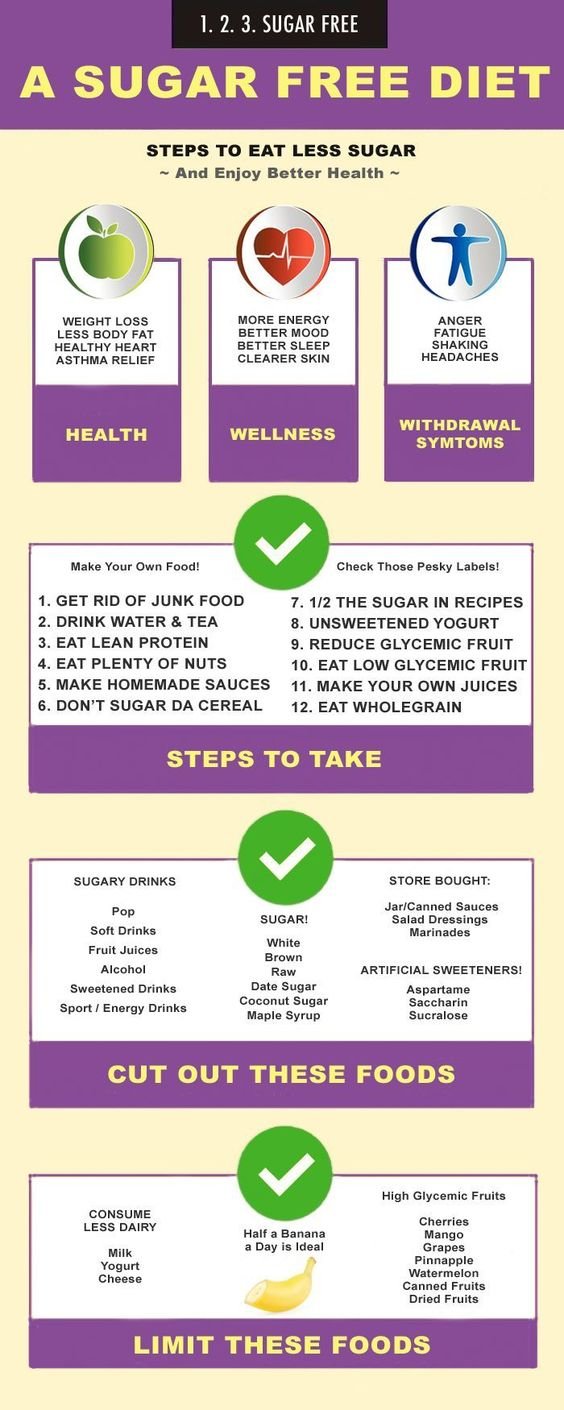 6 Ways to Eat Less Sugar
foods without sugar, how to stop eating sugar, low sugar foods chart, how to stop eating sugar and lose weight, if you cut sugar out of your diet what happens, sugar elimination diet plan, low sugar diet weight loss, how to reduce sugar in diet,