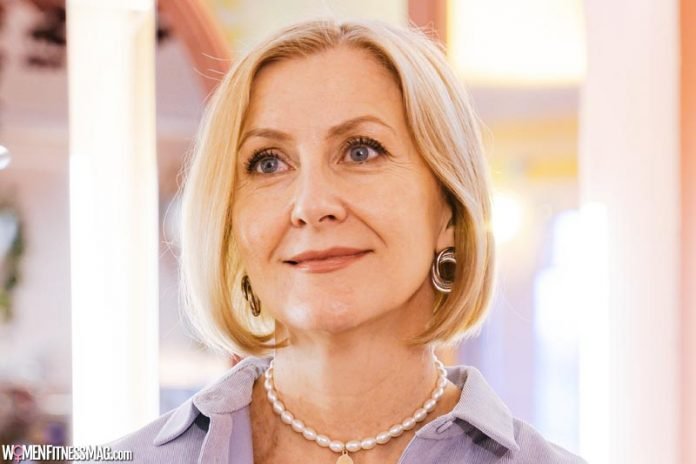 Short Haircuts For Women Over 50 years old : Let us be honest here; the older we get, the more we move towards an easier life. For some of us, this means retiring from a life-sucking job or cutting our super-long and high-maintenance hair short, for the sake of this article.
But this doesn't mean that we want to stop looking youthful and stunning. So, if you're a quinquagenarian looking for easy beauty ideas, down below is a list of 7 stylish haircuts for women over 50 years old.
Note: While some of these haircuts can be self-styled at home or paid for in a salon, most of them are done in barber shops.
Curly Bob Cut

Curly Bob Cut

Curly women, it's time to vibe differently by slaying a Curly Bob cut with the attitude of a boss lady. This hairstyle brings balance to triangular faces and frames round faces with cuteness. A piece of advice for women with straight hair: always set your curling iron to medium-level temperature. This way, you can achieve perfect curls without damaging your hair.

Layered Hair

Layered Hair

Whenever it comes to giving the hair more volume, texture, movement, and shape, most ladies over 50 years opt for a layered hairstyle. Here's a description of this hairstyle; the hair is arranged in layers in such a way that the top layers are cut shorter than those below. This hairstyle is easy to style and maintain, and is a good choice for businesswomen.

Feathered Bob Cut

Feathered Bob Cut

You've probably seen this one on Taylor Swift and some other female celebrities with short hair. A Feathered Bob is a layered hairstyle taken to a whole new level for a more natural and airy finish to achieve a flirty look. To recreate this style, fix a short layered hair and make it wavy or feathery using a blowdryer and a piece of comb.

Salt And Pepper Angular Bob

Salt And Pepper Angular Bob

Rock your natural grey hair in a professional-looking style. A Salt and Pepper hair simply means hair that's made of grey (or white) and black (or brown). This is the natural color combination of most women over the age of 50. So if this is you, just tell your stylist to give you an Angular Bob Cut.

Lob With Bangs

Lob With Bangs

Look how sleek and straight that Bob cut is. This is a modern way to slay a shoulder-length Bob and feel cool with it without committing to a high-maintenance hairstyle. And if you'd like to make it look trendy, you can round the bangs and the bottom of the hair that falls on the shoulder.

Bleached Pixie

Bleached Pixie

Achieve a chic and elegant look effortlessly with a Pixie. It fits every face shape and is easy to style. The reason why older women bleach a Pixie is to bring uniformity to greyed dark hair. So, if yours is completely greyed or dark and you'd rather not bleach it, that's fine too.

Bowl Cut

Bowl Cut

Look younger and cuter with a Bowl Cut. This is the perfect low-maintenance haircut for women who want to look badass at an older age without overdoing it. A Bowl Cut is ideal for both formal and informal settings.
In Conclusion
Real beauty is such that gets better with age. But as you probably already know, achieving a great look and maintaining it is no doodle. That's why this post has been created to give you a list of 7 short haircuts for women over 50. Let me know what you think in the comment section below. You can also see this guide on how to regrow lost hair.
Related Videos about Short Haircuts For Women Over 50 years old :
Short Haircuts For Women Over 50 years old
short hairstyles for over 50 with glasses, short haircuts for women over 60, short hairstyles over 50 overweight, short hairstyles for thin hair, youthful hairstyles over 50, low maintenance haircuts for women over 50, short haircuts for women 2022, short hairstyles for older women with thin hair,