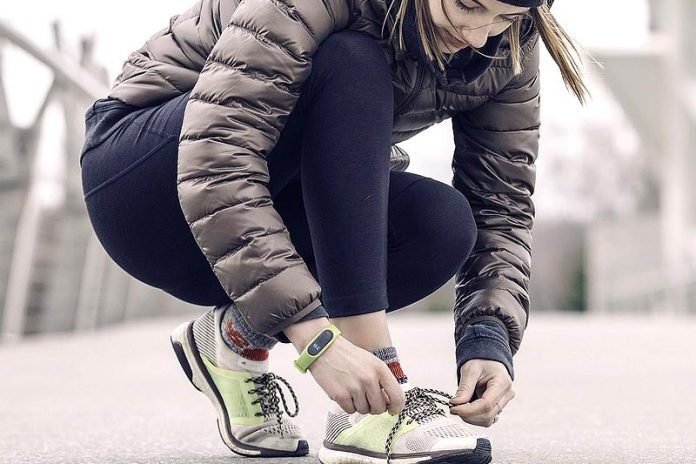 Best Fitness Tracker for Weight Loss : Losing weight: it's not easy. That's why we need to use all the resources available to us to help us reach our weight loss goals. Perhaps the most beneficial of these resources is the fitness tracker, a watch which monitors exercise, gauges heart rate, and offers a variety of other useful features.
Looking to buy a fitness tracker? Then read on. We're going to help you find the best fitness tracker for weight loss.
Apple Watch Series 5
Topping our list is the latest offering of the Apple Watch, the Series 5. Though certainly on the expensive side, it's well worth its price, providing a great deal in terms of functionality, comfort, and aesthetic.
The Series 5 offers all of the features common of fitness trackers, including but not limited to a heart rate monitor, a GPS tracking system, and, of course, a timer. However, it doesn't stop there.
One of its coolest features is its electrocardiogram monitor. This allows you to track the rhythm of your heart and then analyze it on a corresponding phone app.
Other features offered by the Series 5 include the ability to send and receive texts, the ability to answer and make phone calls, a compass, and a variety of interactive exercise challenges. It also allows you to stream music, letting you select any song from your iTunes library.
This watch is available with 5 different strap materials, including woven fabric, ceramic, aluminum, stainless steel, and titanium. And that's not the end of its personalization capabilities. For instance, if you wish, you could match your Apple watch and outfit with a Milanese band.
Simply put, this is the best fitness tracker on the market today. No other tracker combines functionality, comfort, and style in the way that it does. It will not only help you to lose weight but to complete a number of other tasks as well.
Fitbit Charge 3
Next, we're going to review the Fitbit Charge 3, the latest fitness tracker from the renowned brand, Fitbit. Though it's around half the price of the Apple Watch Series 5, the Charge 3 offers a number of similar features. This makes it a terrific budget buy.
One of the nicest features of the Charge 3 is its automatic tracking feature. This feature records runs, walks, and other activities automatically, not requiring you to press any buttons or open any programs. This enables you to monitor all of your activity throughout the day without even putting in any effort.
It's capable of monitoring a number of different exercises, including but not limited to running, walking, yoga, and swimming. Oh yeah, that reminds us: it's waterproof!
Charge 3 also offers exercise challenges, helping you to increase your workload and break through plateaus. But that's not all. It also gives you reminders throughout the day, telling you it's time to get up and get active.
If you're looking for a high-quality fitness tracker at an affordable price, Charge 3 is as solid an option as you're going to find.
Garmin Vívosmart® 4
Similar to the Charge 3 is the is the Garmin vívosmart® 4, a high-quality fitness tracker that looks great and which features a number of high-end features. Available for around the same price as the Charge 3, it serves as a solid alternative.
Where this tracker truly excels is in its body monitoring capabilities. Not only does it monitor heartbeat, but sleep patterns, stress levels, and blood oxygen saturation as well.
Of course, it tracks workouts as well, allowing you to gauge everything from runs to walks to cycling trips and more. Like the Charge 3, it automatically tracks simple workouts such as runs and walks. It also keeps you motivated, offering both workout challenges and exercise reminders.
All in all, vívosmart® 4 is a terrific device. It has everything you could ever want in a fitness tracker, and at an affordable price to boot.
Samsung Galaxy Fit
A straightforward but effective fitness tracker is the Samsung Galaxy Fit. A little cheaper than the trackers reviewed above, it's great for those who want to forego all of the bells and whistles.
This tracker is equipped to handle over 90 different exercises, including running, walking, and weight lifting, to name just a few. Offering a variety of exercise challenges, it goes a long way in keeping you motivated. In addition, it also offers heart rate monitoring, allowing you to gauge your cardiovascular health throughout the day.
Hoping to send and receive text messages? This tracker will accommodate you, allowing you to send pre-programmed messages with the press of a few buttons.
Simply put, this is a solid fitness tracker. Make note, though, that it's only available for Android phones.
Fitbit Inspire HR
The last tracker we'll discuss is the Fitbit Inspire HR. Available for under $100, it's in the same class as the Samsung Galaxy Fit. This is to say that it's simple but effective.
This tracker is capable of monitoring a variety of exercises, including runs, walks, and swims. It can also track heart rate and sleep patterns, alerting you to any inconsistencies which might crop up.
Need to be motivated? It provides you with goals to meet and rewards you with inspiring messages once you've met them.
This tracker isn't on par with the high-end models but offers more than enough in the way of features to help you lose weight.
So, What's the Best Fitness Tracker for Weight Loss?
All things considered, we have to go with the Apple Watch Series 5 as the best fitness tracker for weight loss purposes. While it's a little expensive, its set of high-end features make it well worth its price. That being said, all of the fitness trackers reviewed above would serve you well on your weight loss journey.
Need more help with weight loss? If so, we have you covered. We cover dieting and exercise topics of all kinds, providing information on everything from workout routines to food plans and more.
Begin your weight loss journey by reading some of our other articles now!
Related Videos about Best Fitness Tracker for Weight Loss :
Top 10 Best Fitness Trackers in 2019 | Latest Smart Bands
TOP 5: Best Fitness Trackers 2019
5 Best Fitness Trackers to Buy in 2019|Best Activity Tracker 2019
Best Fitness Tracker for Weight Loss
best fitness tracker for weight loss 2018, fitness tracker weight loss, best fitness tracker 2019, best fitness tracker watch, how to use a fitness tracker to lose weight, best fitness tracker with heart rate monitor, best fitness watch 2019, best fitness tracker for calories burned,