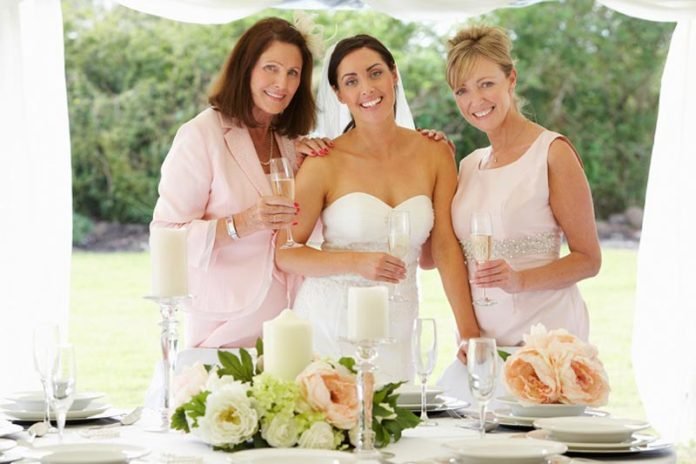 Choosing the Right Plus Size Mother of the Bride Dresses is Easy: If a bride-to-be has no dearth of choices when it comes to her wedding dress, then her mother has just as many choices even if she is generously proportioned. There is a profusion of choices and styles that suits all sizes, and so does the plus size. The variety for this segment is overwhelming and could lead to the mother of the bride (or the groom) making wrong choices.
Styles available
It is easy to choose plus size mother of the bride dresses. It is not so easy to make the right choice. Consider the styles available in plus size garments for women of ample proportions:
Tulle dress with godets
Sleeveless V neck style with pleated folds at the bottom
Shift dress with chiffon cape in a neat, trim ensemble
Cap sleeve long dress with beading
Three piece suit with illusion panel
Two piece short jersey dress
Sleeveless neckline soutache illusion dress
Sleeve jacked with tank and dress pants set
Two piece jacket dress with sequins and lace embellishments
Lace bodice dress
In short, there is no lack of variety in terms of fabrics, sizes, and styles. Choosing the right plus size mother of the bride dress depends on various factors in order that you look not just good, but strikingly impressive and gracious as befits the mother.
Body type
If you are lucky enough to be the proud owner of a svelte body you can carry off just about any dress with elan. Not all mothers are so lucky. The years add to the girth and body types differ. You could be an apple or a pear i.e. top or bottom heavy. Some may put on girth around the thighs. Choosing the right dress to suit body type is the first consideration. After all, the dress should flatter you. For plus sized ladies of taste the most appropriate choice would be gowns instead of pant sets or two piece dresses. Tall mothers will find ruffles and bows better suited along with choice of fuller skirts or full length gown. For apple or pear shapes, the right way to start is to fit the dress to the widest area first. In any case, choosing a constricting dress is not recommended.
Women who are broader at the top and have narrower hips and waists may find that flaring gowns will balance the overall structure. Then there are petite women who have expanded horizontally and for them vertical folds and pleats will be just the thing to make them look good especially when matched with contrasting colour choices in a vertical line to create the illusion of a slimmer profile. Make generous use of accents and embellishments to draw attention. Yes, the wow factor counts, even for mothers of brides needing plus sizes. If you have a tummy that clamors for attention there is no better way to camouflage it than to choose a dress that has a dropping neckline and pleats below the waist. It might not be a bad idea to wear a matching jacket or a bolero to emphasize the top and hide the excess around the waist and hips. Just make sure you pick the right fabric.
Fabric
Talking of fabric, it is the next most important consideration in plus size mother of the bride dresses. Opinions differ. Some expert fashion consultants would recommend chiffons, light taffeta, jersey and nets for dresses for amply proportioned mothers of brides. Some stylists prefer satin, silk, taffeta, brocade and dupion silk as the fabric most suited for plus sizes. The argument is that these fabrics have a delightful fall, and do not cling to the body like knots and chiffons tend to do, and thus do not accentuate bulges. Use your discretion according to your body type and you cannot get it wrong.
Related Videos:
What Style Dress Looks Best for a Plus Size Mother of the Bride? : Plus Size Fashion Tips
mother of the bride dress | plus size evening gown
50 plus size mother of the bride outfits
Plus Size Mother of the Bride Dresses ( Long Gowns)
Plus Size Mother of the Bride Dresses ( Lace)
10 Top Selected Mother of the Bride Dresses Plus Size Mother of the Bride Collection
Mother of the Bride – Plus Size
Choosing the Right Plus Size Mother of the Bride Dresses is Easy
flattering mother of the bride dresses for plus sizes, plus size mother of the bride dresses with jackets, plus size mother of the bride dresses with sleeves, plus size mother of the bride dresses tea length, plus size mother of the bride dresses under 100, special occasion dresses plus size, plus size mother of the bride pant suits, elegant plus size mother of the bride dresses, plus size mother of the bride gowns, plus size mother of the bride dresses tea length with jacket,
Choosing the Right Plus Size Mother of the Bride Dresses is Easy