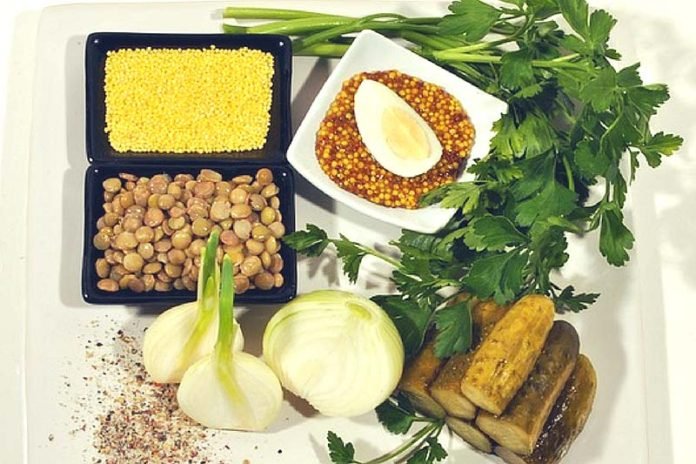 How to Easily Become a Vegetarian: With the spring at our doorstep, it's time we've given our bodies a refreshing, healthy boost through our chosen diet. We can't honestly think of anything as healthy and energizing as vegetables and fruits! Can you? Of course, not. And it's not just that these nature-given wonders are only super tasty to eat; their health benefits are multiple and they agree with every blood and body type.
Not many people know that regular consumption of veggies and fruits contributes to lowering cholesterol levels, reduce the chances of developing diabetes, and cardiovascular disease development.
If you've been thinking about switching to veggies and fruit diet for a while now, here are a few basic tips that will help you easily adopt this mode of nutrition.
Be honest with yourself: Why do you want to be a vegetarian?
To adopt a certain diet style, you need to be sure of the reason behind it. Are you having health problems forcing you to a lifestyle change or is everything just a fashion trick and an obsession with the currently popular diet hype? In case you are experiencing health problems or have decided to stop any problems from occurring in the first place by regulating your diet immediately, it's advisable you stop eating meat and rely on the natural groceries for a healthy boost.
You can introduce this diet change step by step and let your body get accustomed to the new regimen. The point is to healthily and gradually change your entire diet lifestyle, not to force your body into it.
No meat starting tomorrow
The point of a vegetarian diet is not only to exclude meat from your diet but rather choose your nutrients wisely. A pre-packed bag of chips or processed sweets won't do your health any good even though you deny yourself meat daily. Instead, eat a variety of healthy foods based on fruits, vegetables, and dairy products. They'll give you enough strength to go through the day and make you feel refreshed and great. To replace the meat protein, focus on proteins, such as nuts, seeds, legumes, and grains.
No matter what they say, it is simply untrue that we cannot live with meat excluded from our diet. Word of caution: don't get scared if your body goes into a state of shock once you switch to a vegetarian diet, especially if you used to eat a lot of meat, regularly. Naturally, we are aware that the meat itself has a very rich nutritional value which is why it is important that you eat enough protein to replace it. Include mushrooms, soy meat, and legumes as substitutes.
Revise your favorite recipes
No meat, no meal diversity? Wrong! Going vegetarian is the perfect opportunity to use your creative instincts for culinary experiments and enjoy every second of it! For instance, have you ever tried to make the following delicious meals:
Lasagna with vegetables (spinach, cauliflower, zucchini, broccoli, and other vegetables)
Omelet with mushrooms and onions (if you consume eggs)
Peppers stuffed with vegetables and rice
Zucchini or eggplant stuffed with soy and vegetables
Peppers stuffed with cheese and potatoes (if you consume dairy products)
Hummus from chickpea
And when you're lacking inspiration for the menu of the day, with such amazing catering services like healthy Wicked Foods – you can enjoy a range of delicious vegetarian plates! They even deliver. Amazing, right?
When changing to a vegetarian diet keep these points in mind:
Listen to your body!
Do not give up so easily!
Do not worry about being potentially judged by those meat-lovers around!
Going vegetarian is a decision that will drastically change your life for better, be sure of it. Good luck!
Related Videos:
How To: Become A Vegetarian – The Easy Way!
Transition Into Vegetarianism: How To Become Vegan or Vegetarian Video
Going Vegan- How To Go Vegan in 10 easy Steps
Tips on becoming a vegan or vegetarian! How to get started
How To Go Vegan!
How to be a Healthy Vegetarian for Beginners
Related Infographics: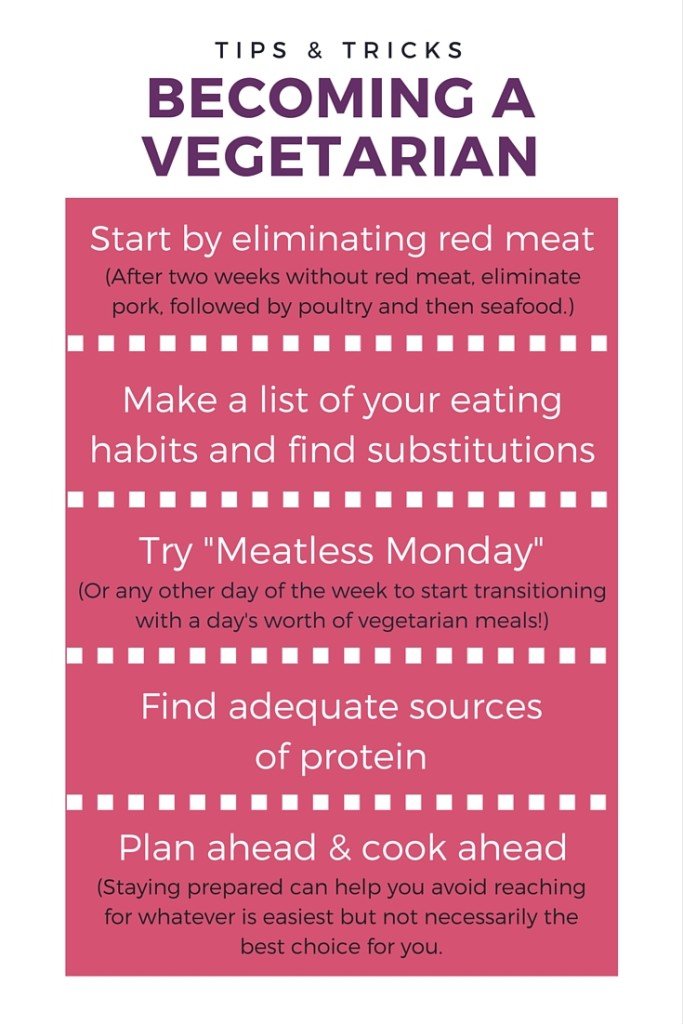 How to Easily Become a Vegetarian
how to transition into a vegetarian, becoming a vegetarian what to eat, becoming vegetarian for beginners, becoming a vegetarian side effects, how to become a vegetarian to lose weight, beginner vegetarian meal plan, being a vegetarian pros and cons, how to be a vegetarian teenager, list of vegetarian foods, healthy vegetarian diet plan, what can vegetarians not eat, what can vegetarians eat and not eat list, can a vegetarian eat fish, things vegetarian can't eat, what do vegetarians eat for breakfast, what do vegetarians eat for protein,
How to Easily Become a Vegetarian