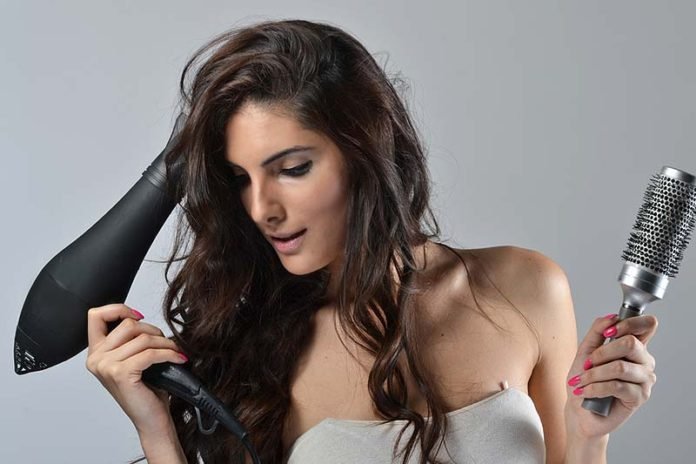 Creating A Professional Looking Hair Style at Home with Your Own Blow Dryer : So, you are going to an important event and you just don't have the $60.00 to have your hair done in a salon! We are here to help you not only save that sixty dollars, but you are going to end up looking like a million bucks and you can do it yourself.
There are a few tools you will need to organize before you get started and I would be willing to guess that you have them already on your vanity just waiting for you.
Below is a list of things you will need for that professional blowout look.
Round Brush-get one that is large enough to handle your length of hair. For long hair, use a medium to large size that feels comfortable to you.
Five or six hair clips-I would suggest the long clips as they will hold more hair than the little 2-inch ones.
Heat Protectant-this is a must have for anytime you want to dry your hair with a blow dryer.
Blow Dryer-it is best to have a blow dryer with adjustable heat settings and speed, not just constant hot air. To find which blow dryer is best for your hair read more at https://intlprincess.org/
Concentrator-this is the nozzle attachment that goes with your blow dryer and gives you the ability to direct the amount of heat to certain parts of hair while drying it
Hair Oil-this will help keep your hair in great condition throughout the process of doing your professional blowout.
Getting Started
Now that you have all the necessary tools gathered, let's get started!
Shampoo and condition your hair just like you do in your daily routine. You, are now going to get some of the moisture out of your hair but please, please don't take your towel and rub your head. Hair is very easy to damage when it is wet, so you need to just pat it dry as much as possible. If you have some time, leave your hair wrapped in the towel to absorb the moisture for about 5 minutes.
This step is very important as it will affect the structure of your hair now and down the road. Put heat protectant on your hair. These products are made to nourish and protect your hair against natural elements and the constant use of blow dryers. They will prevent your hair from becoming dry and brittle and prevent split ends.
Now, you want to comb out your hair to get it ready to work on. Do not use a brush at this point, use a big tooth comb to prevent any damage when hair is in a wet and fragile state. Using a brush at this point can cause problems later down the road.
At this point, you are going to rough dry your hair until it is about 80% in a dry state. Use your fingers to rough it up as you use the blow dryer. It doesn't have to be an energy-filled roughness, just a slight tossing of the hair with your fingers spread open. You will want to start at the roots and work your way up the hair shaft to the ends. I know you will be tempted to grab a brush, but don't do it!
Since your head of hair is about 80% dry, it is time to apply some product on the hair that is going to reduce the chance of flyaways and will leave your hair with a smoother and shiny finish. These products can be either oil, cream or serum and are easy to use.
Finishing the Drying Process
Next you are going to divide the hair into sections to make it easier to work with. You are going to need your long clips for this process.
Section the front of the head by parting your hair that runs horizontally from ear to ear and then divide that section into two sections. You will have two parts, the horizonal one from ear to ear and another part from the top of your head to your front hairline. Coil each section and secure it with one of the clips. You now look like Minnie Mouse!
For the back of your head, you will divide it into 3 sections starting at the top going horizontally from one side of the head to the other side of the head. Secure the section to the head by the same coiling process as you did on the sides of your head. You can leave the bottom section hang as that is where you will start the drying process.
Here we go! Turn your blowout dryer on with the heat setting up and the air speed down. Using the round brush, start at the back of the head by wrapping the hair around the brush with a slow and smooth motion. To avoid heat damage, hold the dryer as close as possible but don't touch the hair. If you are not using a professional hair dryer, use caution as the non-professional dryer will tend to get hotter and it can cause damage if held to close to the head.
You will be pulling the brush for tension as you hold the dryer and run it down the hair shaft to the ends. This tension will give the hair a smooth natural look. You will be letting the hair also cool on the brush as you work your way down the head. This just need to be seconds not minutes to cool and set the finish.
Now the fun part.
When your hair is dry, you will want to bend over and turn your head upside down. Switch your dryer on cool and give the head a short blast of cool air. Still being upside down. Use your fingers to separate the hair and then standup straight. You will be able to straighten any flyaways with your hands.
Your last step, apply a styling cream or oil, some mild spray and look in the mirror! You have just accomplished a professional blowout at home. Have fun with this!
Related Videos:
How to easily style your hair with a round brush and blowdryer for volume
Hairstyles : How to Blow Dry Thick Hair Professionally At Home 2014
How To Create Beautiful Curls That Hold Using a Blow Dryer and Round Brush
How to Blow Dry for Big, Bouncy Hair | Salon Hair Tutorial
How to: Wavy Hair using Hair Dryer! | Curly Hairstyles
Big Victoria's Secret Hair Tutorial – Round Brush Blow Dry with Pin Curls
How to Get a Beach Wave Blow Out At Home
Related Infographics: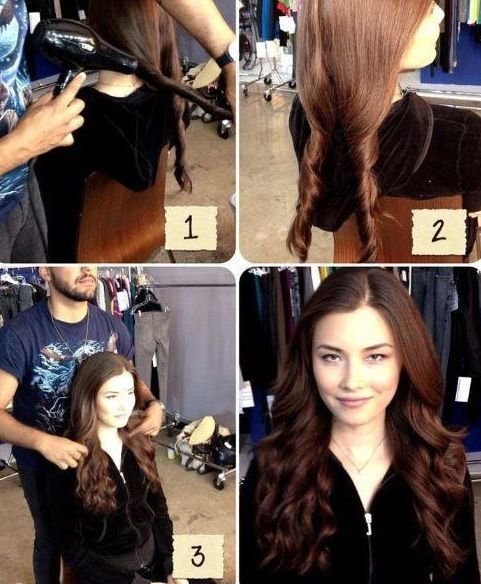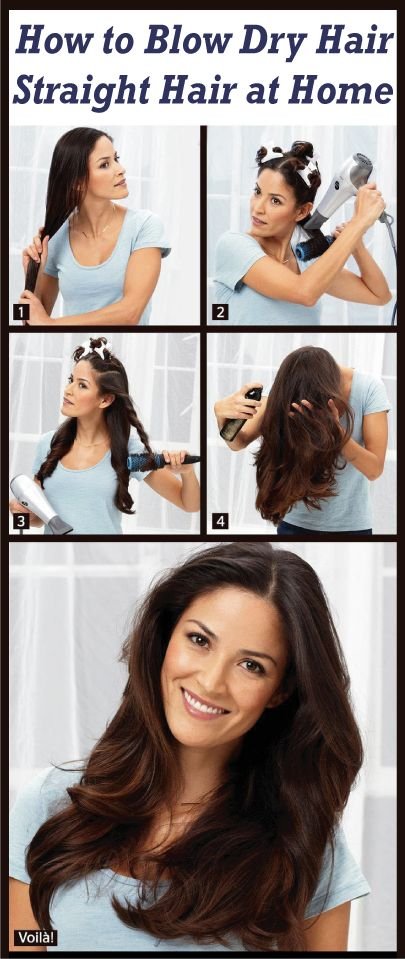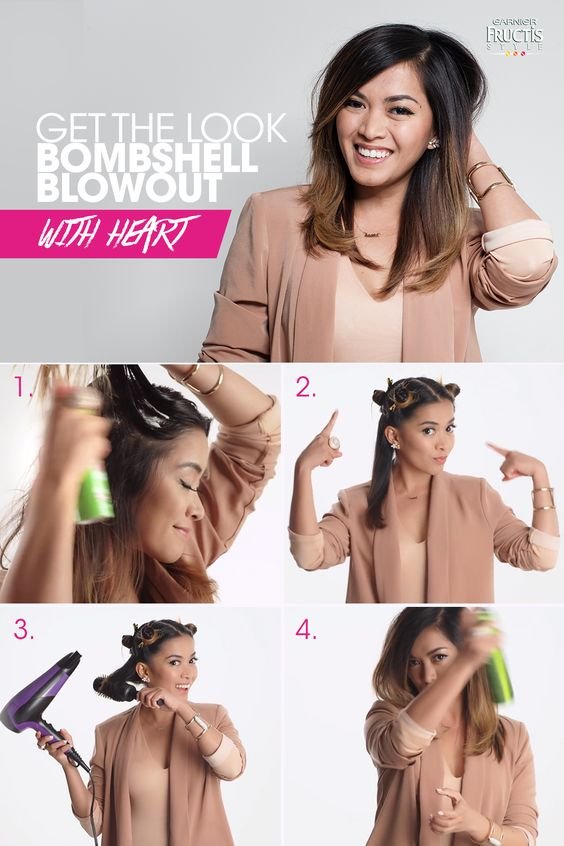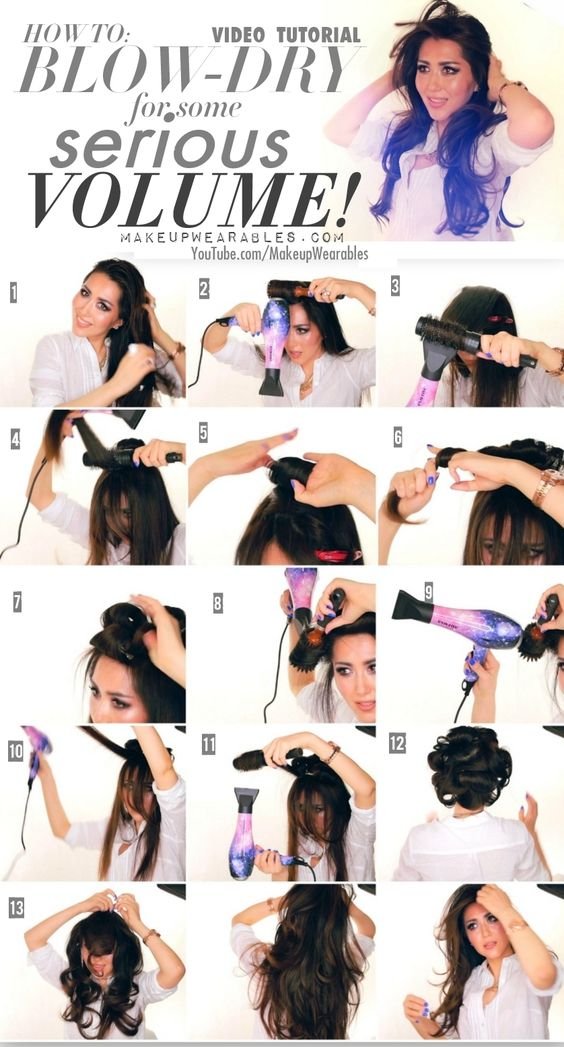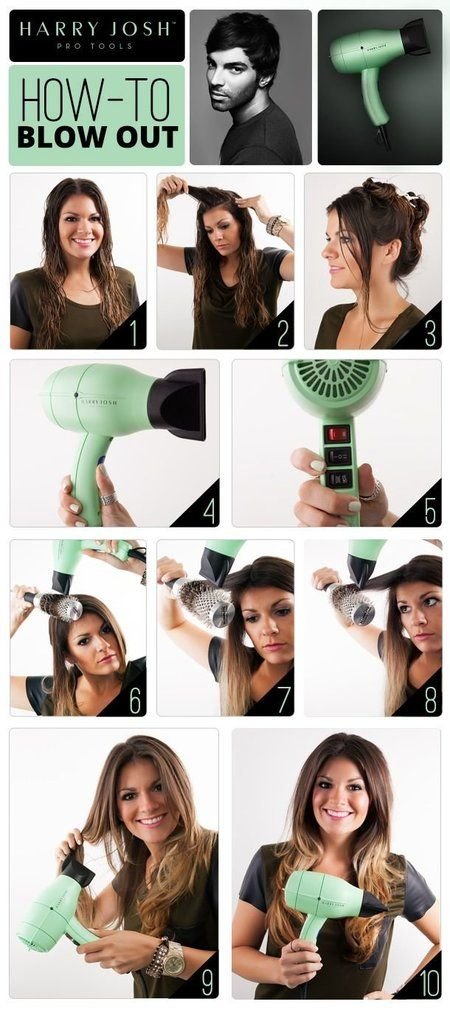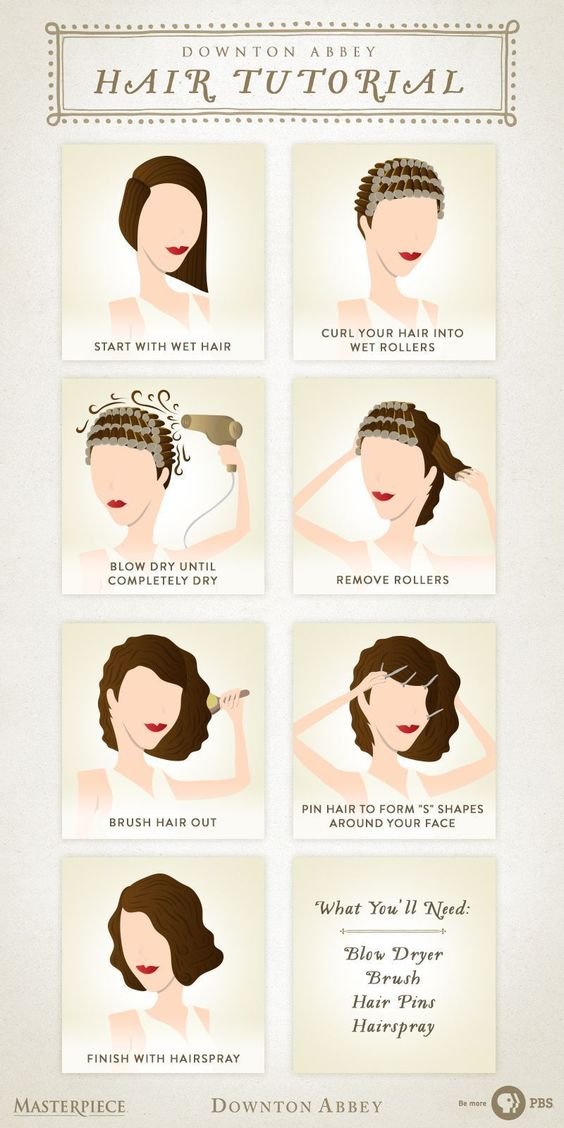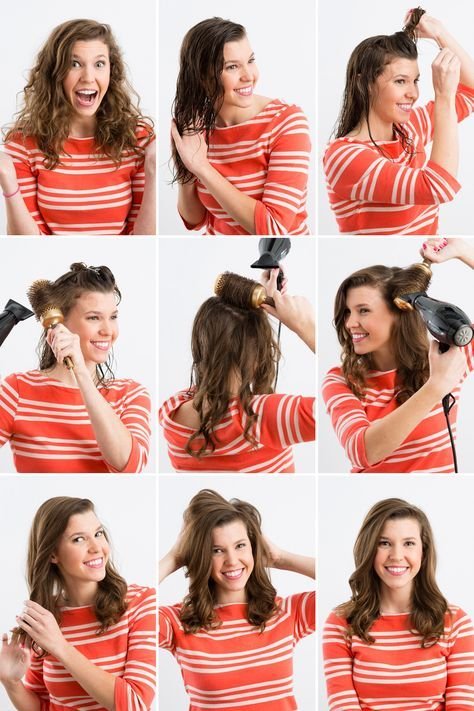 Creating A Professional Looking Hair Style at Home with Your Own Blow Dryer
professional hairstyles for long hair, professional hairstyles for interviews, female ceo hairstyles, professional hairstyles for curly hair, professional long hairstyles for guys, easy professional hairstyles, business casual hairstyles female, how to make long hair look professional, blow dry hair at home, blow dry hair curly, blow dry techniques, how to use hair dryer to curl the hair, how to blow dry hair for volume, how to blow dry curly hair straight, how to blow dry hair with round brush, how to blowdry hair straight without frizz,