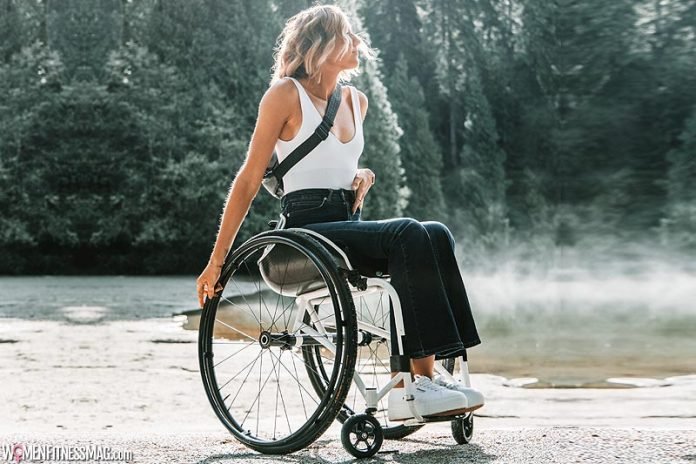 Designing Accessible Products For Users With Disabilities : Accessibility is the need of people with disabilities regarding using specific services, products, and facilities. To ensure that people with disabilities can enjoy the same comfort as others, various companies are creating devices and products to meet their needs.
Here are a few examples of accessibility:
Hallways and floor spaces and hallways are free of barriers.
Parking spaces close to entrances.
Healthcare and staff professionals may use sign language or hire someone to use sign language for people with disabilities.
Putting modular mats at doorways and entry points.
The attempt to meet the diverse requirements of millions of people with disabilities through product design is generally termed as "accessible design". Many companies are approaching accessibility as a major input mode, to designing something to offer a complete user experience.
Companies and designers need to consider universal design to simplify life for everyone. This is possible with the creation of the right products, physical environment, and communications for as many people as possible for no extra cost. Hence, the universal design is perfect for individuals of all abilities and ages.
What is an accessible design concept?
For most designers, accessible design means assuring that products are easy to use by people with disabilities. So, assessment platforms need to concentrate on designing products to meet learners' abilities instead of the disabilities. This would put accessibility at the center of product design.
For instance, products and appliances installed in their homes must be user-friendly for people with disabilities. So, they can use everything around the house to the maximum extent possible.
Accessibility is all about understanding and anticipating their various needs as per different situations. Mainly, it's all about the optimization of product usability for a wider range of people. Always make sure that you don't exclude anyone when making an accessible product design.
Advantages of designing products that are accessible
Here are a few instances where accessible design is advantageous for individuals with disabilities:
Independent Living
With accessible product design, people can enjoy independent living. It means that people with disabilities have the choice, voice, and control over their routine lives. An individual may not require assistance or help with complex problems, like money management. This means that people with disabilities can enjoy living at home or in the community with little or no help. For instance, an individual with disabilities can himself/herself clean the house, shop, cook, and pay bills, or use public transportation.
Simple and intuitive use
Accessible design is something that is simple and intuitive to use. This means that a design must be easy to understand, despite the user's experience, knowledge, current concentration level, or language skills. Even people with disabilities need to understand accessible design without much effort.
Make reasonable adjustments for people with disabilities
Companies need to design certain policies, products, and procedures that are beneficial to people with disabilities as well. Therefore, they need to make reasonable adjustments to provide a perfect service that's as close as the standard procedure and service to other people. For this, you need to make the right adjustments to make the products friendly to individuals with disabilities.
Accessible product design after proper audit
The disabled-friendly accessible products are created only after proper audit. The audit is done to identify the key areas where companies and designers work on creating products that are easier to use for people with disabilities. For instance, companies take various surveys and research to find consumer requirements. And, then they work on creating products that help businesses assess while improving their accessibility.
Ramps
The ramps are great for people who use a wheelchair to access various buildings. Besides that, the ramps are also helpful for people with baby strollers and bikes. So, rather than battling the stairs with baby strollers or bikes, users can easily use a ramp to make their life easier.
The curb cut
The curb cut blends the main road and the sidewalk. It also enables wheelchair-bound individuals to slide down with ease. Meanwhile, it also alters the visually-impaired people when they are at the edge of a sidewalk. Just like ramps, the curb cut also enables baby strollers and bikers to easily go up and down onto the main road.
Automatic doors
The automatic doors are ideal for people on crutches or wheelchairs to easily access various buildings. Besides that, these doors are beneficial when users' hands are full.

All these seven instances show designs that are intended mainly for people with disabilities or neurodiverse people.
Regulatory compliance
Even the Department of Justice thinks that access to communication and information technology is every human's fundamental right. So, they have made the special Americans With Disabilities Act (ADA). This act requires certain companies' apps, websites, and software to meet certain standards for providing accessible design for people with disabilities. So, they can also have equal access like others.
You may access certain standards as per the given four principles:
Operable: The UI (user interface) elements are easily operable and also convenient to navigate. This makes task completion quite efficient.
Perceivable: All the UI elements and content are easy to adjust and perceive to meet the needs of the users with no malfunctioning.
Understandable: The UI elements and other information must be easy to understand.
Robust: As per the fourth principle, the assistive technology or users can easily interpret the content.
As per the given four principles, there are more guidelines with their advisory techniques and success criteria. Plus, you have to create an accessible and very compelling product.
When making accessible designs meet the ADA guidelines, make sure that it support all users while avoiding any legal trouble. It further means addressing people with disabilities with cognitive, sensory, and motor skill issues.
How accessible products can improve product usability
To improve accessible products' usability, all learners must have an equal platform or playing field. If there is an imbalance in the opportunity, there will certainly be an issue in the outcome too.
Being the providers of educational technology, it is vital to make the software user-friendly for as many people as possible. To make sure that the accessible product is usable for individuals with disabilities, it's important to track the products as per a company's guidelines.
Ensuring to tick off all the boxes is a labor-intensive task. But a variety of design patterns require out-of-box thinking, various question types, and some creativity. All this ensures that customers have products integrated with accessibility compliance. And, that, too, without the need to make some tweaks.
The companies and designers are often identifying accessibility problems that won't breach the guidelines. However, it causes some major usability issues for people with disabilities. All these are documented as extra usability issues that one needs to figure out and also go beyond the guidelines. For making the products run smoothly and conveniently through various screen readers, companies need to undergo a lot of R&D.
If accessibility is added early during a product development phase instead of late installation of a product lifecycle, you can decrease the cost of integration. It also reduces the risk of users being alienated.
However, an accessible design requires a lot of specific field knowledge. So, getting in right means you have to make a major investment of resources and time.
When designing an accessible product, enables you to build something that provides you with amazing interactive possibilities. These possibilities are for almost all people across different platforms and devices. This gives firms designing accessible products a competitive edge to tap into a large market that's under-served for now.
No matter what is your target audience, accessibility is the key to adding more value to the product. This is a long-term solution rather than being a short-term option.
Designing products for the blind or visually impaired
Converting the digital space is quite challenging for the visually impaired and blind. It is because of the visual nature of the digital environment. The screen readers may interpret various online interfaces and even read the text aloud.
However, you have to optimize the code and text for a screen reader. Plus, navigation of heavy text pages is very frustrating when you cannot skim the content. It is also difficult to manage when the design indicators are missing or there's no imagery to offer context.
That's where developers and designers create readable code and alt text. When you write alt-text for better accessibility, it means users need to know how to describe page elements and images clearly for specific purposes.
You can label the header tags on web pages, format elements, and describe certain links in the text, like the forms available for screen readers. This means efforts towards an accessible design won't go to waste. It will ensure that browsers are easy to read the code.
For people with visual impairment but not blindness, contrasting color is great for visibility. Hence, it makes font sizes adjustable. But all the adjustments must not adversely impact the appearance of various elements. When you use a high contrast ratio, it's quite convenient to make accessible design-friendly for individuals who are color blind.
Most of these tips should be adapted to make marketing accessible to visually-impaired people.
Designing products for people with cognitive disabilities
People with cognitive disabilities, such as dyslexia, ADHD, epilepsy, and learning disabilities, must be considered when designing accessible products.
You have to stick to consistent navigation, simple language, allow time for adjustments, and clear hierarchies within the data architecture. If adding an internal search engine, it's best to optimize it to be forgiving of some spelling errors.
It is important to make certain adjustments that may benefit all users while navigating the products with or without cognitive disabilities. For users with epilepsy, there are some safe content guidelines that you have to follow to prevent seizures. Flashing content is one common trigger for this. So, it is best to limit flashing to less than three times per second. Also, avoid using the color red in your blinking content.
Designing for the deaf
Accessible design for the hard of hearing or deaf community is more significant as the multimedia features—from videos to GIFs—take over the content. The best way to create accessible content for deaf people is to add transcriptions or subtitles for the audios.
You can provide captions to extend the potential audience for, including speakers of various languages. This is how anyone can easily play and understand the audio loudly.
Designing for Motor Disabilities
Some people may have motor disabilities, such as tremors or restricted mobility. They may have been born with this disability or got it after a stroke or an accident. Most of the users with motor disabilities can take the benefit of assistive technology, like voice command software and alternative keyboards.
So, it is important to make accessible designs and content even for people with motor disabilities. It is possible by assuring that it's compatible with command technology and keyboard navigation. All the site tasks and actions are also easy to translate to all these devices.
Make Accessible Design a Priority
Since everyone deserves equal access to equipment and tools, it's important to use technology to make everyone's life easier. When you want to create accessible apps and websites or other products, you are contributing to equality while increasing the KPIs.
So, it's essential to make accessibility a priority when creating a digital product or considering redesigning.
Related Videos Designing Accessible Products For Users With Disabilities :
Designing Accessible Products For Users With Disabilities
accessible design product examples, accessible products examples, accessible design for users with disabilities, what details make this product have an accessible design?, products with accessible design, hci for disabled users, accessibility for disabled examples, how do those details affect the user experience with the,