Does Saaya Roses Last For Years? It's great to have fresh flowers every day of the week. Flowers like roses can have a positive impact in any space and they can represent many emotions that words cannot express. However, in a city where fresh flowers don't last long and are expensive, giving flowers to a loved one all the time may seem unrealistic.
Depending on the condition of the flower, fresh flowers usually last 1-3 days, then it withers and fade and have to be discarded. A revolutionary invention now offers a means of making a rose last for at least a year or more, this is called Saaya Roses. With this preservation method, these roses will last over a year and will look and smell like a vase of fresh roses. Needless to say, people won't believe it is possible and the question would be how can roses last for years? Yes, it does and it is not magic. When you think about it, how can roses still be beautiful, colorful, and fragrant after weeks, months, and years?
The answer is a new and closely held secret solution that rehydrates preserved flowers. The key is to store flowers immediately when they are at their best, then select and store them the same day they are picked. In the past, dried flowers were the only way to preserve flowers, but when they dry out, they can lose their color and aroma. But with this new technique, the flowers are dried and then rehydrated with a secret solution that fills the pulp of the roses. This will make the flowers look fresh even when stored. Thanks to this technology, we can enjoy fresh roses of all shapes and colors for months or even years. You will not only be happy to be given a box of Saaya roses by someone, but you will also enjoy it for a long time.
How Long Does Saaya Roses Last?
Saaya roses can last up to a year if properly cared for. This means you and your loved ones can enjoy a box of fresh roses for over a year if you follow the do's and don'ts while you have the roses. Even if the roses do not last a year due to mistakes or careless handling, they will last longer than the flowers you received from the local florist. The secret to keeping Saaya roses looking fresh even after a year is the special storage process that lasts until the very day they were cut. Saaya roses are 100% authentic Ecuadorian roses known for their large blooms, beautiful colors, and delicious aroma.
The roses are harvested when they are at their peak and usually, they have the largest size and the brightest colors. At the end of the preservation process, the roses are laid out in special boxes that are needed to keep them fresh and fragrant for a long time. The box acts as a vase and has a special design that gives the roses a fresh look. If not handled properly the roses can wilt after a few months and lose their fragrance over the year, so they are best enjoyed as they are when you receive them. The roses are not meant to be removed from the box; the clear cover must be removed and then placed under the box to serve as a platform for the box stand. If you don't remove the top cover, the fragrance of the roses will not be able to get out and you won't be able to enjoy the aroma of the flower. Therefore, the key to keeping your roses fresh and lasting as long as possible is to follow all the care guides for your roses.
How to take care of Saaya Roses?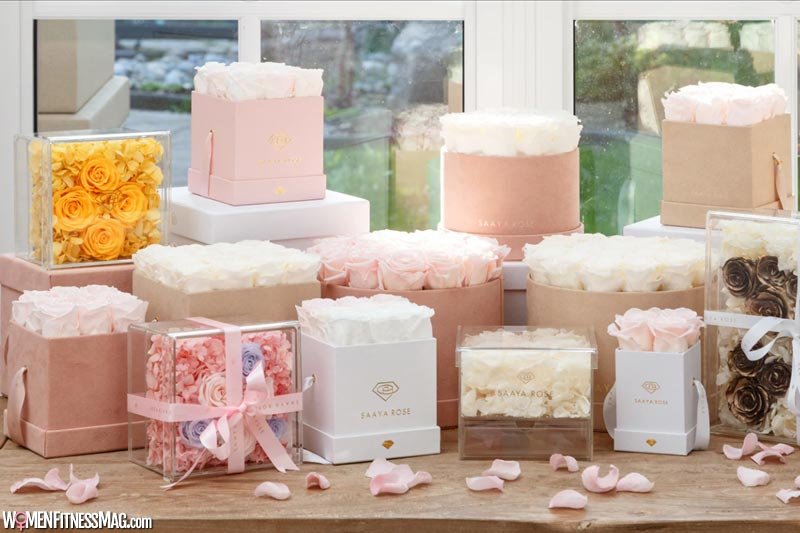 Caring for Saaya Roses is not difficult, but it does require a bit of dedication to do it and a desire for the roses to last.  The most important thing you should remember is that these roses need not be watered watering it will surely damage the flowers. This is true for all types of humidity, so make sure that the roses are not exposed to drafts or moisture as it can damage the petals of the roses and if you live in a very humid area you might need a dehumidifier.
Also, roses should be kept away from direct sunlight. An area in your living room or bedroom with ample light but out of direct sunlight is best for placing your roses. Please enjoy it in its best condition, as the color will fade and the fragrance will eventually be lost naturally as well as the impact of the environment. Saaya roses look fresh and magnificent, you might be tempted to touch the petals to feel they are real, but you should never touch them because the petals are too delicate and may damage them. Store the roses in a dust-free place, and if dust does fall on the flower, brush it gently with a brush or feather duster and do not touch the petals again. Finally, you can put your boxed roses in an area where they can be enjoyed by many without taking them out of the box just remove the lid and enjoy their beauty in your own home.
How to order Saaya Rose?
Saaya roses can be purchased online there is a dedicated website where you can order them from. You just need to search the website on the internet, there may be other stores that claim to have long-lasting roses, but be sure to get only the genuine Saaya roses as it is the only real long-lasting roses. Once you get to the online store you can take a look at the different products and arrangements that they sell. There are many types and plans to choose from. The most popular are roses in a box, and you can choose from 1 to 12 or more roses per box. When you offer roses, you can send them directly to your address. You could never go wrong with Saaya roses, your loved ones will be happy to receive special flowers at any month of the year, and above all, roses are also the most adorable and endearing flower.
Related Videos about Does Saaya Roses Last For Years? :
Does Saaya Roses Last For Years?
roses that last 3 years, roses that last a year how does it work, saaya rose reviews, roses that last a long time, best roses that last a year, preserved roses, roses that last a year cheap, long stem roses that last a year,