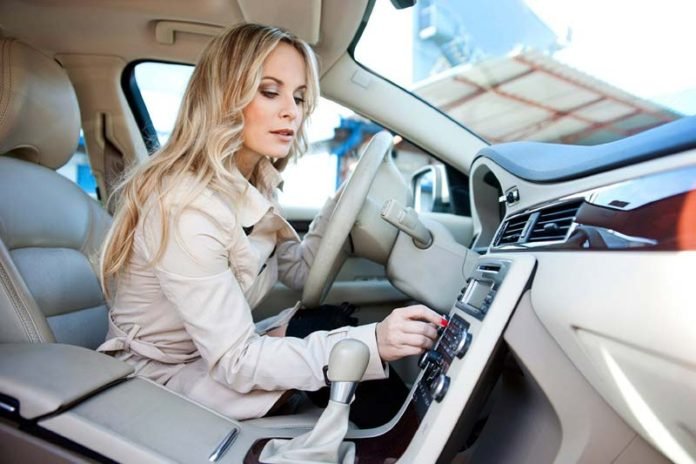 Enjoy your car driving: With the change in priorities in our routine life, we see gradual increase in number of ladies drivers. It has been necessitated in those countries also where majority of families are having working males and females members. Sometime, non-working female of a family has to drive car herself in emergency when a male member is not at home.
A little knowledge about car basics, conditions of tyres, wiper blades, lights, fluid levels and their upkeep, how to change wheels, and having garage confidence helps a lot to the ladies drivers or those female members of a family if the male members have been out of station or busy somewhere else for a long time.
Really, there's nothing like breaking down at the side of the road and realizing the spare tire in your car has a flat from the last time it happened. We all can feel mental status of a lady who gets stranded when the car she is driving gets break-down on the midway. At that time, we find the accessories play a major role to help an alone lady driver. Not only in case of emergency, good accessories do make your car driving quite enjoyable. It is true that while selecting for the accessories, ladies' choices about the car accessories too are different. They prefer Safety, looks, budget, comfort, durability, maintenance and ease of use.
When you own a car for daily use or get an opportunity to drive a car very frequently, you may consider to have the following accessories in your car to Enjoy your car driving:
1. Interior Enhancement:
For better interior, you opt for High quality Sun film to help to protect the interiors and occupants from the extreme climatic conditions. Audio System is required to break your monotony in the driving. If not installed, have a good one or if installed, you can upgrade it to meet your choice. For Safety / Security, you may have remote-locking security system not only for the added security, but also for convenience also. Mirror locks are also available to prevent theft of standard wing mirrors
You may have a waterproof organizer to keep the granola bar wrappers out of the cup holders. Consolidate the trash and put it in the organizer. You can hang it from the door, the seat back, or behind the center console, and never let gum wrappers and the like find new homes in your car's corners again. This is especially great for long road trips, where frequent garbage disposal stops are slim, and you'd rather not store fast food containers at your feet.
Calum from www.hgvtrainingsussex.co.uk said: 'Making your car a comfortable place to be is an important part of driving, having personal touches in your vehicle gives character and can make longer trips that much more bearable.'
2. Seat covers:
Now-a-days, car decorators can provide you a variety of seat covers to protect against dirt and debris. They enable you to customize them as per choice of your comfort. You can make different looks and design to make more comfortable feel of your car seat. Various designs as Diamond, star, crown, kitty or tiger print motifs available in the market in good quality material can supplement to the interiors of your car.
According to your budget, you may select seat covers made of art leather, water proof, Urethane foam backing and anti fading colors. Matching floor mats, rear seat covers and seat belt cushions may add to the beauty of the interiors. While selecting Seat covers which are usually available in pair, you must check if they are fit high and low back bucket seats, with or without armrest. You may preferably opt for the seat covers which can have machine wash in cold water on gentle cycle. Generally, the user manual also prescribes precautions for the seat covers, they may also be read before you finalize your purchase.
3. Steering wheel covers:
In new models, we find the steering wheels have multi-functional capacity like Tint, telescope and adjustability. They try to make your driving comfortable more much than earlier. If such steering wheels lack comfortable and attractive grip, they can soon bore you. Steering wheels make the ride simple and convenient for the diver. But they start looking faded and worn soon.
If you put on Crown highlights over the steering wheel cover or the animal print all over, you can improve appearance of the old and dirty steering wheel whereas Fuzzy shaggy fabric or texture makes the grip softer. Some bright designs can add personal style to your car interiors. For better hand protection, you should opt for massage grip thickness in your steering wheel cover. On the standard wheels, covers can be easily installed without using any tools. Not only this, you may prefer for Steering Grip lock / Gear Lock for theft prevention.
4. Air Compressors:
To pump up a flat tyre, change a tyre(with a impact wrench), remove dust from the seats or paint a car (with a paint sprayer), you need a air compressor. There are a variety of air compressors available in the market. Some are equipped with vacuum facility also. Some air compressors are cheap, quite handy and portable too.
Apart from the above, you should ensure that your vehicle may have Spare tire (in good condition), along with a tire jack and tire iron and a special security key (if your tyre requires) because without them or someone else to help you, the spare tire is useless. You should have tyre inflater and sealer, like the Fix-a-Flat, which can plug a leak (and help you avoid using the above tools) just enough to get you to the auto shop. You can have an emergency battery booster, car's manual with Tyre pressure gauge.
Checking tyre pressure on a regular basis with air compressors can improve handling, increase fuel economy, promote tire longevity, and even save lives.
5. Air fresheners:
It is true that if you have fragrant environment in your car, it can change mood drastically A good and stylish air freshener in a sleek compact design can release aroma of fresh and clean scent and soak up tons of odors, moisture and allergens very quickly and efficiently. Scroll-type fresheners which fit on the air-con louvers are very popular and effective. Now, some air fresheners are equipped with a clip to enable you to hang it anywhere in your car. While selecting air freshener for your car, you can select one scent amongst Strawberry, freshly baked cherry pie, smooth cologne, flower scent etc. as be suitable for your emotion and feelings, to lie either beneath your seat or hang around the rear view mirror. s come in a now-a-days.
6. License plate :
Before going on road, every vehicle must have a registration/license plate for official identification purposes. It is generally made of metal or plastic matter. This plate is an important part of your car's exterior beauty. We can have choice for 3-D plates in chrome finish too, apart from Embossed details on rust resistant brushed aluminum sheet. Now-a-days, we find frame made of a durable zinc die plated with extra heavy chrome and hand polishing very popular. License plates are prepared with universal fitment and easy installation.
7. Floor mats:
Mats in a car have now become essential for protection against dirt, debris and stains. Dicky floor mats with rubber non stick and water resistant and nibbed backing for prevention of slipping last long and fit well. If your floor mat has grid pattern, that can ensure for extra protection. You may have bright and fun crystal studded design, anti fading, colored and printed mats for addition of attraction into your car.
More accessories to Enjoy your car driving:
You may keep a business card for your auto repair shop, the number for AAA (if you're a member), and car insurance claim forms should also be stored in your glove compartment.
An emergency go bag or kit set up to contain First aid kit, Flashlight, Multi-tool, Matches or other fire starter with a candle in a can for winter emergencies, Energy bars or MREs (the instant food that heat up with just water), Water bottle, Weather radio, Seat belt cutter and window breaker, Flares or reflective triangle, Maps (the paper kind to help you in case battery in your mobile too does not help you and you lost the way), Ice scraper, blanket to keep you warm during a blizzard, Cardboard or carpet remnant you can place under tires for traction in the snow.
In addition to the basics above, you may wish to keep Paper towels or a hand towel, Tissues or a roll of toilet paper, Pencil and paper, Umbrella, Spare change/ emergency money, Recycled shopping bags for those impromptu shopping trips, a set of your clothes (to change if you get drenched in rain or snow), USB mobile device charger for your mobile,
Fog lights:
They aid driving in foggy conditions, and provide a life-saving backup if the headlights malfunction.
Extra fuses:
For crucial parts such as the headlight, starter etc.
A swiss army knife, Fire Extinguisher High quality cleaning cloth, Branded wax polish, Car Cover, Parking Sensors, Child Seat, sun shade, GPS, Parkopedia Parking.
You may upgrade your headlight bulb with the appropriate relay and wiring, if bulbs already provided are inadequate
Related Videos to Enjoy your car driving :
DIY Car Decor & Organization!
Car Accessories For Girls – Yes, Women Also Deserve Better Practicality
7 Cute Girly Car Accessories, You Must Die To Have
Car accessories for Girls
Enjoy your car driving
how to drive long distance without getting tired, enjoy driving quotes, how to stay awake while driving long distances, why do i get sleepy when i drive, stay awake while driving app, how to stay awake while driving without caffeine, how to stay awake while driving in the morning, falling asleep while driving but not tired, Enjoy your car driving, device to prevent falling asleep while driving, driving makes me sleepy, interior car accessories, car accessories malaysia, maruti car accessories online, car accessories list, car exterior accessories, car accessories online shopping cash on delivery, car decorative accessories, cheap girly car accessories, cute car accessories amazon, rhinestone car accessories, car mirror accessories hanging, car interior decorations, bling car accessories, car interior decoration tips, Enjoy your car driving
Enjoy your car driving