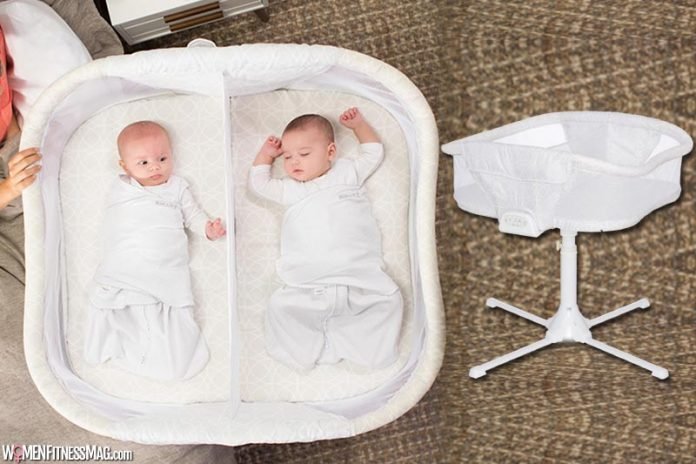 Halo Bassinest Twin Sleeper Reviews : The Halo BassiNest Twin Sleeper is one of a kind when it comes to bassinets designed for twins. It lets you sleep with your babies side by side, which is very important in the first few months in the little ones and your life. The bassinet is spacious and surrounded by mesh walls with a partition in the middle that allows constant airflow to keep your baby comfortable and cool even during warm weather.
The side walls lower so that you may feed, change, or cuddle the babies easily. They also have a lock-in mechanism and do not lower unless you unlock it. This is ideal for mothers who went through a rough delivery and are recovering or undergoing a C-section surgery. Either way, with your postpartum body healing and a pair of twins to keep your hands full, you'll appreciate the convenience this bassinet offers. That why people also call it best bassinet for c section moms. Want to explore more hidden features, then keep reading our Halo Bassinest Twin Sleeper Reviews
Pros
Designed for twins
360-degree swivel feature
Makes access to babies very easy
Height adjustment options
Electronic music center with volume control and a nightlight
The music center includes two styles of music and nature sounds
Great ergonomic design
A practical alternative to cradles and cribs
Great ratings
Cons
Expensive
Usable for a limited amount of time
Product specifications
Product : Halo BassiNest Twin Sleeper Bassinet
Brand : Halo
Duration : Up to 5 months
Dimensions : 35 x 23 x 12 inches
Item weight : 55 lbs
Weight limit : 40 lbs (total)
Rating : 4.2 / 5
Price : $484.99
Do I Need Halo Halo Bassinest Twin Sleeper?
Expecting twins might be double the joy of welcoming new family members but when it comes to raising twins, rest assured that they will keep you on your toes. You might need to get a pair of everything, but you have some really good options when it comes to bassinets.
The double bassinet for twins is a space-friendly bassinet for twins that rotates 360-degrees for convenience and safety. You can easily swivel it around to have access to either of your babies without having to get up in the middle of the night. It is an ideal solution for parents with twins.
It is an excellent choice for mothers with limited storage space and sleeping space yet want to spend a quality co-sleeping experience with their newborns.
It comes with a thick comfortable mattress that supports your baby's fragile body, giving it the soft and gentle snug feeling as it sleeps. The mattress is secure in the bassinet perfectly so that it doesn't slip in case your baby is active.
The feature that sets it apart is that this bassinet rotates in all directions.
This mechanism comes in handy when you have to get out of bed. If you want to know how this mechanism works, then read our Halo Bassinest Twin Sleeper Reviews.
Halo Bassinest Twin Sleeper Reviews & Features
We have given you a general overview of what this bassinet for twins offers by listing the pros and cons. However, if you're interested in knowing more about the features you feel are necessary to decide to invest, then read on.
So let check Halo Bassinest Twin Sleeper Reviews.
Cleaver Design

This bassinet features a wide sleeping area measuring 35 by 35 inches. The sides are meshed walls, and there is a partition at the center to give your babies individual spaces. The pockets on the sides to let you store the essentials.

The base is broad and sturdy to make sure it provides ample support to the bassinet, which can withstand babies' weight up to 5 months. It can slide beneath the bed for the bassinet to turn into a cosleeper. It easily adjusts from 24″ to 34″ high and can be tucked under most beds.

The company advises discontinuing use when infants show signs of pulling up, rolling over, or pushing up to a kneeling position.

The mesh walls offer maximum breathability and visibility. And it is very important for sound sleep. You can read the guidelines of the APP for safe sleeping.

Comfort & Ease of Use

It is easy to set up. Despite the appropriately weighing base, the basinet overall weighs not more than 55 lbs.

The main feature that sets it apart is the ability to swivel and rotate 360 degrees. This is great for easy access, safe sleep, and to make getting in and out of bed hassle-free.

Swivel and patented lowering bedside wall will allow you to tend to both of your babies without getting out of the bed. The wall can be locked in an upright position as well.

It also comes with two waterproof mattress pads, two polyesters fitted sheets, and two 100% cotton fitted sheets.

It is easy to clean, as well. All you have to do is use only mild household soap and warm water. You can machine wash the covers as well.

Extra Features That You love

This bassinet for twins comes with a soothing center. It includes a night light, two vibration levels, three lullabies, three soothing sounds, and a back-to-bed reminder with 30-minute auto shut off.

The nightlight helps you keep an eye on the babies without having to turn the lamp on. The 2 levels of vibration feature help rock your infants to bliss in no time.

It also features a music box that can play 3 soothing sounds and 3 lullabies with volume control so that on those rough nights where the little one refuses to sleep, you have additional help.

The back-to-bed reminder alerts the nursing mom to put the baby back in the bassinet if she falls asleep. This is helpful for heavy sleepers or very tired moms.

I hope you like our "Halo Bassinest Twin Sleeper Reviews" informative and useful to make a valuable decision in the future.
Conclusion
Halo BassiNest Twin Sleeper Bassinet offers the most ideal space for your newborn twins to spend their early days. They get to be side by side all the time and right in front of you too. The swivel design makes it a very convenient day or night.
Your little ones will sleep as close to you as you'd wish while safely remaining in their own separate sleeping spaces. Plus, each side wall easily lowers with gentle pressure so that you can easily tend to your little ones without getting out of bed.
With these great features in an all in one setup, it is hard to come across an alternative offering similar comfort of use and practical approach.
So if you're looking for something smart, dainty, and loaded with smart features, the Halo BassiNest Twin Sleeper Bassinet is a great choice. Here is a link to the official site, in case you want to check something else.
Now, let me know how you like our Halo Bassinest Twin Sleeper Reviews. Why you are going to buy this bassinet and which feature you like the most.
Drop your valuable comment in the comment box, and don't forget to share the article because sharing is caring.
Related Videos about Halo Bassinest Twin Sleeper Reviews :
HALO Bassinest Twin Sleeper – Babylist
Halo Twin Bassinest Review
Halo Bassinest Twin Sleeper
Halo Bassinest Swivel Sleeper Review – Should You Buy?
HALO Bassinest® Twin Sleeper
Halo Bassinest Twin Sleeper Reviews
twin bassinet, halo twin bassinet, halo bassinest twin sleeper uk, halo twin bassinet weight limit, halo twin bassinet used, halo twin bassinet dimensions, halo bassinest twin sleeper used, twin sleeper bassinet,