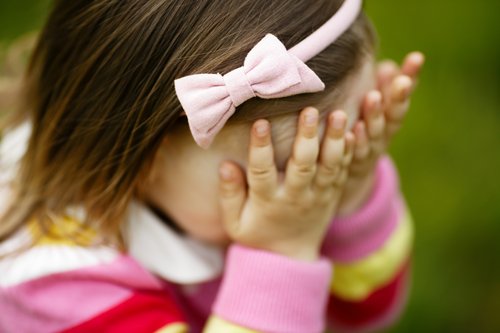 Looking for some ways to help your child overcome shyness? Being a parent, it can be difficult to observe your child's shyness make them worried and restrained. Shyness is hard to overcome, and a lot of children become shy adults. Check out the list of 7 best ways to help your child overcome shyness.

1. Listen
Since kids are entitled to opinions, we should listen to them. Ask if they are upset with anything; activities that you might think fun, like classes and communicating with others, can be difficult for your child. Find out what would they actually like to do and what would make things easier for them.
2. Drama
It might seem a little weird but one of the best tips to help your shy child is to register them in a drama group or class. You can think that it's a strange choice for shy children, but it can be easier for some act as someone else than being themselves. This can't help everyone, but it's worth asking your child if they'd like to try – if they love to be on a stage they may overcome their shyness.
3. Don't be critical
Sometimes parents can become irritated with their child's shyness, peculiarly if they themselves were unsociable when young. Don't be critical of your child and getting disappointed with them. It will make them think they are a disappointment to you and will feel critised. This will just make them even less contented than they already are.
4. Don't try to change them
All children are unique, so don't try to change them. You probably know that being shy will restrain them and that they couldn't achieve their full potential. Though, it won't help if you try to make your child more social. On the contrary, help them to get over their shyness step by step.
5. Encourage
Sometimes children throw themselves into everything without thinking twice. But shy children may find new activities (and familiar ones) very hard to experience. Try to provide your child with as much encouragement as you can and avoid putting them into situations they're awkward with.
6. Don't push
Avoid to force a shy child doing anything that makes them uneasy. I try to forget those memories of being pushed to go to swimming classes with a teacher who bullied me. I must confess, I don't like swimming even today. It's better to encourage your child, not force.
7. Rehearse
Coming back to the drama theme … If your child is anxious about a coming event, such as beginning a new school, you may help them with a practise session. All we practised a job interview with a friend, so try the same and be that friend to your child. When they've practised, they may discover that their fear is lowered, and they will feel more 'accustomed' to the situation.
All parents are anxious about their shy child, but let them get over it in their own good time. Delicate encouragement is a lot better than casting them in the deep end. Shy children need to get confidence facing with new situations and other people. Imagine, how we all feel worried about beginning something new – children can experience just the same. If you were shy, which tip would you like to try first? Do you have any other ways to help a child overcome shyness? Please share them with us!
Help Your Child Overcome Shyness