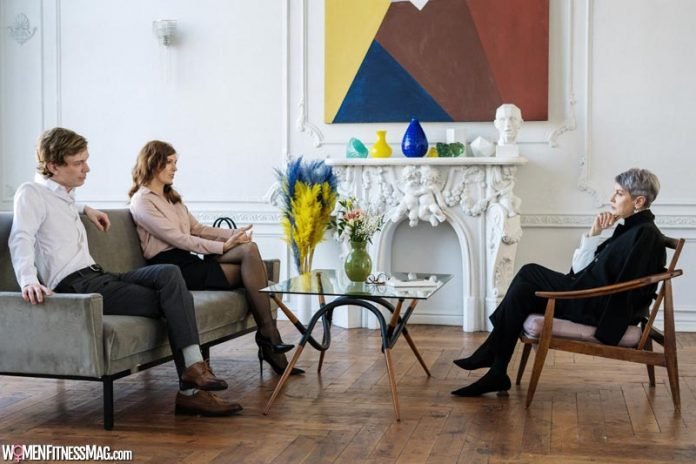 How Online Couples Therapy Can Strengthen Any Relationship : Couples therapy isn't just for rocky relationships. It's a useful tool which can help improve any relationship at any stage. Whether your fiancé has just popped the question or you want to reignite that spark which faded years ago, couples counseling can help you get everything out in the open. It's a way to create a solid foundation on which you can build a happy, loving relationship.
While there's no doubting the positive effects of therapy, not everyone is keen to visit a therapist's office in person. From fears of being ostracized by others to simply not finding time to fit face-to-face visits into their busy schedule, there are many reasons traditional in-person therapy doesn't work for everyone.
Thankfully, that isn't the only option anymore. Today, couples all over the country are benefiting from online therapy.
What Is Online Couples Therapy?
Online couples therapy is essentially the same thing as in-person therapy. They're both led by qualified therapists trained in strengthening couples' relationships and they both cover the same topics.
The primary difference is that while traditional couples therapy is held inside a counselor's office, online couples therapy is done through a smart device. There are several different types of this kind of therapy (phone calls, text messages, emails, etc) but the most effective online therapy sessions are the ones completed using video chat technology.
Being able to sit in the comfort of your own home and physically see the person you're talking to is helpful for you as well as the therapist. We reveal so much about ourselves through our body language and facial expressions which just doesn't come across as well through voice-only calls or text messages.
How Can It Help You?
Here are just some of the ways seeking online couples therapy can help improve your relationship, whether you think it needs fixing or not.
Spend More Time Together
Driving or using public transport to travel to and from a therapist's office takes a lot of time that could be spent doing much better things. When you attend online therapy sessions, you can use the time you save traveling to spend quality time together, trying out the ideas your therapist suggested in the last session.
It doesn't matter whether you do something big like go on a fancy date night together or something small like prepare lunch as a couple, taking time out to spend with each other is one of the best ways to improve your relationship.
More Likely To Commit
The more obstacles there are in the way, the less likely we are to stick to something. By removing the hurdles to receiving therapy, you and your partner are much more likely to commit to the entire treatment plan and get the best results.
Online therapy allows you to pick time slots which work for you and take part in the sessions somewhere you feel safe. Sticking to a routine like this is much easier than one which forces you to do things you don't want to.
Allows You To Be More Open
Some people struggle to open up and talk about their relationship honestly in an unusual environment to a therapist they've never met before. This results in people bottling up their feelings and not getting the true benefit of couples therapy.
While you still talk to an outsider with online couples therapy, you can do it from anywhere you choose. This means you can put on your comfy clothes, sit together on the sofa and chat to your therapist while feeling safe and comfortable in your own home.
Translates More Easily Into Real Life
During an in-person session, your therapist might get you to roleplay various scenarios and practice different skills within your relationships. While they might make perfect sense at the time, the moment you step out of the therapist's office into "the real world", the new skills you just learned might seem like little more than a game.
Mental health specialists at Healthcanal also believe by learning and practicing important relationship skills at home through online therapy, they'll come more naturally to you in your real life. Instead of there being a distinction between what happens inside the therapist office and what happens outside it, your therapy environment blends harmoniously with your home environment, making it easier to use your new skills.
Make The Effort Today
Seeking couples therapy to improve your relationship shows how much you care about the connection you've built with your partner. Whether you're having problems or you want to know how to handle conflict if it arises in the future, talking together with a therapist can help you work things out when you're too close to the situation to do it on your own.
Thanks to the advancements of modern technology, scheduling weekly sessions to see a therapist downtown isn't your only option anymore. As long as you've got a smart device and an internet connection, you can chat to an online therapist and build a loving relationship which will stand the test of time.
Related Videos about How Online Couples Therapy Can Strengthen Any Relationship :
3 MAJOR Signs You Need Couples Therapy
What We Might Learn in Couples Therapy
How Online Couples Therapy Can Strengthen Any Relationship
online couples counseling long distance relationships, free online couples therapy exercises, free online couples counselling, affordable online couples counseling, relationship counselling online free, regain couples counseling, our relationship reviews, online marriage counseling near me,