How To Blending Clip-Ins and Short Hair : Less versatile and open for extensions is the label that short hair has wrongfully earned. Those with short hair pigeonholed into only using glue. Tracks or sew-ins. Clip-ins have not been a long time friend of shorter hair, and the clips are enormous, hard to hide, and even harder to keep in your hair all day. But fear not, there are ways to blend clip-in extensions in short hairstyles.
How To Blend Clip-Ins Into A Short Style
Blending your hair and clip-ins can be difficult, but the blending comes with a few easy changes to your styling.
Change The Way You Approach Clip-Ins
Find Matching Clips
Clip-Ins are detachable and don't come with many rules; however, the same standard of thumb for extensions applies to this alternative, which blends as your life depends on it. However, a tip when working to blend your clip-ins is to choose extensions that have clips that match your hair color. Most clip-ins have straight black combs, but some can have silver or even small brown ones. Picking the color that matches your hair automatically makes it harder to see your clips through your short style.
Opt For Thinner Clips on Wefts
"Clips" or combs used on clip-in hair pieces vary in size and shape. For optimal blending with shorter hair, it's best to get 1) flat silver clips that lie along the base of the weft or 2) long thing black (or your hair-colored) combs. Using extensions with flat clips, and thin combs make the extensions less likely to be bulky and make them easier to hide within bangs or edges the natural hair.
Blending Short Styles To Compliment Clip-In Extensions
One of the best ways to blend clip-ins and short hair is to know the way your hair works. Be in tune with the thickness of your hair and where to part your hair to maximize weft coverage.
Pick A Style with Layers or Curls
Layering your hair can help to make your extensions look more natural than one substantial length. Layers create the illusion of thicker hair and allow hair to be messier. It is also an easy trick to bridge the gap between natural hair and extensions. Additionally, curls and layers add definition to a short style that can be used to cover the clip-ins often thick base.
Get Extensions with Similar Thickness
When blending your hair, finding the right density is crucial to pulling off a smooth short style with clip-ins. Make sure that your set of extensions are similar to the natural thickness of your hair; doing so will make it harder to tell the difference between your natural hair and the extensions sandwiched in between. Hair and extensions need to look like a unit so that the short styles move in sync.
Find Your Hair Texture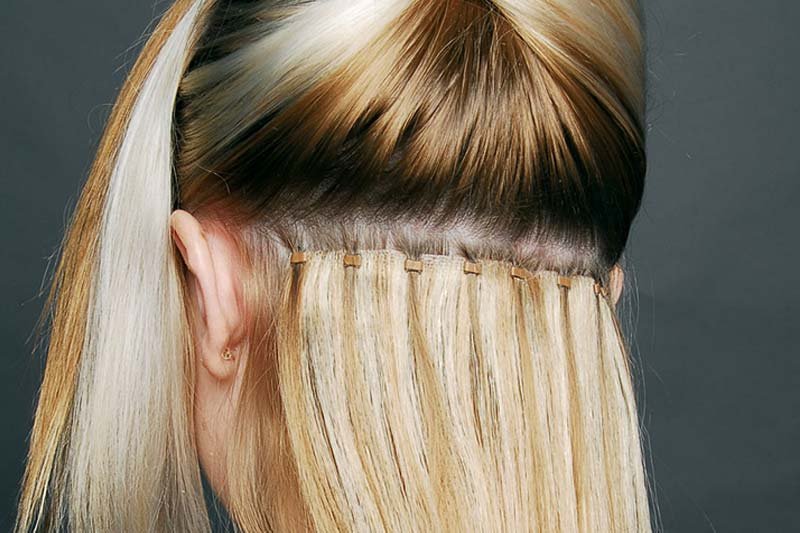 Unlike traditional sew-ins or wigs, short hair with clip-ins and mismatched extensions do not mix. Attempt to find your hair texture within the real of extensions. If your hair is wavy, do not get kinky extensions the first go around. With shorter hair, it is easier to see the difference in texture unless you can confidently manipulate your natural hair to match your desired extensions texture.
Utilize Your "Hair Angles"
The same way you have angles for photographs, there is' hair angles,' but these angles are the ways that your hair looks most natural and even. It is essential to know your angles so that you know where to place your extensions within your haircut.  Finding the right hair angle means that you know which part of your hair is the healthiest to anchor the clip-ins, and on which side your hair will give the fullest look.
For instance, when considering hair extensions for short hair,  a bowl cut with extensions would maximize thickness and allow extensions to add to the middle of the hairstyle seamlessly. This short style is suitable for clip-ins because the hair sprouts from the center were they can evenly covering all extensions. Another good hair angle for most shortcuts is an excellent side-swept bang with one side shorter.  In this type of cut, clip-in extensions can hide in the folds of your natural hair and give a full 'Justin Bieber' hair effect. Add in some layers and curls, and your hair will be both blended and bouncy in no time.
Do Not Overdo It
It's easy to get carried away when you first learn of extensions that are so low maintenance and versatile. When attempting to make your hair look fuller, mix it up with color or maximize your hair angles. However, too many extensions close together makes styles bulky, and hard to manage.
Don't Under Do It Either
Yes, clip-ins are comfortable and convenient, but they still require work to make your hairstyle look smooth and cohesive.  Please do not try to throw in two ten-inch clip-in extensions with all of your other hair being around three inches. Using too few extensions whether the same length or not can make hairstyles look sparse.
Take the time to get extensions that make a realistic style, or thick enough to use only two or three. For instance, if you want a drastic change in length, space extensions with a similar density out evenly in your style and flat iron were needed for blending.
Make Adjustments As You Go
The main complaint about clip-ins and short hard is that the extensions are readily detectable due to the long gaps where the real hair and extensions separate. Trim or clip your extensions so that it makes a natural transition into your real hair since natural hair and extensions can often look different at the endings.
Blending Made Easy!
Clip-ins and short hair no longer have to be frenemies! Blending your hair and clip-in extensions do not have to be difficult. The best way to ensure your hair laid is to be mindful of the positioning or your hair angels, pick styles that make your hair look fuller such as layering and curls and chose clip-in extensions with sleek, matching hair clips or combs.
Related Videos on How To Blending Clip-Ins and Short Hair :
How To Clip In and Blend Hair Extensions With Short Hair
Blending Clip in Extensions With Short & Thick Hair
How to: Blend Clip-Ins with Short Blunt Hair
HOW TO | Blend Clip Ins with Short Natural Hair ft. Better Length
Tips & Tricks for Seamless Blending | Hair Extensions Basics
How to clip in extensions for short hair! Feat Irresistible me extensions
6 Tips for Blending Clip In Hair Extensions With Short Hair
Hair extensions for SHORT HAIR The easy way!
HOW I STYLE MY HAIR & INSTALL my hair extensions + CLIP-IN HAIR CARE 101
Hair extensions for SHORT HAIR
How to: Blend Short Hair with Extensions (Feat. Bellami Hair)
How To Blending Clip-Ins and Short Hair
how to cut hair extensions to blend with short hair, how to make extensions look real in short hair, how to put extensions in very short hair, clip ins on really short hair, how to blend hair extensions with short hair, clip in hair extensions for short hair before and after, how to blend hair extensions with short thick hair, how to attach hair extensions to short hair, Blending Clip-Ins and Short Hair