How Cosmetic Dentistry Can Help You Fix Your Gapped Teeth : Are you dissatisfied with your teeth despite brushing and flossing regularly?
The main cause of your dissatisfaction may be a steadily increasing gap between your front teeth which is known as having gapped teeth. These gaps or spaces in your teeth are quite common and are not harmful but usually tend to affect your appearance and self-confidence, making you feel self-conscious about yourself.
So here is how it happens:
The habit of tongue thrusting is caused by pressing your tongue against your teeth when you swallow which can lead to gaps in your front teeth over time.
Dental habits, children who suck their thumbs or use a pacifier beyond the age of four years tend to develop gapped teeth
A larger labial frenum than normal creates a gap between your two front teeth, particularly if it grows between them.
If your teeth are too small and your jaw is too big, this will cause your teeth to spread out and lead to more gaps in your teeth.
Some people don't get all their permanent adult teeth. This is a condition that occurs when your teeth are still developing prior to birth. In certain cases, you may be able to keep your "baby teeth" as long as they remain healthy but they will be smaller which will leave smaller gaps.
Here are 5 ways Cosmetic Dentistry can help fix your gapped teeth:
Teeth Bonding

Teeth bonding is a preferred option when you want to close or fix gaps that are a bit larger than normal as it generally the easiest, quickest and most economical way to fix and close the gap between your teeth. This simple procedure uses a tooth-coloured resin which is applied to your teeth after which it is shaped to look natural and then hardened under a special light which bonds it to the tooth closest to the gaps in your teeth.

Teeth bonding is one of the simplest and most economical options for gapped teeth but unfortunately, they are a bit more prone to staining, chipping or breaking off.

Porcelain Veneers

This is a procedure whereby thin shells are bonded to the front of your teeth which you want to repair. But fixing these veneers in place requires the removal of a small amount of enamel to ensure that the veneers fit into place properly and appear natural without affecting your bite.

Porcelain veneers simply fit over your teeth and don't need any extra maintenance or special care.

Veneers are permanent and give great results but you should understand that the process is irreversible.

Dental Implants

Dental implants are mini titanium posts which have been surgically inserted into your jawbone where teeth are missing. These metal posts act as teeth root substitutes and the bone bonds with the titanium which creates a strong foundation for artificial teeth. Small posts are then further attached to the implant which protrudes through the gums. These posts act as stable anchors for crowns to replace the missing teeth artificially.

Dental Crowns

Dental crowns are custom-designed to cover and fit over your damaged teeth. Crowns are helpful in building up any teeth that are causing problems with your bite as well as for protecting and supporting a tooth that has undergone root canal therapy.
Orthodontic Treatment Like Braces, Invisalign and Retainers

Fixing the gaps between your front teeth isn't very easy as moving any of your teeth is bound to create other gaps amongst your other teeth. For these reasons you may need more gappy teeth solutions such as:
Braces

Braces pull your teeth into proper alignment, making your mouth better aligned and closing the gaps between your teeth. But you may need to wear your braces from anywhere between 6 months to a few years to achieve this.
Invisalign

Clear Invisalign trays straighten your teeth which helps to eliminate any spaces between them. But you have to wear the Invisalign trays for the recommended amount of time else they will not be effective.
Retainers

Orthodontic retainers are generally used after you have your braces removed after which your retainers hold your teeth in place by closing the gaps between your teeth by healing in place without any more movement.
Schedule a meeting with your dentist to have your gapped teeth properly evaluated and get your dentist's professional advice which of the best ways close the gaps between your teeth are best for you. Follow your dentist's suggestions/recommendations and you can enjoy flashing your smile for the rest of your life.
Author:
Shen Chao is part of Dr. Joshua Hong's Dental Clinic in Goodyear, AZ. While working for the dental clinic, he's gained first hand experiences into the questions and concerns that dental patients have. He has been writing to inform people about various dental topics to help his readers improve their oral health. When he's not working, you can find him on a hiking trail with his dog or having a Sunday cook-out with friends.
Related videos to Fix Your Gapped Teeth :
TEETH BONDING | FIXING GAP TEETH WITHOUT BRACES
Fixing a Gap Between the Front Teeth
How to reduce gap between teeth naturally at home without braces
Fixed My Teeth Gap Without Braces!
Fixing a Gap Between the Front Teeth
Introduction to Invisalign (Closing My Gap)
Related Infographics to Fix Your Gapped Teeth :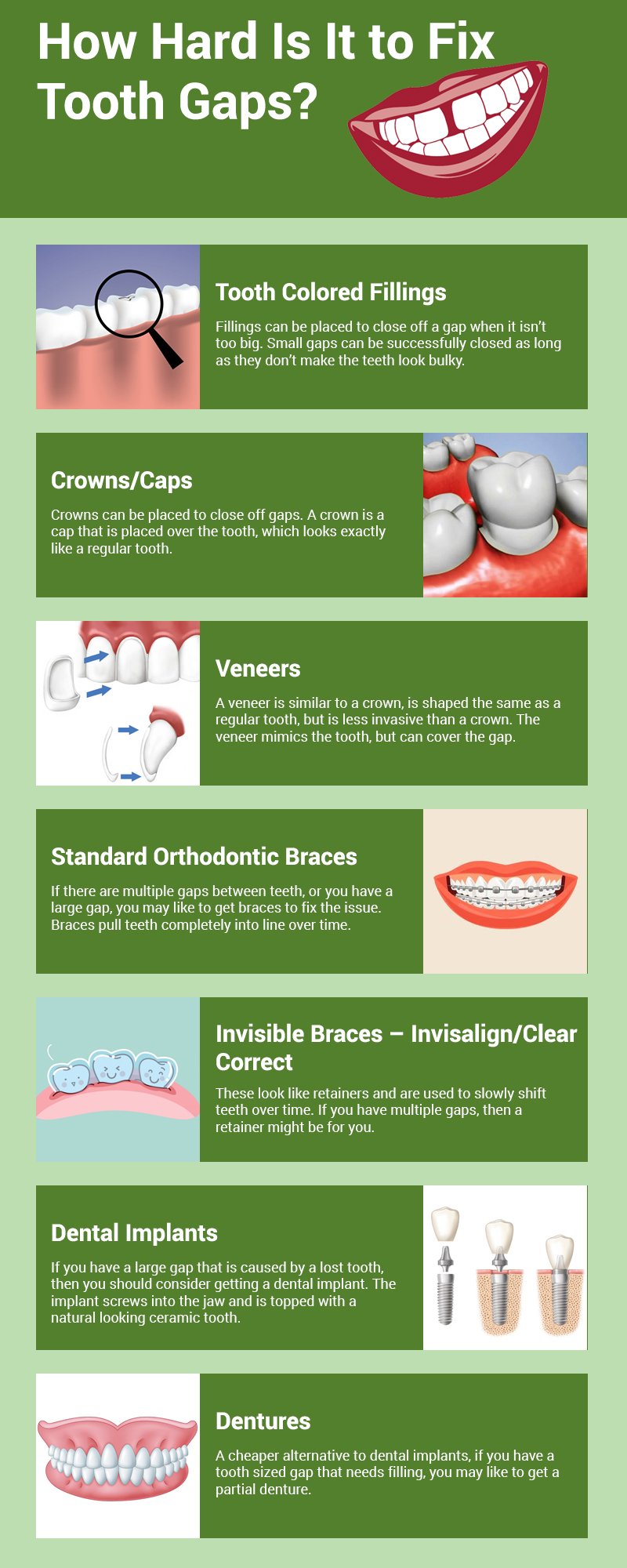 How Cosmetic Dentistry Can Help You Fix Your Gapped Teeth
how to fix a gap in your teeth by yourself, teeth gap bands, teeth gap bands review, teeth gap treatment cost, gap between teeth treatment, are teeth gap bands safe, how to fill gap between teeth naturally at home, teeth gap bands price, cosmetic dentistry before and after, cosmetic dentistry, cosmetic dentistry veneers, affordable cosmetic dentistry options, Fix Your Gapped Teeth