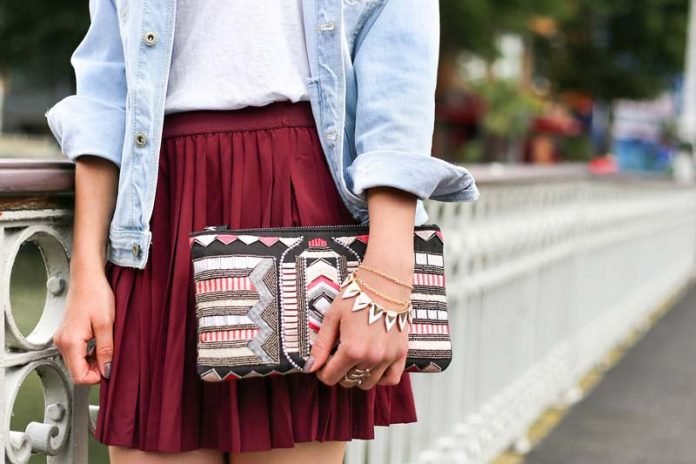 How to Choose the Right Accessories for Your Outfit : Accessories can either accentuate or ruin your outfit. If you are choosing fashion accessories to match your wardrobe, you should consider the scale, color, and style of the pieces. Moreover, you should also consider the occasion that you are attending. Here are some tips that will help you to find the right accessories for every outfit:
Style
You can use fashion accessories to define your style. Jeans and a shirt or a simple sheath dress can look very different depending on the accessories that you choose.
Here are the different types of accessories that you can choose to match your outfit:
Playful accessories – hobo bag, colorful ballet flats, headbands, and chunky jewelry are playful accessories that you can wear to a casual event.
Classic accessories – leather clutch bags, black pumps, and diamond earrings are classic pieces that go well with any outfit. You can also buy stylish watches such as quartz or Panerai watches online to match any outfit.
Casual accessories – cross body bags, knee-high boots, and Wayfarer sunglasses are some informal pieces that you can pair with your casual outfit.
Workday accessories – large satchels, delicate necklaces, and classic watches are the ideal accessories to pair with your workday outfit.
Glamorous accessories – you can pair a crystal-embellished clutch, sky-high heels, or oversized sunglasses with a sophisticated outfit if you want to be unique.
Edgy accessories – chocker necklace, thick cuff bracelet, and black leather booties are some accessories that you can wear when you are feeling edgy.
Scale
The scale of your accessories to outfit matters when choosing a piece. If you are wearing a busy outfit such as one with patterns, you should opt for simple accessories. Jewelry and accessories that are busy will make your outfit look shabby. The same rule applies when wearing sequined, embroidered, and ruffled garments, which are busy on their own.
To keep the focus on your outfit, you need to wear simple accessories. The shape and scale of your handbag matter too. Make sure that you consider your body type on top of what you are wearing. For instance, if you are petite in build, you should avoid oversized bags, which can swallow you up and ruin your outfit. Tall but thin women should opt for slouchy and short bags such as clutches.
If you are short, you need to avoid handbags that have long straps because they will not flatter your body. Hourglass-shaped and plus-size women look great with boxy and medium-sized bags that balance their curves.
Color
If you are wearing neutral colors such as black and gray, you can choose an accessory of any color. However, if your outfit is colorful, you should choose accessories that do not clash with it. Your color choice should be guided by the color wheel basics.
The primary colors are yellow, blue, and red while secondary colors are those that you get after mixing two of the primary colors. When a primary and secondary color are next to each other on the color wheel, they are analogous. You can match such colors because they go well together when you match them on a similar intensity of darkness and lightness.
To make a big statement, you should choose colors that are on opposite sides of the color wheel. When you pair them together, you will be making a bold statement and you will seem adventurous. However, you should know that some of these pairings do not look as good as others do: you should avoid pairing red and green together unless you are dressing for Christmas.
Do not be afraid to experiment if you want to find the colors that match best. However, you should not wear more than three colors together.
Skin Tone
Instead of matching accessories to your outfit only, you should also match them with your skin tone. If you have natural tones, you should choose silver accessories because they will make your skin pop. Gold matches matte skin tones and darker hair.
If you have a cool skin tone, you should choose accessories with gems that are blue, purple, or red in color. Moreover, white gold would be an ideal choice of metal for your skin. Warm skin tones go well with gems that are green, orange, and yellow as well as yellow metals.
Occasion
If you are typing on a keyboard, you should stay away from dangling jewelry. Moreover, if you are dressing for work, you should avoid bracelets, bangles, and other noisy wrist accessories. Before buying accessories, you should consider how others will perceive them at the event you will be attending.
Conclusion
To coordinate your outfits with your accessories, you need to have a keen eye for fashion. The above tips will help you pick the right accessory for your outfit. Above all, you should consider the accessory and outfit colors.
Related Videos about How to Choose the Right Accessories for Your Outfit :
How to Wear Accessories Like a Pro
How to Accessorize Outfits| How to Layer Necklaces
How to choose the right accessories for your outfit
How-To Accessorize an Outfit With Jewelry
How to Choose the Best Handbag for Your Outfit
How to match accessories with your outfit
How to Choose the Right Accessories for Your Outfit
how to choose accessories for clothes, accessories for dresses ideas, dress accessories, how many accessories should you wear, matching earrings with clothes, rules for wearing jewelry, coordinating accessories, what should match in an outfit, How to Choose the Right Accessories for Your Outfit