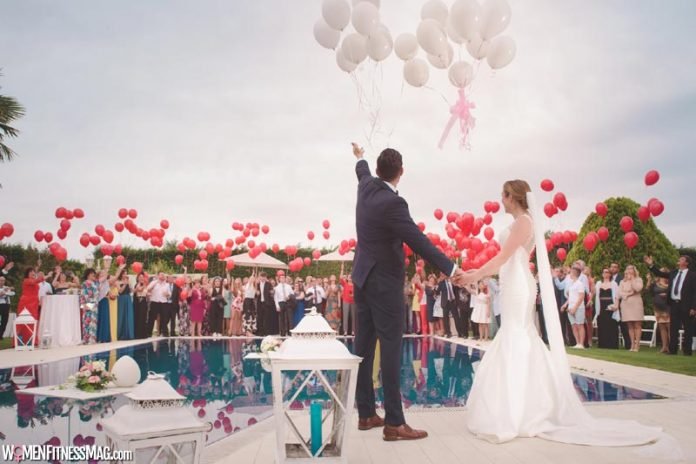 How To Choose Your Dream Wedding Venue : Your wedding is likely to be a day you immortalize with countless pictures and films. It will celebrate the love you share with your partner, for those you hold dearest to see. Therefore, having your wedding at a venue, you find nothing short of spectacular is essential.
Unlike other aspects of your wedding (the cake, the dress, the flowers), having a wedding venue isn't optional, and neither is ensuring it can accommodate the wedding you have planned and your entire guest list. To find the perfect spot for your special day, you will need to look early, use a planner's assistance to make a shortlist, and come to an insightful, thought-out decision.
To facilitate this process, we've broken down this wedding venue guide into types of locations that may appeal to the modern bride, and the type of woman their features are best suited to.
Before You Begin Looking
Wedding planners earn their money by having more expertise, awareness, and resources when it comes to planning the event than you may objectively have. While their services may seem like a mere "plus," they are essential in selecting a space that will "work" on your special day. Their experience with all types of weddings, guest list sizes, client tastes, and themes will allow them to quickly spot the inconveniences a feature of a venue may cause.
Most wedding planners will also be in-the-know on local sites' availability across seasons, the booking process, and even the rates you may negotiate for. A wedding planner will help you save your time while seeking out a venue, by quickly eliminating the options they know to be unfeasible and pointing you towards the discreet gems an internet search will not do justice.
Types Of Wedding Venues And The Wedding And Bride Styles They Are Best Suited For
Selecting your ideal wedding venue will involve a lot of brainstorming – and some introspection. You will need to establish the type of wedding you're looking to have, whether you wish for a specific theme, how many people you will look to invite, your lighting and decoration requirements, and how far you're willing to have your guests travel to attend. You may then choose from a variety of styles.
The Countryside Wedding Venue


Whether you choose a flowered barn or a quaint backyard, the countryside wedding offers the flair of simplicity, and the charm of unpretentious, naturally grown greenery. The atmosphere of these types of weddings is usually relaxed, allowing for guests to wear comfortable shoes and bask in the sun as you pronounce your vows.

The Countryside Wedding Venue

A perfect countryside venue will feature a structure in which the bride and groom can prepare themselves, in which drinks and provisions for children in attendance can be stored, and ample movement space before the ceremony area and the preparation rooms. If a distinct, elegant path connects these areas, it will be easier for you to reach the alter in your gown and wedding shoes.

The BeachFront Wedding


The BeachFront Wedding

The beachside wedding became a staple of the '90s, by being a choice of popular starlets of the time, such as Pamela Anderson. This trend is coming back into play, because of the fabulous pictorial background it offers, and how well the latter compliments intimate settings.

If you're looking to have a small but memorable wedding, you may arrange for a hotel or residence with a private beach to offer you their beach space at sunset. However, beach weddings need to be timed with strict accuracy, because they are most striking when the natural lighting is ideal (generally towards dusk).

The Gallery Wedding


The Gallery Wedding

The art gallery is a popular choice for the trendy, artsy brides looking to add a touch of sophistication and cultured taste to their weddings. Art galleries necessitate minimal decoration because they are generally set up (wall paints, fixtures, sculptures, etc.) using trendy and visually-pleasant interior design.

Your wedding planner may even help you negotiate for some of the art to stay in place, which will provide both interesting sights for your guests, and luxurious visuals for your pictures.

The gallery wedding is ideal if you're looking to get married in the winter when you and your guests would benefit from indoor heating. They are also highly prevalent in busy cities, were requesting that your guests travel significant distances to attend your wedding may discourage some.

The Urban Wedding Venue


The Urban Wedding Venue

The urban wedding venue is generally hip, accessible, and highly versatile. From artisanal restaurants with artsy setups to hotel rooftops and abandoned market sites, the urban wedding venue is anything you want it to be, at the city's heart. You will need to use your planner's vision and your own desires to create a template of what your ideal set up would be. You can rent out the brickyard of a small gallery or store or even a corporate building's terrace.

To select a Brooklyn wedding venue, you will want to familiarize yourself with both your available modern and traditional options and inquire about their past uses. Your venue of choice will likely have experienced at least one wedding or other private celebration before, and they may provide you with pictures of the setup to help you gain expectations and inspiration.
Related Videos about How To Choose Your Dream Wedding Venue :
How to Choose Your Dream Wedding Venue (+ Checklist)
Selecting Your Dream Wedding Venue
How To Choose The PERFECT Wedding Venue!
How to Pick a WEDDING VENUE | Tips for Brides
Choosing your WEDDING VENUE!
How To Choose Your Dream Wedding Venue
What to look for in a wedding venue, The Knot how to pick a wedding venue, Perfect wedding venue quiz, Changing wedding venues, Finding your wedding venue, How to agree on a wedding venue, Who picks the wedding venue, Questions to ask wedding venue,