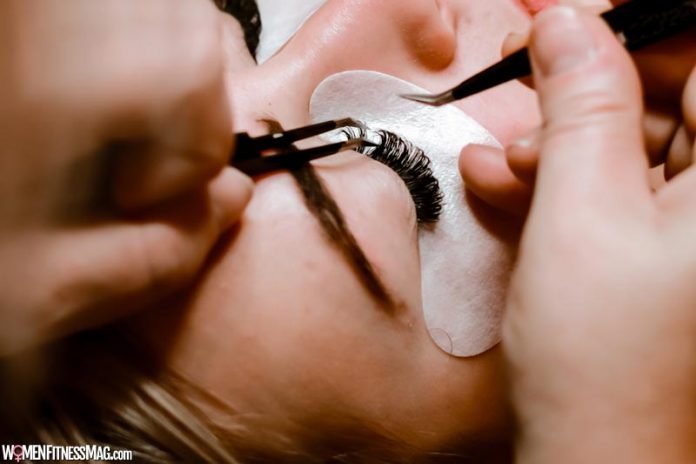 How To Remove Eyelash Extensions : Sometimes, good things come to an end – that includes even the most beautifully done eyelash extensions. Even though it is the safest way to remove them at a professional salon, with adequate care and precision, it is also totally doable at home.
There are many great salons to choose from, but you can easily apply and remove your eyelash extensions at home by yourself without causing any harm to your real lashes. Lilac St., Lash Affair, Bella Lashes can help you make a good decision. Anyhow, whichever approach you choose, both consist of the same steps described below.
How To Remove Eyelash Glue
Before actually separating the eyelash extensions from your natural lashes, you have to get down to dissolving the eyelash extension glue. On the market, there are multiple kinds of eyelash removers available, nonetheless for an at-home procedure, it is best to go for a cream one. It is the easiest to apply, yet the least suspected to cause irritation or run into your eyes.
Eyelash Maker Excellent Cream Remover For Lashes
Eyelash Maker Excellent Cream Remover For Lashes is one of the creamiest and silkiest eyelash glue removers that you will ever find. Not only is it a pure pleasure to use it, but because of its gentle ingredient list, it should not cause any irritation. To apply, follow these simple steps:
Make sure that there is no leftover makeup on your face and your skin is clean.
To make the whole process even more effective and activate the ingredients better, steam your face by e.g. hovering over a bowl with hot water inside and a towel on top of your head.
Place under-eye pads or tape under the eyes.
Set the eyelash glue remover on a plate.
Apply the eyelash remover on the eyelash extensions using a special swab or a brush.
Wait for approximately a few minutes before proceeding with removing the extensions themselves.
At the same time, if you are a professional technician or are looking for products for your salon, you may want to work with liquid or gel eyelash glue removers. Since with time they become watery and thus might get into your eyes, causing irritation, it is safer not to use them at home when inexperienced. Nonetheless, these are some of the best liquid and gel products:
Eyelash Maker Premium Glue Remover Liquid Type

When used correctly, Eyelash Maker Premium Glue Remover Liquid Type will be the best liquid eyelash remover you will ever have. Not only is it extremely effective in removing false lashes, but it also does not damage the natural ones.

Bl Lashes Gel Remover

If you prefer to use gel eyelash removers at your salon, this is one of the highest technologies you can go for. Because of its adhesive consistency, it is very unlikely that it will run into the client's eyes. Moreover, it does not harm the natural lashes in any way.

How To Remove Eyelash Extensions

Having waited for a few minutes with the glue remover on, it is time to dispose of the extensions themselves. Fortunately, the process is easier than it may seem. Simply slide off the extensions with a mascara swab or a tweezer – they will come off without much effort. Later on, use a completely fresh swab to clean up any remnants of the products or lash extensions. Soak a cotton pad in water and rinse your lashes thoroughly. It's done.
Luckily for you, if you would like to do your eyelash extension removal procedure at home, Quality Beauty Store has all-containing Lash Removal Kits available. Each includes everything you need to perform the above-described instructions: 1x Cream Remover, 1x Mascara Wand, 4x Lip Applicator Brushes, 1x Pair QBS Lint Free Patches, and 1x Guide. This way, you will be sure that you have all high-quality tools and products at hand!
Related Videos about How To Remove Eyelash Extensions :
How To Easily Remove Lash Extensions
HOW TO REMOVE LASH EXTENSIONS
How to Remove Lash Extensions At Home
HOW I REMOVED MY EYELASH EXTENSIONS! | QUICK AND EASY DIY
How To Remove Eyelash Extensions Tutorial
How To Remove Eyelash Extensions
how to remove eyelash extensions with vaseline, how to remove eyelash extensions by yourself, how to remove lash extensions with coconut oil, how do you remove eyelash extensions at home, how to remove eyelash extensions with baby oil, eyelash extension remover ulta, lash extension removal near me, how to remove russian lashes at home,