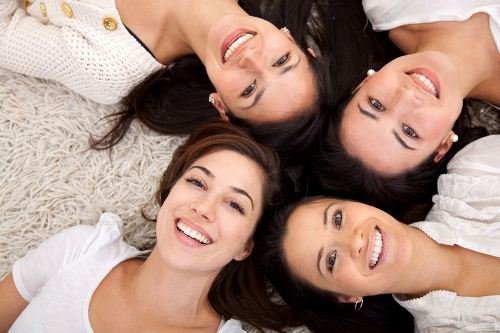 We all look forward to those days when we meet with our friends as we can enjoy the happiest and the most valuable moments of our life together with them. When you plan a day out with your girlfriends, first of all you should remember that it's a great opportunity to have fun and relax. Shopping and lunch at a café are the most common things I usually do with my friends when meeting for a girls day out. But it's quite boring to do the same things every time we see each other. That's why sometimes I want to organize interesting and entertaining activities for me and my girlfriends. If you are looking for wonderful things to do for a girls day out, I think the following ideas are exactly for you.

1. Explore Your Mystical Side
To my mind, this idea sounds really exciting, however, it is not for everyone. Are you one of those people who are interested in mystical side of their life? Grab your friends and enjoy this unusual activity together. For instance, you can visit a medium in your town and get to know your fortunes. What can be more thrilling than this? I should say that people who never believe in such things won't be satisfied with this kind of entertainment, but if your friends are a bit curious you should definitely try this idea.
2. Go Horseback Riding
It should be mentioned that riding a horse is a fantastic amusement for those who prefer active lifestyle and like different sports. In case you and your friends are not sporty enough, it would be better to stay away from this activity. To go horseback riding you need to have a good feeling of balance because falling off a horse will not be a big pleasure for you. Though, it doesn't mean that only trained people should ride a horse. Take risks and unforgettable adventures are guaranteed to you. Besides, you will get a chance to have picnic and admire beautiful nature at the same time.
3. Have a Group Event
Nowadays there is a wide range of splendid group deals that are offered at most restaurants. By choosing one of them you will get only pleasant and joyful emotions from your girls day out. Plus, such special offerings are a nice way to save your money and make your lunch date more affordable. I would recommend you to join wine tasting deals at the best restaurants of your town and feel their exquisite and delightful atmosphere.
4. Discover the Nearest Coast
I should say you are a lucky person if there is a coast in your neighborhood. As a rule, people who live near a sea or ocean take it for granted and they never appreciate this great blessing. So, this is a brilliant idea to call up your girlfriends and drive along the picturesque coast admiring its marvelous views. It will be a kind of a mini trip. Make sure you have your camera with you to memorize this unique day out with your friends.
5. Take Part in a "Fun Run"
Participating in a "fun run" is an incredible way for you and your girlfriends to have a good time and enjoy each other's company. In addition, this entertainment will enable you to do some physical exercises that are so necessary for your body. You can choose from a big variety of events like the Electric Run or the Color Run and have fun. Organize your team and prepare colorful costumes, after don't forget to sign up for the event that is held and get ready for adventures.
6. Make It a "Dare Day"
Now it's high time to recollect all the things that you and your girlfriends find difficult to do and dare each other to fulfill them by all means. Nevertheless, try to be prudent and don't promise your best friend to get a silly hairstyle or a tattoo. Perhaps you will dare to say hello to a handsome man sitting at the next table in a café. Dare to do whatever brings you joy and happiness. Just keep in mind to observe the boundaries.
7. Make Your Small Dreams Come True
Without a doubt all of your friends have some desires and small dreams they would like to make real. Thus, you can spend your girls day out doing those little things. Maybe you have never eaten Chinese food and you are eager to try it, this is the best time to do it with your girlfriends. Don't miss your chance to experience the most pleasant moments of your life.
I would advise you to take into consideration all the above ideas every time when you are going to have a day out with your best friends. If you do these fun activities while meeting with them, you will see that spending a wonderful time is so easy. Which of these ideas do you like most of all? Would you like to try any of them? What entertaining things do you usually do with your girlfriends?
Ideas to Spend a Girls Day Out