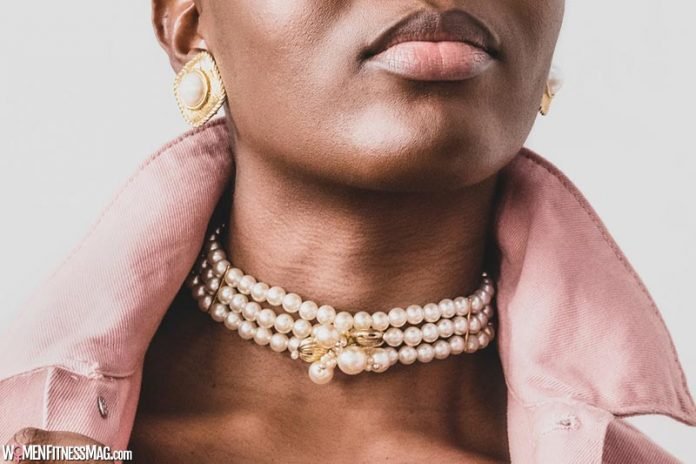 Latest Necklace Ideas that are Trending this year : Jewellery is much more than a couple of shiny baubles on your neck and a precious stone glimmering on your ring finger. The runway embodies statement pieces of jewelry as a sustainable and responsible craft, mainly due to the emotions it triggers and styles it helps personalize.
Many fashion designers and critics believe jewelry to be a die-hard fashion statement primarily due to two reasons. One, it is considered to bear a sort of an outward magnetic pull that ignites an instinctual sparkle unknown to the wearer. Two, fancying right jewellery is not as radical or incomplete as your lust for shoes. One sparkly bauble around your ring, a musty chain clinging to your neck and a pair of punk studs as earrings – boom! Your outfit is complete and breathtakingly new. It doesn't always have to be expensive to look good. In order to get an inexpensive look, check out the smorgasbord of styles that fashion jewellery online australia has put up.
Spring 2020 experimented with massive caskets of nature-friendly and responsible jewellery. We are talking about models wearing giant shells strung along their necks along with garments buried with baubles. Chokers still hold the legacy for being sexy and petite and might dethrone lingerie as they take over every bit of lace available in the market today. But, when we speak of the most sensual pieces showcased on the runway, we have to mention Versace's chunky links and chains that embraced metal in breathtaking designs. To buy diamond, precious and coloured gemstone jewellery in United Kingdom visit jacobsthejewellers.com. They are most established and trusted family-run businesses, a luxury independent jewellery and watch shop now in its third generation.
Today, we're going to highlight 10 of the best pieces that made hits on the runway.
Sculptured Chains


Sculptured Chains

Gone are the days when jewellery was not supposed to be anything but petite. The runway had a little extra for the spring 2020 jewellery forecast. Maxwell's portrayal of silver links might become the hottest wearable entity of the year. With abstract jewellery making its waves in social circles, women and men both might get the hang of wearing big chained necklaces or collared chokers to a day or night shindig.

Call me back to Nature!


Prada plans on setting the landmark for fashionable jewellery couture in addition to its handbag and shoe memorabilia. Prada gave us a nature call – and not in the way you would expect – but in ways that remind you of balmy beaches of the Bahamas. With a shelled necklace paired with a couple of matching earrings, Prada is giving us a reason to experiment with shell jewellery and more.
Miu Miu even set the bar with their wooden brooches on the runway. The humility and modesty were taken over by the overwhelming crowds on the Runway. With resources getting out of hand, we think fashion is all set to welcome pieces that are recyclable and eco-friendly at the most.

Are you having a ball… yet?


Don't throw away your Christmas ornaments because the Paris and Milan Fashion weeks of 2020 embraced spherical baubles of jewellery that were inspired from your arbitrary visits to the Planetarium. These spherical earrings and lockets welcomed a three-dimensional design as all eyes orbited around their exhibit on the runway.We are talking about big-hooped earrings and chained lockets that end right above the beginning of your neckline. Arman Sarkisyan's gold-accented pendants were the hit of the runway. The 18k locket was brighter than the chandelier and opened up into two spherical halves or domes that had room for carrying your photographs.

Getting the chokers back in action


Spring 2020 is going to be a fantastic year for bold statements that are not limited to jewellery that dangles until it reaches your neckline. We got all choked up when we saw that chokers are coming back in swing – and that too, in bold styles that aren't taking 'no' when it comes to fashion.
Apart from wrapping your neck in collared chokers, the runway showcased designs that were bold and built with curvaceous silhouettes. These chokers are reminiscent of a flexible twist – not only are your necks caught in collared styles but also in dangling profiles that speak only one language.

But here's the thing – one cannot leave much to the imagination with chokers. Whether it is a dipping lariat that you can tie around your neck or a banded collar waiting to cling your throat, try not to limit yourself to the jewellery available at hand. We are all up for banding silhouettes, but it doesn't have to be expensive.

If you can get the look by draping your lariat or tying your chain right behind your neck, then do it! Nobody will be the wiser, and you'll still wear the look for a fraction of the actual price. Plus, if you own a couple of scarves, tie them around your neck for a clad bandana look.

Draping Lariats


Lariats redefine elegance with their long, draping chains that dip right till your waist (well, some do) and add a sexy flair to your attire. Women adore wearing lariats because you can go big and wear a hundred chains instead of being boring by looking decent enough with just one. You can wear a lariat underneath your chained necklace or add as a rendition to your banded or collared choker. You can also pair your lariat with a languid style necklace and add a locket or two to the bling.

Charms


Wearing charms

Wearing charms is not just a hipster's dream. 2019 saw charms making huge waves with chains and lariats as lockets, and surprisingly, we plan on seeing this trend charm on its way into 2020 as well. Charms are big on the vintage. They help make a boho tribute now and then and give room to almost any design to beauty its way into your jewellery box. Whether it's a knit-wear cardigan or a shimmery bodysuit – charms have absolutely no limitations and can add a highlight to a dull outfit.

Tennis Elbow


Tennis necklaces were a huge thing in the 90s, but at that time, they were the only chokers we knew of. Today, tennis necklaces are all set to become the rage again – and not just with the gothic and emo-punk circles, but with every teen who feels the urge to wear 'something' but cannot decide on what and why.
Back then, tennis necklaces were limited to a couple of designs and were mostly made up of cheap plastic, but today, the market shows enormous investment. But, there is no need to invest in rhinestone studs if you don't have the cash. From rainbow clad chokers to elegant (read: expensive) rhinestone embedded chains – tennis necklaces are meant to be fun and everything you wanted your youth to be about.

Grandma's Pearls


Grandma's pearls cost a fortune but were hardly playful like any of the jewellery you wear today. It would be best if you don't risk Grandma's expensive baubles and keep them reserved only for a special night out.

Sorority pearls do have their charm, but we are all about testing irregular styles that will keep us polished and up with the new techniques. The trend of wearing irregular pearls caught on as another part of abstract pop culture. Pearls in all sizes and shapes are becoming popular, and spring cannot come fast enough for us to try them out. In addition to stringing them along, you can add pearls to your chunks of chains and create a pearl-drop necklace fit for a night on the town.

Circle of Life


Medallions Necklace

Medallions are replacing or adding to the giant threshold of lockets as minimalism threatens to take over our lives in every aspect. From home layouts to jewellery – minimalism is revolutionizing the way we address our lives, especially our wardrobe hoards.
Why store medallions on the countertop or dresser when you can hang them with your chains and wear them as lockets? Emblems are quaint but quirky and serve as another excuse of a charm prominent enough to become a worthy lifestyle. You can get your medallions at an affordable boho store because spending more goes way beyond the boundaries of said minimalism.
Conclusion
Jewellery can be highly selective – in a variety of consumer groups that vary in age and gender, as well as cultural and ethnic differences. Affordable jewellery, especially pieces referring to pop culture, has established a way for the ordinary to set a governing staple beyond the snobs which is usually seen in developing set-ups.
Deciding which piece of jewellery goes with your attire is a crucial step of styling. But, there is no need to fret over your jewellery box and its lavish pieces of necklaces just because you cannot decide.
Whether you're deciding on wearing a simple white blouse over your boyfriend jeans or a daring black mini-dress to a party in the town, we recommend you to do what most people always do. Topple over your jewellery box and empty all your bling on the bed. Once you have your jewellery displayed before you, you can experiment by pairing different styles and designs with your attire and finally, get your final look.
Related Videos about Latest Necklace Ideas that are Trending this year :
Latest Necklace Ideas that are Trending this year
fashion jewelry trends 2019, 2019 jewelry trend forecast, handmade jewelry trends 2019, fine jewelry trends 2019, fall 2019 jewelry trends, necklace trends 2019, jewelry trends 2020, spring summer 2019 jewelry trends,