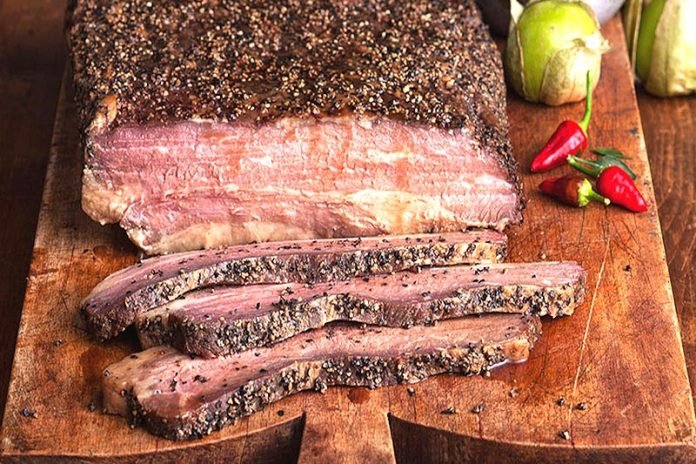 Low carb, Keto Brisket Recipe : Summer has finally arrived and you know what that means, it's barbecue season. There is nothing I love more than a tasty cut of succulent barbecued brisket with all of the trimmings. When I started my keto diet however, I became worried that I wouldn't be able to enjoy a barbecued brisket like I have in the past. That was until I stumbled across what I think is the very best low carb, keto barbecued brisket recipe around.
Once I found it I immediately shared it with my friends and family, who loved it so much that they didn't even realize it's keto when I prepared it for them – result! So now I would love to share it with you, whether you are following a keto diet or whether you would just like a healthier barbecued brisket recipe to try out, you will adore this one. Check it out!
Here are all of the ingredients you will need to make the most mouth-watering fall of the bone, keto barbecued brisket. Don't worry, there will be plenty to go around, as this low carb keto recipe serves eight.
Ingredients:
170 g of low carb sticky Texas barbecue sauce (find more low-carb bbq sauces here.)
1 ½ tsp of smoked paprika
1 ½ tsp of crushed garlic powder
1 ½ tsp of onion powder
½ tsp of freshly ground black pepper
1 ½ tsp of sea salt
5 lb beef brisket with the fat trimmed off
Beef stock cube, dissolved in ⅓ cup of hot water
Once you have gathered all of the ingredients, it is time for you to get started. Whip your apron on and grab the slow cooker!
Here are the instructions to make the low carb keto brisket. Follow them carefully for the very best results.
Directions:
In a small bowl, mix together the sticky Texas barbecue sauce, smoked paprika, crushed garlic powder, onion powder, sea salt and freshly ground black pepper, stirring until combined.
Place the cut of brisket into the slow cooker and then use your hands to rub the spice mix over the brisket, making sure it is all well mixed in.
Pour the dissolved beef stock cube into the slow cooker.
Place the lid on the slow cooker and cook the brisket for 8-10 hours on a low to medium heat or until the meat feels tender when probed.
Remove the meat from the slow cooker and place it on a wooden cutting board or plate to shred.
Pour the juices left behind in the slow cooker into a gravy boat to drizzle on top of the meat when served.
Pick a side… any side
Have you just made the low carb, keto brisket recipe but aren't too sure what to put with it? Not to worry. What I love about this recipe is that it goes well with many keto and low carb sides. Have a look at the following list of sides and choose what you fancy to go with your brisket:
Cauliflower, grated carrots and potato salad with boiled eggs and a dusting of paprika
Black olive, basil, tomato and avocado mix with a handful of your favorite low fat grated cheese
Portobello mushroom and tomato wrapped in a giant lettuce leaf with your choice of low fat slaw
These sides are really easy to whip together, so once you have had a taste of all of them, try preparing a mix for the family to sample at the dinner table this weekend. They will love the keto-tastiness of it all!
Conclusion
As you can see, a keto diet doesn't have to be restrictive on flavor. Don't forget to share this recipe with friends so that they can see just how tasty the keto life can be!
Author :
Jeremy grew up learning how to cook from his parents as well as working in a high-volume catering operation while in college. He now enjoys spending time with his family writing for his blog Ktchndad.
Related Videos about Low carb, Keto Brisket Recipe :
Full Day of Eating Keto | Brisket in the Instant Pot | Taking down the Christmas tree
How To Make Keto Brisket | Keto Brisket Recipe | Keto BBQ
Beef Brisket And Gravy | Keto Savage Kitchen
Low carb, Keto Brisket Recipe
keto brisket dry rub, keto beef brisket oven, keto brisket oven, keto smoked brisket recipe, is brisket good for keto, keto crockpot brisket recipe, keto bbq brisket recipe, keto pulled pork rub,