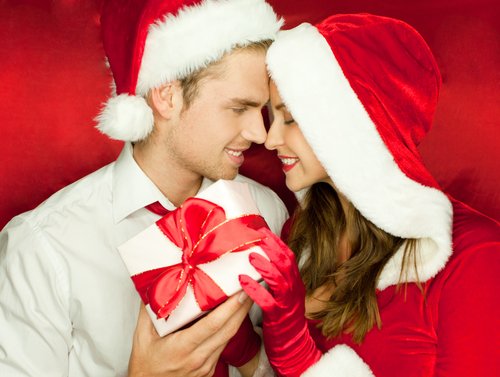 I'm sure you will agree that Christmas is the special time to give joy and love to everyone. You need to demonstrate your affection and attention to your family and close friends. I am sure that your dream guy is also waiting for you to please him with a unique gift on Christmas. Take a look at these romantic ideas to prepare for your man this holiday.

1. Love coupons
This idea is a perfect opportunity to demonstrate your affection for your partner and get some unforgettable moments for each of you. What you can do is to either write '25 kisses every day', 'sing your favorite song' or 'back massage' and other similar things.
2. Kiss under mistletoe
This thing can easily be described as 'romantic'! It's such a special feeling when you kiss your partner under mistletoe and it's also known that the two will be happy in a relationship. Another romantic thing to do is to tie your man's eyes, take his hand and go with him to the mistletoe and after that kiss him tenderly. Be sure he will remember this moment forever.
3. Dance
I can not think of anything better than dancing to the slow, Christmas songs. At first, dance vigorously to fast tunes with your beloved. And when evening comes turn on more quiet holiday music.
4. Candlelight dinner
All people know that such kinds of dinners are always fantastic and calm. Book the table at your boyfriend's favorite restaurant or a restaurant your dream guy would enjoy to go to. The other amazing option is to cook dinner for him and decorate your home just with strips and candles.
5. Bake cookies
If you want to spend this Christmas in a cheerful and romantic way, make chocolates and cookies only for your boyfriend! Bake chocolates in a form of a wreath, gingerbread, or Christmas tree. The options are endless, so make sure you use your creativity.
6. Write a poem
It's better to begin writing poems 10 days before Christmas and read them out to your beloved on the holiday. But you can also give your partner a poem each day till Christmas and perhaps read out all of them to him on the holiday.
7. 12 love boxes
You probably understood that this idea was taken from the tune '12 days of Christmas'. All you need to do is to take 12 identical boxes. But put the gifts just in two, whilst other ones will contain only some memories like movie or concert tickets, pictures of both of you and some other lovely things. The choice is yours either to present your boyfriend all the boxes on the holiday at once or give one by one each day 12 days before Christmas.
8. Lovebook
For using this tip all you have to do is to make a 'lovebook'. Buy a trendy album and add some holiday look to it by gluing Christmas postcards on every page for your beloved, small Christmas trees, wreaths, snowmen and snowflakes. It's better to create little Christmas postcards, like a note and write down a bit special about your loved one on all of them. To finish, wrap this album in a beautiful paper and tie a strip. Be happy, your 'lovebook' is done!
9. Love jar
This idea is considered to be a lovely and fantastic thing for your partner on Christmas. Simply take a jar and put a candy on its bottom. Then bend 10 pieces of paper and place them over the candy. Write down on every note the reasons why are you fond of him beforehand. Present to your beloved this mega nice gift on holiday and watch how a kind smile will appear on his face!
10. Plan a getaway
If you and your man live in a big and noisy city, plan to visit a little town to celebrate the holiday, being far away from the turmoil of everyday life. One more way is to go to the countryside and have unforgettable weekends there.
This Christmas make your significant other happy and enjoy this wonderful holiday together. Do you have any ideas to add to this list?
Romantic Things to Do for Him This Christmas