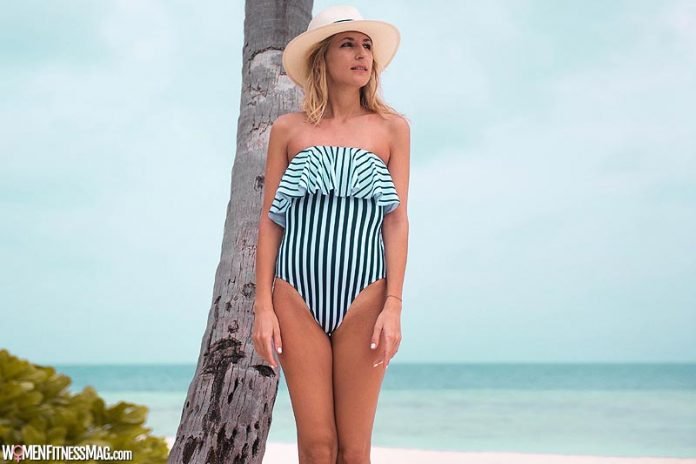 Stylish Swimwear Perfect for Your Beach Vacations : Swimming is both a sport and a recreational activity. Some people like to swim. Others just like to watch. Whatever the case, swimming is fun and enjoyable. Apart from that, swimming is also a way to maintain body fitness and is also used as a form of therapy.
That said, you do not need a reason to swim. You can even decide to go on a vacation and enjoy some quality beach time. In that case, you will need to rock a swimwear that is both comfortable and stylish to go with the occasion.
In this article, we will give you some of the most amazing ideas for a swimwear that is perfect for your beach vacation. Let's dive in!
Think about the Material
The material used to manufacture the swimwear is one of the most important factors you must put into consideration. You need to choose a material that is durable, comfortable, and one that goes well with your skin. There several types of materials that you can choose from. These are;
Nylon; lightweight, dry's fast due to its moisture-wicking capability, and is more durable than polyester. It also fades when exposed to sunlight for long.
Polyester; chlorine resistant, durable, absorbs a lot of water making it heavy and is less stretchable.
Polyester PBT (polyester polybutylene terephthalate); it is a less absorbent polyester blend. Has Less drying time and is more elastic as compared to polyester. It also maintains its elasticity even when exposed to chlorine for long.
Spandex; it's also known as Lycra and is a synthetic fiber made up of not less than 85% polymer polyurethane. It is breathable, drys fast, and can expand up to 600% of its original size.
Cotton; is stretchable, breathable, and is a good fit. But it is less durable and not chlorine resistant.
Think about the Style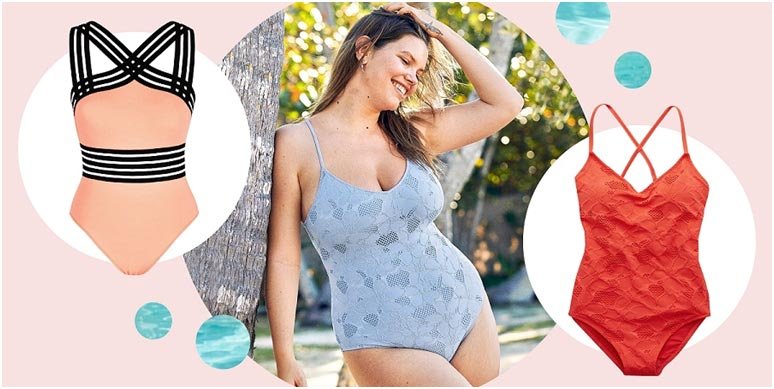 After choosing the perfect material for your swimwear, now you have to find the style that works best for you. There are so many styles available in the market for you to choose from. Here are some of them.
Bikini


This is the most popular and the most stylish swimwear for women and it also comes in different styles. These are;

Strapless bikinis: have no strings attached to them just as the name suggests. They also have bandeau bras and their bottoms are designed to suit them. They are simply elegant.
Multi-strings bikinis: they have multiple strings instead of the two strings we are used to. The strings bring out a different look. Their bottoms can either be similar or different from the tops.
Microkini: these will only cover your genital and the material is attached using strings. These are meant for girls who are confident to show off their bodies.
High neck bikini: as the name suggests, it has a high neck covering your bust. These are less revealing in comparison to other swimwear.
Trikini: these have triangular cups covering your breasts and are paired with bottoms.
Skirtini: is simply a bikini paired with a skirt. Perfect for women who love the coverage!
High waist bikini: these ones are designed to cover your waistline. Perfect for women who want to hide their stretch marks after pregnancy!
Fringe bikini: these ones have fringes attached on both the top and bottoms to make them more sensual.
Flounce: have a halter top and a flounce fall at the front.

Halter Neck Swimwear


Halter Neck Swimwear

This swimwear outfit is ideal to wear both in the swimming pool and on the beach. The outfit has no hooks or chain and has a band from behind the neck to provide additional support. Halter necks can be either one or two pieces and are both sensual and comfortable. The best part about this swimwear outfit is that anyone can wear it regardless of their body types.

One-piece swimwear


One-piece swimwear is a term used in general to mean that the outfit is not separated for top and bottom. This outfit is perfect for both sports and swimming. It is also ideal for people who like coverage. You can find one-piece swimwear outfits for both short and long sleeves in the market.

Tankini


Tankini

This is a combination of a bikini bottom and a tank top. It is mainly made up of Lycra and nylon or spandex and cotton making it more stretchable and comfy to wear and stay with it for long.

Sport top


This swimwear outfit has more coverage and support as compared to others. It is comfortable and ideal for all water-related activities because you do not have to worry about your top. Also comes in different colors and patterns.

Full bottom


Ideal if you want the whole of your buttock area completely covered. Comes in different styles, colors that bring out a sensual and stylish look for the beach!
Conclusion
These are just some examples of swimwear outfits suitable for your beach vacation. Others include cover upskirt, tie side bottom, plus size swimwear, maternity, and tan through the skirt. You can always find something you like and can afford in both the offline and the online market.
Related Videos about Stylish Swimwear Perfect for Your Beach Vacations :
Stylish Summer Fashion Style – Curvy Beachwear, Swimsuits – Plus Size Curvy Beach Outfit Ideas
Stylish Swimwear Perfect for Your Beach Vacations
Beach wear, High end resort wear, Beachwear, Beach Wear for Ladies, Beach dresses, Resort wear designers, Beach clothes, Resort fashion,