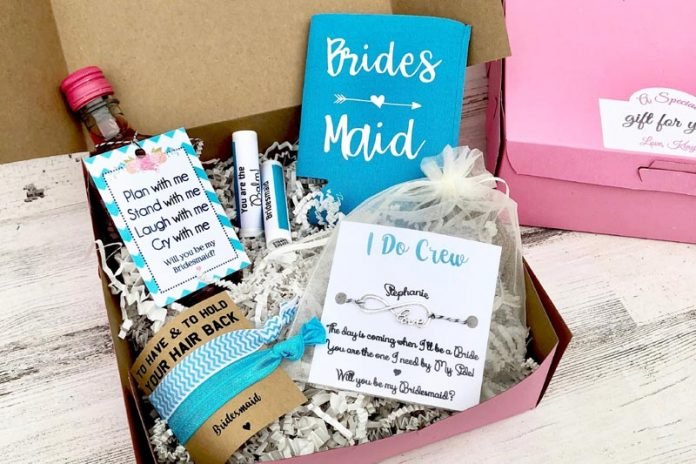 Things You Can Add To Make Perfect Bridesmaid Gift Boxes : Every bride dreams of a fun wedding with her unsung heroes known as 'Bridesmaids'. They are the biggest saviours as they do so much for not just you but your wedding as well! Your girls truly deserve to be felt special too on the wedding as well.
Plus, they will love the gesture that their bestie took out time and made efforts to make her girls feel special. For this, you brides can go for the cutest way and gift them curated bridesmaid boxes with goodies! So here are some the fancy stuff that you can add to make perfect bridesmaid gift boxes to show how much your girls mean to you…
Jewellery
There are some brands that are known for making stunning customized jewellery pieces that are best options for making bridesmaids happy. If you want to give something unique yet precious to your bridesmaids, then you can go for dainty personalized necklaces or bracelets or even bangles with motivational words engraved on it.
Customized goodies
You can gift your bridesmaids a pretty trunk filled with cutesy customized goodies like an eye mask, mugs, pillows, bathrobes, hats, hairbrushes, night suits, stationery, or even custom t-shirts from Dallas. You can even head to FNP gifts for such customized options.
Selfie Kit
As weddings are all about creating memories and clicking selfies. There are even special photobooths seen at venues in metro cites for clicking beautiful pictures like in Delhi you can notice the same thing at venues by FNP Gardens. So, you can give some amazingly cute "Selfie kit" of sorts with some cool diaries, a Fuji Instax, a passport cover and a tiny hip flask to make it look all perfect for bridesmaids.
Makeup
Who doesn't love makeup? It is the best thing to give to your girls. You can go for some cool lipstick shades, nail paints, brush kits, highlighters to make it look all colourful or hire a Professional makeup artist from a company like beautynbridal. You can even add chocolates and a bottle of champagne to it make it more creative.
If you're looking for something more unconventional then you can curate some DIY stuff to make it more personalised.
Related Videos about Things You Can Add To Make Perfect Bridesmaid Gift Boxes :
DIY BRIDESMAID GIFT IDEAS
DIY Bridesmaid Gift Box
BRIDESMAID GIFT IDEAS – BRIDAL PROPOSAL BOXES & MORE!
Will You be my Bridesmaid? Unique Inexpensive DIY Gift Box
Will You Be My BridesMaid? Gift Box and Surprise Party
Things You Can Add To Make Perfect Bridesmaid Gift Boxes
practical bridesmaid gifts, best bridesmaid gifts 2018, best bridesmaid gifts 2019, best bridesmaids gifts ever received, bridesmaid gift ideas cheap, unique bridesmaid gifts, bridesmaid gifts they will use, will you be my bridesmaid gift ideas,