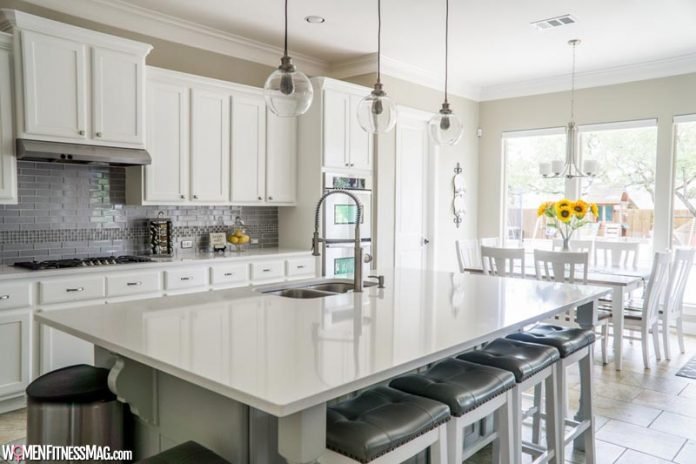 This Studio Kitchen Has a Smart and Surprising Hidden Feature : Each and every person in this fast-growing world is running short of time. Managing the required tasks in professional as well as personal life is quite typical for the individuals, as completing the basic routine tasks of your home and office as well occupies almost all the time and hence you get occupied into your daily life's hustle-bustle with no time for your friends/dear ones. The concept of Studio Kitchen is a pioneer which helps in saving a huge time frame.
As everyone in today's world is highly focused towards professional life, no one holds a good practice in interacting with kitchen based activities. Due to this difference from kitchen oriented activities, the fantasy for having your favourite food is not satisfied. The office going people face the deficiency of time and skills in order to prepare food for themselves.
In order to overcome this drawback, the smart features of the studio kitchen prove as a pioneer in making the living experience yet more enjoyable. From preparation of the food to the washing of the dishes, a smart kitchen assists you in every aspect. A smart kitchen must-have smart appliances  like Rotimatic which is a fully automated IoT enabled Roti maker. There are numerous features that make your interactions with kitchen smarter. Some of the vital components that contribute to making a kitchen smart are:-
Smart Lighting :
Smart lighting is the first step to make kitchen smarter and convenient for the individuals. The smart LED lighting uses the inbuilt sensors in order to start and stop with its own, as per the requirements of the kitchen area. Also, the smart lighting LED strips to remove darkness from the corners and cabinets and ensure appropriate in all corners of the kitchen space which makes it quite comfortable for the people to find the items inside the kitchen area, they are looking for.
Smart Speakers :
Remembering your grocery list every month consumes a lot of time, this repeated process can be easily eliminated by the use of smart speakers and you can let your smart speaker save you grocery and even the home needs list on the go. Also, you can ask your smart speakers for basic measurements like a number of cups in one litre, mapping of teaspoon and tablespoons, and more. The smart speakers also allow you to listen to your favourite tracks while cooking your desired dishes.
Smart Kitchen Devices :
Smart kitchen devices help you in getting the homemade food with some clicks on few clicks. As the individuals are not aware of proper timings that should be given to make the specific dishes. Steps to make food dishes are very clear and can be followed by the individuals, but how much time to be given to any food to process is always a matter of doubt as the volume requirements vary from person to person. Some vital smart devices that make the kitchen experience quite convenient and interactive are:-
Smart Oven
Smart ovens enhance your cooking experiences and allow you to serve your favourite dishes with few clicks. Just spot your unprocessed food in the oven and select the desired dish to be made, the smart oven will adjust itself and will serve your delighted food to you. The smart ovens are integrated with cameras and sensors that keep an eye on the ingredients getting cooked inside the oven. By the help of artificial intelligence, the sensors observe and analyze the ingredients and pings the alarm after the successful execution of the food production process.
Rotimatic
From dry flour to ready to serve chapattis, this device tailors delightful homemade chapattis for you. The artificial intelligence used in this device lets you have the home-like made chapattis. With just a few clicks, you can get them ready to eat chapattis. The sensors embedded in this smart device cook the chapattis up to natural golden brown colour and let you have the chapattis similar to handmade chapattis. Rotimatic is highly appreciated by the customers which makes a positive influence and many other visible under the  Rotimatic reviews online.
Smart Faucets
Smart faucets are usually touched fewer faucets that release water as per your needs without the need to touch. The sensors integrated into these smart faucets releases water as soon as they detect a shaking hand under the concerned area. One can also use the voice command through Alexa and get specific results. The voice command allows individuals to ease their kitchen operations. Like, if you need to get two cups of water, just input your voice command. You don't need to monitor the vessel to avoid the water overflow, just input your command and it will automatically stop after the certain volume of water is released. Imagine you need a certain amount of water every day to make feed for your infants that you have measured through a certain point on any vessel. You can even let your faucet to memorize it and that's it, a single command onwards will release the desired amount of water.
Benefits of using the smart kitchen
Saves a major time frame by the use of automated devices
Enhances operational frequency in the kitchen
Enjoy the activities inside the kitchen with your favourite music
Artificial intelligence allows you to get food similar to the one made through mom's magical hands
The automation features allow you to get your desired cuisines with a couple of clicks
Give a smart makeover to your traditional kitchen style and enrich kitchen surroundings with advanced technological updates. All the above mentioned smart features integrate a major part of advancement in your kitchen space. Gear up your modern transformation and let the latest technological updates tailor your kitchen space also. All these features make your time savvy and expert during the kitchen operations and let you create a memorable mark of resemblance in your deaconess's hearts. Treat the taste buds on your tongue with the most delightful and delicious cuisines prepared in your kitchen, which is now geared up with technology and acts as a house of inventions for you.
This Studio Kitchen Has a Smart and Surprising Hidden Feature
clever storage ideas for small kitchens, cheap kitchen storage ideas, kitchen cupboard storage ideas, small kitchen storage cabinet, small kitchen storage ideas, smart kitchen ideas, small kitchen layouts, small kitchen ideas,