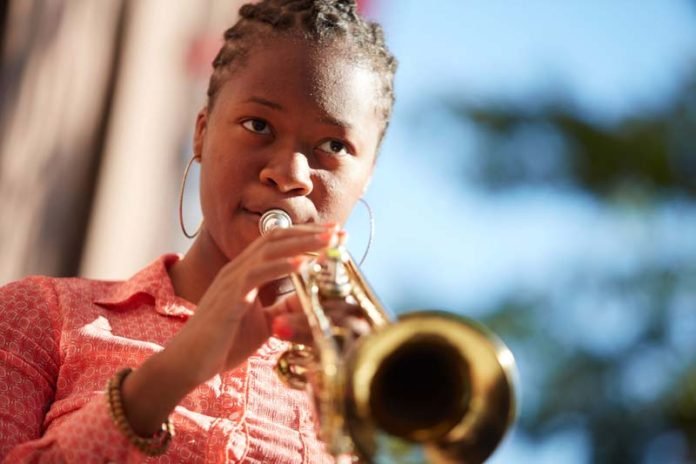 Top 10 Brass Instrument Health Benefits : When you blow your lungs into brass instruments, what happens? Well, they create melodious sounds. The music is aesthetically pleasing in nature and, at the same time, instrumental to the many music bands that we love.
But you know what, that's not it. There's more that takes place under the surface. In that sense, it's time to talk about the top 10 brass instrument health benefits. Apart from choosing best ukulele for beginners and kids you can choose Brass Instruments, because when you choose the good trumpet, you're also promoting good health without even realizing it. So let's find out how!
Top 10 Brass Instrument Health Benefits
1. Promotes emotional development
When you learn something new, the process is not always smooth. There will always be bumps along the way, right? And at such times, we often tend to get frustrated during the learning stage. Mastering even the basics of a new technique or tune is not an easy task.
But what we don't realize along the process is that by not giving up we're in fact overcoming these struggles. And our emotional development is entirely based on that. How you deal with struggles is what defines your character.
Once you reach a point where you feel like you've overcome all your goals, you become invincible emotionally. And such a state of mind encourages you to be a happier person, doesn't it?
2. Strengthens the core muscles
One of the best physical health benefits of playing an instrument, especially a brass version, is associated with your core muscles.
The diaphragm is located right below the lungs, isn't that right? So when you use your diaphragm to play brass instruments, the abdominal muscles also work at the same time. This is how you control your breathing while performing.
In that case, more practice means more strengthening of the core.
3. Improves hand to eye coordination
To maintain a particular rhythm requires hard work. Blowing air, pressing knobs, pushing brass arms, and moving your fingers around. All these actions are responsible for producing beautiful sounds. So such a technique demands a certain set of skills, right?
To develop these skills, you have to keep practicing. And when you do that, you're pushing the neural pathways of your body to become stronger. This enables you to use the hands in a better way. Thus, refining your motor skills and building dexterity.
4. Boosts confidence
It takes courage to learn how to play a musical instrument. That in itself helps in building your confidence. And the experience becomes even more empowering when you choose brass instruments. It's because they are not as popular as other instruments such as drums or guitars.
When you select brass instruments, you expose yourself to creating sounds in an unconventional manner. And producing such music encourages you to come out of your shell. And this goes a long way in developing self-confidence.
5. Promotes social skills
Every "Top 10 brass instrument health benefits" post on the web talks about how the process improves sociability. When working with brass instruments, you're always surrounded by individuals who share the same interest.
More often than not, the activity involves playing in groups. So in that case, an improvement in social skills and confidence is inevitable. The chances of healthy, like-minded interactions are highly likely.
All this combines to diversify your mental ability, human compatibility, and social skills. And as far as I know, that's the recipe for a happy life, isn't it?
6. Increases your adrenaline
Practicing alone or with a few people around is not as gutsy as performing on the stage in front of a huge audience. But when you indulge in the latter, it gives you an adrenaline rush. This boost in your body and mind transforms the uneasiness into excitement and confidence.
And did you also know that an adrenaline boost burns calories and provides quick energy? So it does more than just make you feel positive. This way the experience becomes more fun than you can imagine.
7. Controls breathing
You work your diaphragm to play brass instruments, right? And since your lips are subjected to vibration to create those sounds, measuring the breath is what you have to do. So the technique pushes you to control your breathing movements.
8. Destroys the couch potato in you
When you're a part of any brass instrument community, it encourages you to be around new people and settings. This helps in developing better skills. And once you get involved with your new, fun hobby, it gets easier to stay away from your TV, smartphone, and even unhealthy eating habits.
9. Helps in achieving goals
Learning how to work with brass instruments means setting the foundation to achieve certain goals. Once you complete a milestone, irrespective of how tough the task was, it motivates you to achieve more. And such a mindset benefits both the mental and physical health.
When you set goals and complete them, it makes your sense of self feel happy. So trumpet health benefits extend to both the body and mind.
10. Relieves stress
We can't go about thinking that our lives will be stress-free. That's just not possible. Instead, what you can do is find outlets to release the stress. In that context, playing a musical instrument is an excellent idea.
The activity involves using your brain in a completely different manner. And this habit contributes to getting rid of negative thoughts and worries.
Final Note
The top 10 brass instrument health benefits are proof that the undertaking does more than just create beautiful sounds. The activity is good for your body and mind, isn't it? So there's no reason why you shouldn't pick up a brass instrument right away!
Or do you already know how to play one? Tell us how the musical experience helped you evolve as a human being? Please drop in all your comments and feedback in the section below.
Thank you for reading the article. I hope it was helpful.
See you again soon!
Author:
Julio Lewis shares product reviews, creative ideas, and other great tips related to technology and electronics. On his website, you will also find home and kitchen tips and tricks. His work is dedicated to helping fellow humans make smart decisions about consuming products. So there's a lot to look forward to for all types of readers.
Sources:
sommyadvises.wordpress.com/2015/11/10/10-health-benefits-to-playing-a-brass-instrument/
marchingbandisawesome.com/5-reasons-playing-a-brass-instrument-is-good-for-your-health/
marchingbandisawesome.com/5-reasons-playing-a-brass-instrument-is-good-for-your-health/
Top 10 Brass Instrument Health Benefits
disadvantages of playing trumpet, benefits of playing flute, benefits of playing an instrument, how playing an instrument benefits your brain, health benefits of playing an instrument, how does playing an instrument relieve stress, benefits of playing an instrument for adults, benefits of learning music, Health Benefits Brass Instrument