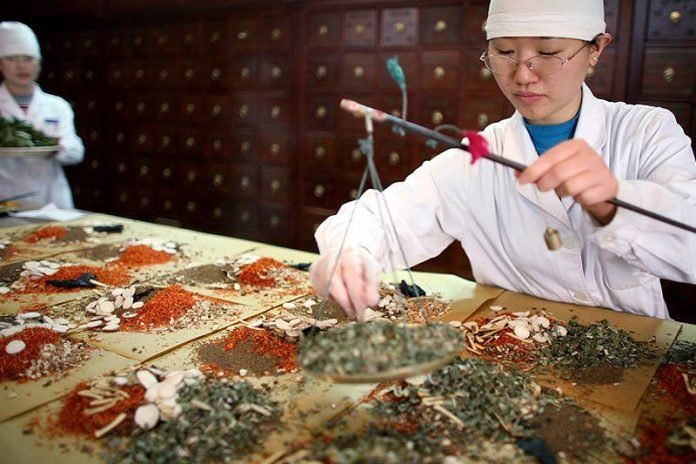 Traditional Chinese Medicine (TCM) can be traced back more than 2000 years. It focuses on harnessing the polar energies of Yin and Yang to restore the body's Qi. To achieve this, the body must gain nourishment and energy from its blood and other substances already in the body which flow along pathways known as meridians.
There are numerous forms of TCM but most people are familiar with acupuncture, Chinese herbal medicine, Gua Sha, Tai Qi and meditation.
What happens in a Naturopath Clinic?
At a Naturopath medical centre, the focal point of the ancient medical practice is on natural and self-healing. It can relate to skincare, the treatment of hypertension, depression, Type II diabetes and fibromyalgia amongst several other conditions. A naturopath will use a range of different techniques and naturopathic treatments such as botanical medicine, acupuncture and nutritional therapies. The treatments are all regulated and take place at the medical centre.
Acupuncture
Acupuncture is a TCM technique that is used around the world. It involves inserting needles along meridian lines to adjust the body's Yin and Yang to promote healing and wellbeing. In modern clinics, for example, The Neighbourhood Clinic, high-grade surgical steel needles are inserted into Acupoints. It is a highly skilled and precise technique which causes little discomfort to the patient but often clients report the fantastic benefits experienced.
The theory behind acupuncture is to re-establish the body's Qi as any imbalance causes dissension within the body. The World Health Organisation (WHO) recognises that positive results have been attained in the treatment of many common diseases. These include Sciatica, Facial Palsy, Lower Back Pain, as a fertility treatment and treating headaches and migraines. The potential benefits of acupuncture for other diseases have also rendered reasonable results but require further research.
Chinese Herbal Medicine
Chinese Herbal Medicine (CHM) treats a range of medical conditions including physical and emotional problems. The principles of CHM are similar to acupuncture; it looks to restore the balance between Yin and Yang. As the name suggests, a range of herbs are used which are categorised by their (perceived) temperature, taste, function and part of the plant used to alleviate different symptoms.
The objective of CHM is to tonify the systems within the body, removing pathogenic factors using meridian lines to restore the body's natural energy. Clinics such as The Neighbourhood Clinic use formulas that are prescribed in granulated form and taken in the same manner.
Gua Sha (Scraping)
Gua Sha is a form of TCM prescribed for relieving musculoskeletal tension and pain, reduce the body's temperature and to clear the pathways around the body of blockages sometimes referred to as "stagnations". A lubricant such as oil or lotion is applied to the skin before a smooth-edged scraping tool is used to "scrape" the skin to draw blood to the surface.
Cupping
Cupping is a frequently used technique in TCM and involves creating a vacuum in a glass bulb. The bulb is applied to the skin and will naturally draw the skin and muscle into the bulb. The suction removes dead skin from muscles and sub-dermal layers, toxins as well as excesses of heat or cold. The process is designed to assist the lymphatic system with the removal of waste and stagnation from the body, therefore, restoring harmony.
Chinese Dietetics
The theory behind TCM is to restore the body's natural harmony. To achieve this, different tastes, temperatures, qualities and natures need to balance in the food and liquids that are consumed. TCM does not recognise good or bad foods, simply that different ailments may benefit or be impeded by those foods. The role of the TCM practitioner is to identify the foods that are beneficial and prescribe them. It is a form of medicine that will be tailored to individual needs.
Science and TCM
Although research is still required, there is plenty of evidence that TCM does have beneficial properties. It is often used in conjunction with conventional medicine with some arguing that it merely has a placebo effect. The WHO is happy to advocate its use with certain conditions and recognise its potential for others. Most patients report that they experience improvements in their conditions.
Related Videos about Traditional Chinese Medicine :
Alternative Medicine; Traditional Chinese Medicine
Traditional Chinese medicine and harmony of the planet: Lixin Huang at TEDxWWF
Fire Therapy in China Traditional Chinese Medicine TCM Treatment Experience
Modernising Chinese medicine
Traditional Chinese Medicine Clinic
Tools of Traditional Chinese Medicine
How does traditional Chinese medicine work?
Chinese traditional medicine gains popularity at home and abroad
Traditional Chinese Medicine – How Doctors Incorporate It Into Modern Practice
traditional chinese medicine herbs, benefits of chinese medicine, chinese medicine scientific evidence, traditional chinese medicine herbs list, traditional chinese medicine vs western medicine, chinese medicine doctor, the relationship between traditional chinese medicine and modern medicine, chinese medicine that works,