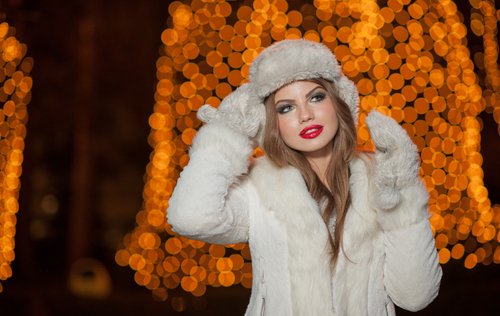 How often do you wear white in winter? If you do not use this color during the winter, you definitely should. We used to think that white clothing is entirely summer's prerogative. I must admit that it's wrong opinion as we can use so many bright ideas to wear white this winter. I don't know any other color that can be so delicate, chic, smart and stylish. That's why don't make hasty decisions to buy new winter clothes in dark colors. Take into consideration these brilliant ways to use white for your outfit in winter. They will certainly help you to look magnificent during this season and everybody will be fascinated with your perfect white dress.

1. Make Your Eyes Brighter
Bronze is usually the typical shade which most women use for winter make-up. But that is some kind of stereotype. Winter is the perfect time to try snow-white colors on your face. A foundation with white tones will create a fantastic and fresh winter look. This pure color can enrich your palette in so many different ways. It's a great idea to make your eyes brighter with the help of some white shadow. Apply it to the inner corners of your eyes. White eye-shadow is also a nice way to highlight your brow bones and cheeks.
2. The Little White Dress
If you want to use white color for stylish look in winter, I would advise you to choose an elegant white dress. You should obviously try it. This trendy staple must be an indispensable part of your wardrobe during this season. There are so many variations of white dresses among which you can choose the one to suit you perfectly. Pick up the dress of your favorite length that will skim your body and emphasize its beauty. You will have an amazing look at night, especially if you team this clothing with high heels. During the day, you can wear boots and dark tights. Anyway everybody's attention and envious glances are guaranteed for you.
3. A White Jumper
When you choose your clothing in winter you should focus your attention on two important things. First, your new garment must be warm and comfortable. Second, it should be fashionable and gorgeous. Sometimes it can be difficult to find clothing that combines both characteristics. But I know one item that will certainly suit your taste and warm you in cold winter weather. This is a fancy white jumper. Make sure that you purchase a good quality jumper, which will be always trendy, in which you will look stunning beautiful. Certainly, woolen jumper will be the best option for you. Don't forget to read the wash instructions.
4. Shining Lips
Coming back to the subject of winter make-up I should mention the importance of shining and pure lips. For this you need a colorless lip gloss. Nowadays you can see its different variations at the shops and supermarkets. It would be better if you buy a gloss with white glitter that will sparkle brightly on your lips. Perhaps white lip gloss isn't an extraordinary choice for your make-up but still it is a lovely way to include white color into your winter style. In addition, your teeth will look brighter in pair with white lip gloss. In contrast to this when you use red lipstick or gloss your teeth will look yellow and faded.
5. Use the Accessories
The easiest way to give white tones to your fashion this winter is by using accessories. You can give rein to your imagination and create your chic style. Moreover, you don't have to spend some extra money for new clothes, like dress or jumper. A pretty white accessory will be enough for you. White gloves, scarf or a hat are always in my winter wardrobe. I must say that it is rather practical way to have a smart look this season. A leather handbag with some white elements will give the magnificent touch to your outfit.
6. Outstanding Outerwear
When I was younger it was not a big problem for me to go outside without any outerwear in cold winter weather. However, today I wouldn't refuse to wear a good warm coat. No doubt that this winter garment is necessary for each of us. We all rush to the shops in search of a new coat as winter is approaching. So, that is a nice opportunity to follow the trend and purchase a white coat that will represent your confidence and elegance.
7. Jewelry
Jewelry is the most effective way to implement this winter trend. I'm sure that every woman has at least one jewel in clear white tones which can give the finishing touch to this subtle and romantic style. Beads and pearls will make you shine brightly. Why not try this splendid idea?
8. Add White to Your Nails
Every time when I see beautiful manicured nails on women's hands I always admire them. I made it a rule to manicure and enamel my nails regularly. Definitely, you should change the color of your nails from time to time. This winter is a great chance for you to make your nails brighter with such pure color as white. It becomes very popular today to make the fourth nail contrasting. You can take an advantage of this tendency and paint your fourth nail white while others can be coral or navy. In combination with these colors the white will be accentuated profitably.
9. 50 Shades of White
Do you know that the white can have lots of shades like any other color? That means you can play with the variety of light tones in order to create fantastic outfit this winter. For example, wear light beige tights teaming them with a white coat or a little white dress. I can guarantee that you will feel warm and comfortable in such clothing.
We can't say that white color is always preferable in the field of fashion. Sometimes it can even have a negative effect on your look. There are some certain garments that are not combined with white color. Though, you can try your best and wear your new white clothes in a proper way. Everybody will appreciate your cute, romantic and elegant style. Are you planning to wear white this season? Which dress and accessories will you opt for?
Ways to Wear White This Season