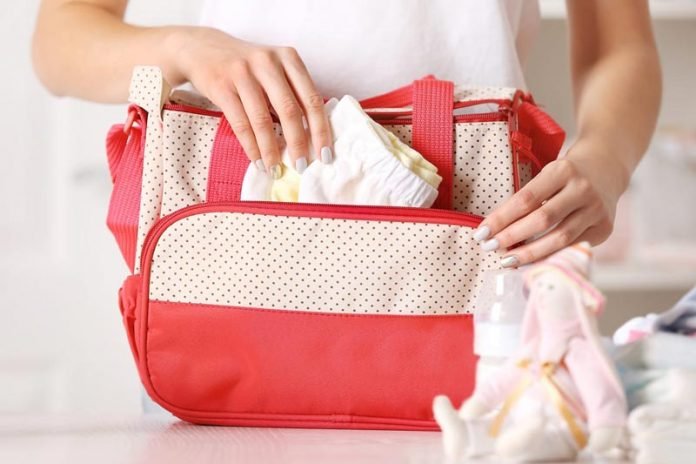 What are The Best Qualities of Diaper Bags? The upbringing of a child is not an easy task. Especially when you have to travel with your newborn or toddler child. The responsibility is full of action and adventure in itself as you have to keep all the essentials your child need as when he is at home, starting from a milk bottle and ending at diapers. And for this, you need a bag specially designed for the children, a "diaper bag."
These diaper bags have, to some extent, helped a lot of parents to carry many different products for their children. They can fit everything inside them, like many pair of clothes, milk bottles, snacks, toys, etc. You can also keep your essential belongings like mobile phone and wallet in it as you don't have to carry separate bag then.
Looking for a diaper bag but lost in the world of brands and their fascinating features. We have tried to solve this problem for you by figuring out the best qualities of a diaper bag. You can go through them to ease your finding for a best-suited diaper bag.
The stuff of the Diaper bag
If you go through the market, everyone is claiming to have the best quality material for their diaper bags. A variety of fabrics are available from linen, glazed canvas and not to forget leather. Never compromise the quality of your product, as a better quality product help you use it for a longer time. All that glitter is not gold. Check the material of the bag and the interior too. The suitable material for diaper bags is nylon (Oxford), rexine, and polyester as they are washable and used for a longer duration.
Color Palette
Manufacturer's mostly select light colors due to their demand. The most favorite color remains pink, which give the bags a baby touch. But darker colors have the added benefits, and they don't get stains easily. So you can choose a darker color if you have a busy daily routine. For the interior you can select lighter shades like grey, light brown, so you can figure out exactly where you have placed the object.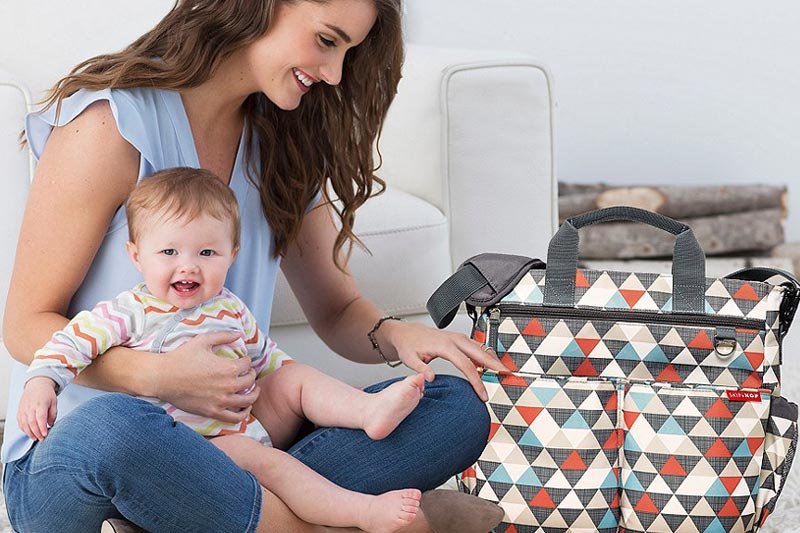 Size
Diaper bags come in different sizes, but it is better to choose a medium sized bag. The larger the size, the more will be the load on your back. It is not necessary to take all the items of a child along with you outside. So with a large size bag, you may fill it all and increase your burden. But the size should not be as much small, that you have to leave important items.
Weight
It should be lightweight and easy to carry across.
Comfort and Style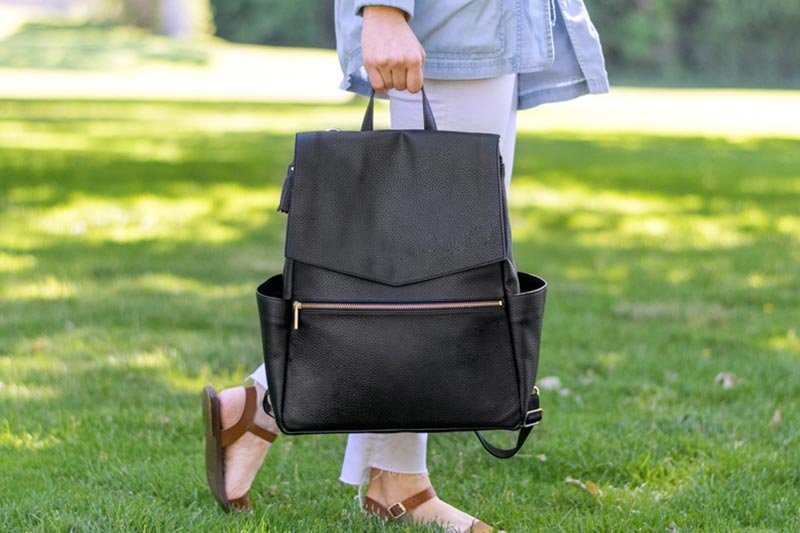 Diaper bags are available in several designs. You can either hang it on the shoulder like regular bags or carry it across your chest as we call it messenger bag. Messenger bags are mostly designed, keeping in mind the Dad's. With Storksak's Jamie bag, you can carry your laptop in the bag too. Also there are specially designed diaper backpacks so you can easily carry them on your back.  An additional option is the Tote style bag, which is a baby diaper bag, but it gives you some style too. You don't need to compromise for style as companies are adding style to their products along with comfort.
Gender Neutral
Usually, the design of the diaper bag is Mom-oriented. But now companies are manufacturing diaper bags with a design suitable to carry by both Mom and Dad. You can find such bags from Big Nation, one of the leading manufacturer of gender-neutral bags.
Pad Changing Portion
Hanging outside for too long and with no diaper disposing facility is quite problematic sometimes. Your diaper bag should have a pad changing portion where you can keep the used pads. Most of the bags have separate pockets in which you can keep the used pads, and it is easy to wash them for the next use. You can also buy a separate pocket too. Well, some bags have this pocket attached to the side.
Support
Tote-style bags from Skip Hop diaper bags (company) are comfortable to carry on the shoulder, and they also have backpack type designs. In both cases, the support needs to have strength and provide comfort. The handle shouldn't be too short neither too long that you carry your bag hanging down the legs.
Ju-Ju-Be bags come with different features, and it has short support to carry as Tote bag. While straps are also there to use it as a backpack. If you are using a backpack, the shoulder straps must be adjustable so you can easily carry the load and evenly distribute the weight.
Multiple pockets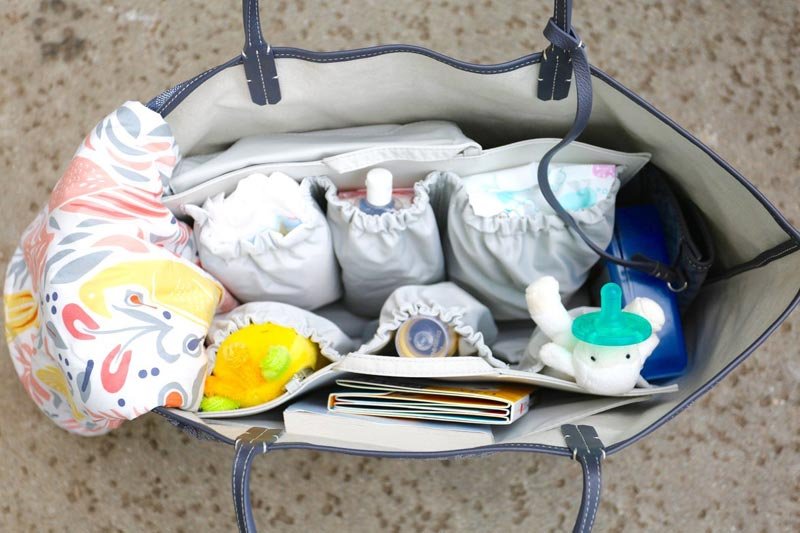 Bags mostly have a small number of pockets. It is quite comfortable if your diaper bag has separate internal and external compartments for the products usually carried with a child. You can keep clean and dirty clothes separate. The outer pockets help to keep the bottles of a child, so they are easily accessible. Make sure that the size of pouches and containers match each other. Insulating pockets inside the bag would be an additional benefit. Interior pockets made from vinyl will help to keep used diapers, sanitizers, and other washables intact form other items.
Durable Zipper
The problem with the diaper bags is the zipper option. It is a rare phenomenon that you come across a zipper which lasts long without irritating you. Diaper bags are mostly packed full and need a zipper which would smoothly close, no matter how packed the bag is. Zippers with large teeth will work more efficiently as compared to a smaller one.
Several brands are there proceeding the business of manufacturing diaper bags for toddlers and newborns. Some of them are
Amy Michelle
Beast of Burden (BOB)
Baby Sherpa
Calfornia Innovations
Dad Gear
Eddie Bauer
Maman
SkipHop mainframe
Hip Club Original Tote
StorkSak Expandable Tote
Petunia Pickle Bottom
These bags come in a range of prices. The price start from $35 to as much as $1200 depending on the material and the features provided by them.
You have the required features on what to look for in a diaper bag along with the names of some best designing companies. We suggest you not to compromise over comfort and material of bag. And specially consider the weight of the bag before purchasing it.
Related Videos about What are The Best Qualities of Diaper Bags :
How to Choose a Diaper Bag
What are The Best Qualities of Diaper Bags?
best diaper bags, best diaper bags 2018, best diaper bag brands india, top 10 diaper bags india, best diaper bags reviews india, best diaper bags 2019, maman diaper bag, maman nappy diaper bag, Best Qualities of Diaper Bags