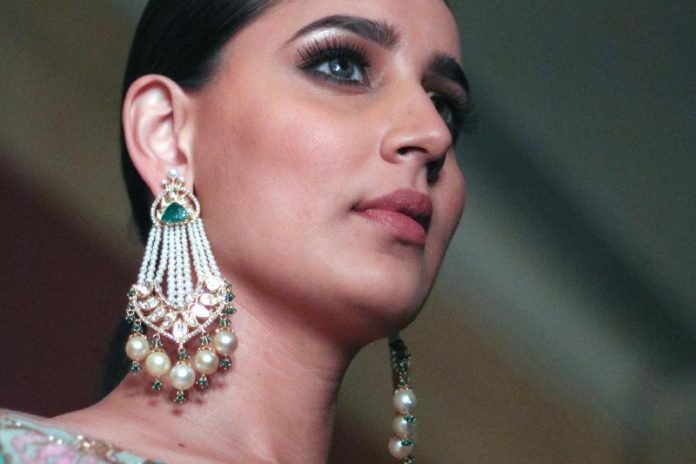 What Are the Different Types of Earrings and How Should You Wear Them? Are you sick of wearing the same boring earrings with every outfit? Upping your earring game can be the perfect outfit game-changer. Knowing what ear bling is most suitable for a certain outfit or occasion is a must.
If your unsure of the different types of earrings and how to style them, keep reading our guide on earring types, as well as when and how to wear them!
Different Types of Earrings
With so many earring types, it can be hard to keep up. We'll do the work for you with a breakdown of the names of different earring types and styles so that you can be a pro next time you're shopping.
Hoop Hoop Hooray
Hoops are such a fun way to accessorize with earrings. We love a big statement hoop with a messy updo for something casual, or a sleek gold or silver hoop for something more elevated.
We love the thick silver, gold and rose gold hoops we're seeing trending this year, as they are perfect for when you need a more visible earring on a day you're wearing your hair down. We also love to sparkle up those hoops with diamonds or gems for when we need a little more bling.
Another way to mix up your hoop is by trying a teardrop hoop. This style is great for elongating your facial features and is perfect for your next fancy event. Half hoop earrings can be a great choice as well when you want a unique style that can still look classic.
Post It Up
A post earring basically means that there's a post and backing enclosure, but it can have some detail and dangle, unlike a stud. Post earrings are best for fancier occasions, as they typically involve some glitter. Gemstones usually hang from post earrings and are great when you need accessories that dazzle.
The Go-To Stud
Stud earrings are a classic and easy style that has a post enclosure and typically doesn't have a lot of dangle. While studs are typically the smallest earring type, statement studs can be a fun way to accessorize without the hassle.
Diamond stud earrings are a timeless style that goes well when your outfit needs less than more. We love them for everyday style or paired with a statement necklace, as it helps balance your bling.
Go to www.scala.cy to find a cheap property in Cyprus
A larger or more glittery statement stud can also look great while avoiding the weight of other types of dangle statement earrings. If you want to make a statement with studs, try a decorated flower or star statement stud for a little something extra. Cluster studs are another decorative way to add a bit of glam.
Dangle Darling 
Dangle earrings usually have a drop accent, and they often have a hook or post enclosure. Dangle earrings can include pearls, diamonds, other gemstones, as well as metallics.
These are great statement earrings that come in handy when your outfit needs a pop of color or a bit of glitter. We love the simple tiered multi-strand dangle earrings we've been seeing lately for an edgy look that pairs perfectly with a leather jacket and black denim.
Mixing and matching earrings is a trending style that is so fun and different. Try pairing one dangle earring with one stud for a unique and chic look. For example, try pairing a star stud with a moon dangle for a match that is related and not totally random.
How to Wear Them
Now that you know the different earring types, let's figure out how to style them so that you can look your best!
It's All in the Hair
Knowing what earring to wear definitely depends on what kind of hairstyle you have planned for a particular day. If you're going to an event and you're doing a stylish updo, an elegant dangle earring is probably the best choice. A teardrop dangle style is great for an updo because it flatters your face while leaving your hair out of the way.
If you're a gal who likes a simple, easy and semi messy side braid, pair it with your favorite pair of hoops to add some detail and symmetry.  If you're wearing your hair down, and curling it, make your hair the statement, and don't overdo it by adding anything too blingy. Pair your bombshell hairdo with a simple sparkly diamond stud for a classic hint that glitters.
Consider the Outfit & the Event
Make sure you consider the outfit you're wearing and the event you're attending before selecting the perfect earring. Things to consider when analyzing your outfit is the neckline, and what other jewelry you'll be wearing. Sometimes less is more, and other times, a statement earring may be just what your outfit needs to take it to the next level.
If the neckline is lower, go with a statement necklace rather than a statement earring, and pair it with a simple pair of studs. Only make your earrings the statement if the print of your outfit and other jewelry are minimal. One statement piece is enough for every outfit!
If you're wearing a minimal outfit, such as an all-black dress and heels, and an easy no-fuss updo, a sparkly or colorful statement earring is the perfect way to look put together without any hard work.
Style Your Earrings with Confidence!
Now that you know all about the different types of earrings and how to style them, you can shop for your glitter with confidence and ease.
For more on women's beauty, health, nutrition and more, head to our site where we have tons of helpful tips and tricks!
Related Videos about What Are the Different Types of Earrings and How Should You Wear Them?
Top10 Types Of Earrings
Types Of Earrings | Style | Designs & Clasp Fastening | Collection
What Are the Different Types of Earrings and How Should You Wear Them?
different types of earrings and their names, types of stud earrings, types of indian earrings, different types of gold earrings, variety of earrings, types of earrings for guys, types of earrings backs, names for earrings,