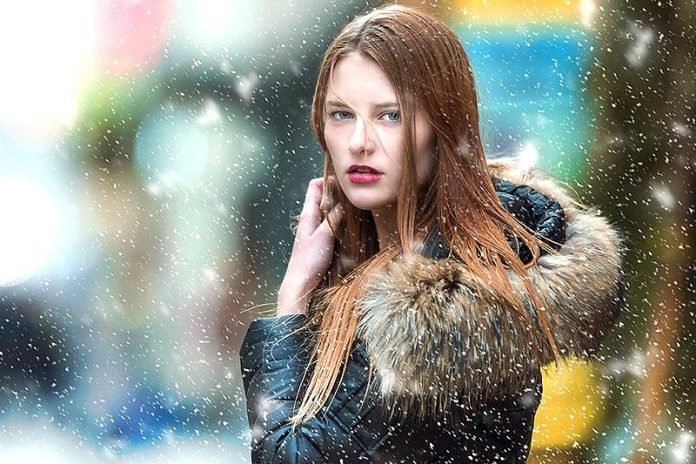 Top 5 Hairstyles to Wear for Winter 2019 : Did you know men spend more than women do on haircuts every year?
But women have more flexibility with haircuts and hairstyles. These trends often change with the season. With winter just around the corner, there are many hairstyle options and trends that are perfect for the cozy snowy days.
With no heat and humidity, it's time to wear your hair straight. Or, if you plan on locking yourself inside with your hunny to escape the cold, there are low-maintenance hairstyles that are perfect for the lazy snowed in days.
Here are 5 cute winter hairstyles to rock this year.
Hair Pulled Back With Bedazzled Hair Clips

Did you love hair clips when you were young? This childhood love is now a serious trend!
Clip your hair back — pull back on side of your hair or wear your hair half-up. Secure the hair with hair clips. Bedazzled hair clips give your hair a frosty and snowy look — perfect for winter!

Short Bob

If you're stuck inside and snowed in, the last thing you want to do is your hair. That's why short bobs are always a winter trend. Cut your hair short, specifically in blunt ends.

This is also a great option if your hair gets dry in the winter. Or, you can use one of these hair remedies.

Beach Waves

Yeah, we know. Beach waves are a summer staple.

But beach waves are extremely easy to achieve, especially if your hair is naturally wavy. Put some texturizer in your hair and scrunch it or even let it go. You don't even need to wash your hair.

What if you're going out? This look is also perfect for family holiday gatherings. For a more polished look, use a hair curler.

Slicked Back

We get it — it's cold and you're lazy and you don't want to deal with your hair. Fortunately for you, the slicked-back look is seriously trending. Grab some hair gel and smother in on the roots and tips of your hair until it won't budge.

You can achieve this look on hair that's up and down.

High Ponytail

If you want the ultimate low-maintenance hairstyle while still looking cute, opt for the high ponytail.

Brush back your hair, bundle your hair at the base of your scalp, move the bundle up to the center of your scalp (if you can — use a brush to ensure your hair is even) and secure it with a hair tie (or a bedazzled hair tie, if you have one).
From Clips to Ponytails: The Cute Winter Hairstyles to Wear This Year
Winter is the season of lazy and low-maintenance hair days. But that doesn't mean you can't look cute.
Hair clips and ponytails will help you look cute when you don't want to style your hair. Curls are a staple for family gatherings. And if you're seriously lazy, just chop off your hair!
These cute winter hairstyles are seriously trending and will help you look nice under blizzards and icicles.
For more hair advice, visit our hair care section.
Related Videos about Top 5 Hairstyles to Wear for Winter 2019:
Fall 2019 & Winter 2020 DIY Hairstyle Ideas
Winter 2019 Top Hair Trends
10 BRAIDED HEATLESS HAIRSTYLES IDEAS FOR WINTER!
Fall 2019 & Winter 2020 DIY Short Hairstyle Ideas
Trendy Lob & Bob Haircut Ideas for Fall 2019 & Winter 2020
Top 5 Hairstyles to Wear for Winter 2019
fall 2019 haircuts, fall 2019 haircut trends, hairstyles 2019, 2019 hairstyle trends, fall winter 2019 hair color trends, fall 2019 hair color trends, hairstyles 2019 female, winter 2018 hairstyles,